How to make Lang Son traditional wormwood cake in the article below will help you have a delicious and nutritious cake without going to Lang Son and still enjoy it. So how to make wormwood cake? In the following article, Dung Ha Dry Food will introduce to you in detail how to make delicious and soft Lang Son wormwood cake at home. Let's get started right away!
1. What is Lang Son wormwood cake?
Lang Son wormwood cake (also known as wormwood cake) is a Lang Son cuisine dish that has existed for a long time. Not only a specialty dish, wormwood cake from Lang is also a cake associated with many beautiful childhood memories of the people here. The origin of wormwood cake comes from the northern mountainous provinces of Vietnam such as Cao Bang, Lang Son and Bac Kan. But perhaps, the most famous wormwood cake is still only available in Lang Son. A cake that is soft, sweet, and extremely attractive to eat.
When coming to Lang Son, walking around the food market here, it is not difficult for you to come across a lot of stalls selling wormwood cakes. Wormwood cake is made all year round, the price is extremely cheap. On special holidays, Lang Son festival, .. the number of wormwood cakes sold is more than on weekdays.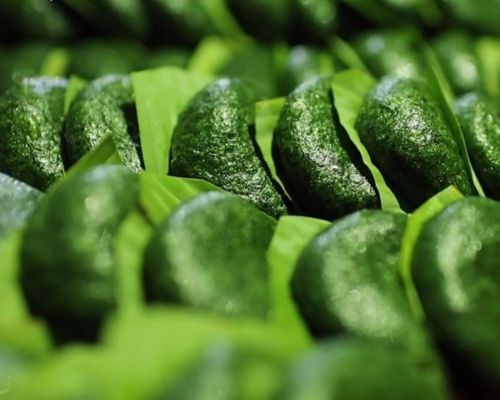 Called wormwood cake, the main ingredient is wormwood. Wormwood is known to be an extremely good vegetable for human health. Therefore, wormwood becomes the main ingredient in this cake, which will help us both eat bread and prevent disease. When enjoying wormwood cake, this cake will bring you benefits such as: regulating blood, blood circulation, hemostasis, peace of mind,… A wonderful cake when arriving in Lang Son.
So, is it difficult to make Lang Son wormwood cake in the Tay ethnic group? Let's find out together now.
2. How to make traditional Lang Son wormwood cake, soft and bold
2.1 Ingredients for making wormwood cake
400g glutinous rice flour
400g wormwood (should choose young vegetables, eat delicious, not bitter)
15ml clear lime water
200g jaggery
20g peanuts (roasted, crushed)
20g crushed desiccated coconut
10g black sesame
3 tablespoons cooking oil
Tools: steamer, blender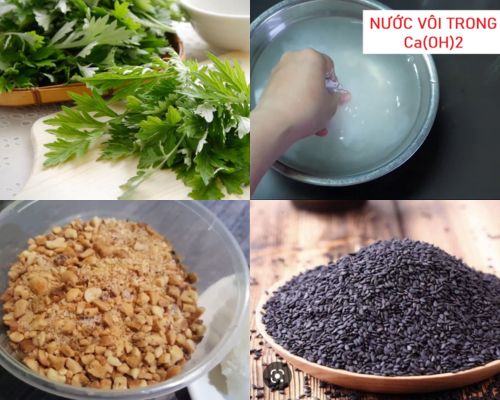 See more baking powders HERE!
2.2 Instructions for making wormwood cake
Step 1: Prepare wormwood
Buy wormwood, pick up the young wormwood leaves
Wash wormwood under clean running water
Mix a pot of dilute salt water, put wormwood in it and soak it in salt water for 5 minutes
Pick up the vegetables, wash them again under clean running water, let them dry and drain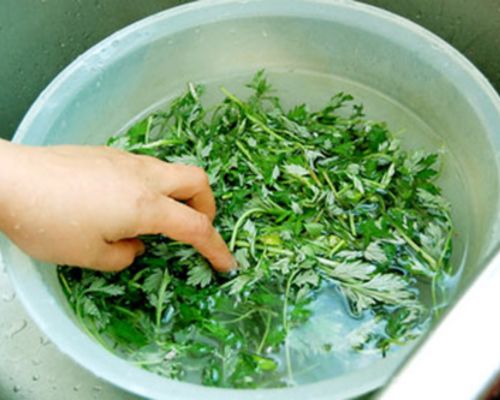 Step 2: Boil wormwood with clear lime water
Put 50ml of clear lime water in the pot with 3 liters of water
Put wormwood in a pot of clear lime water
Turn on the stove with high heat, cook until the wormwood is cooked for 15 minutes
When the wormwood boils, you lower the heat, take out the wormwood, wash the vegetables with clean water
Use your hands to gently squeeze the vegetables out of water
Step 3: Gold star wormwood
Put another pot on the stove, turn on medium heat
Put the boiled wormwood in the yellow star with medium heat for 10 minutes to dry the vegetables
Stir well until the vegetables are dry, not burnt
Remove the wormwood to the plate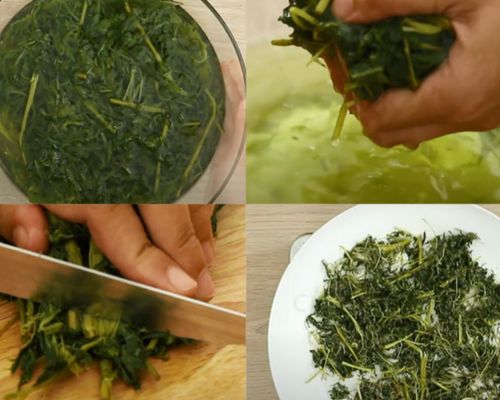 Step 4: Make the dough
Put the golden star wormwood in the blender with 100ml of purified water
Proceed to finely puree wormwood mixed with water
Pour all the wormwood juice into the bowl of glutinous rice flour
Wearing plastic gloves, mix the glutinous rice flour with the wormwood juice to form a smooth, flexible wormwood powder.
Incubate wormwood powder for about 10 minutes to go to other work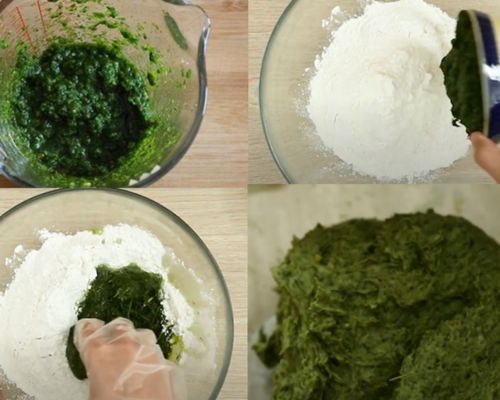 Step 5: Make the cake
Put the pan on the stove, heat the pan
Put jaggery in a pan, melt over low heat
Melted jaggery, put cooked broad beans + black sesame + desiccated coconut into the pan. Stir well with palm sugar for 10 minutes to blend
Turn off the heat, pour the mixture into a bowl, let it cool
Cold sugar mixture, round them into small balls to fit your serving size
Do it evenly, give all the ingredients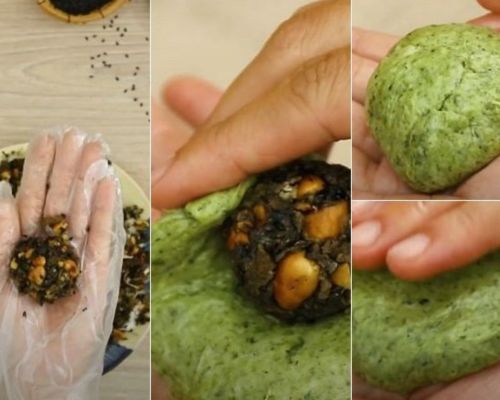 Step 6: Wrap the cake
Shape the wormwood dough into flat, round dough pieces, about 5mm thick. The size is just enough for you to cover the filling of the cake
Put the cake filling on the surface of the wormwood dough just made. Wrap the pie crust to cover the filling so it won't open or come out when steaming
Put the cake on a clean tray
Using an oil brush, apply a layer of cooking oil around the surface of the cake to create a glossy, smooth cake, when steaming the cake does not stick together.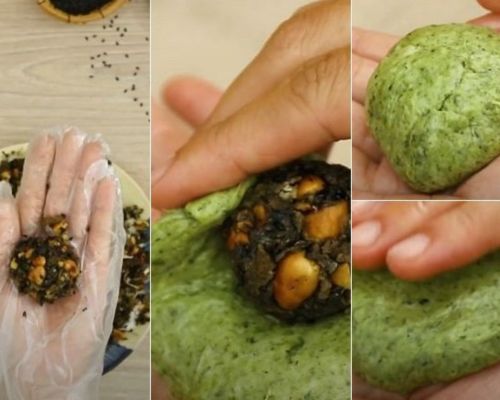 Step 7: Steam the cake
Prepare a pot of boiling water to steam the cake
Arrange the cake neatly into the steamer. Turn on medium heat, steam the cake for 15 minutes to cook
Steam enough time, the cake is cooked, turn off the stove, open the lid of the pot and take out the cake, let it cool and enjoy.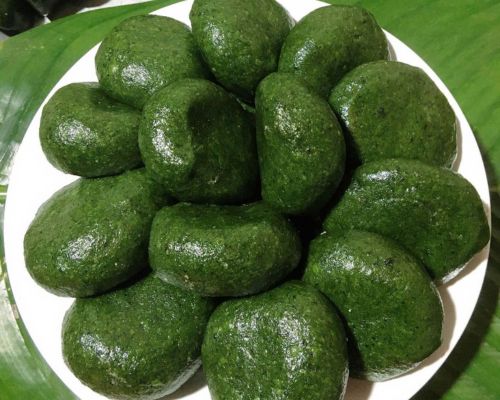 So, with just 7 simple steps, you have a Lang Son wormwood cake that is easy to make at home.
See more: How to make Cao Bang beef cake with a strong flavor that makes diners fall in love
3. How to make Lang Son standard wormwood cake, flexible, what do you need to pay attention to?
To successfully make Lang Son wormwood cake, which is always soft and delicious, you need to note the following:
Choose good ingredients: Choose fresh, good quality glutinous rice flour and wormwood to ensure the cake is always soft, delicious, and delicious. If using dried wormwood leaves, choose to buy wormwood leaves at dry goods stores to ensure quality.
Grind the flour evenly: When grinding the flour, make sure the flour is ground evenly and smoothly. If the flour is not ground evenly, the cake will become lumpy and difficult to eat.
Using fresh wormwood: Fresh wormwood is an important factor creating the characteristic flavor of Lang Son wormwood cake.
Steaming time: Steaming time is also an important factor to make wormwood cakes soft and delicious. The average steaming time of wormwood cake is about 30 minutes
Preservation: Lang Son wormwood cake should be stored in plastic bags, food storage boxes and should be kept in the refrigerator to keep it fresh.
The above notes will help you make Lang Son wormwood cake successfully and enjoy the best cake. Good luck!
4. How to properly preserve Lang Son wormwood cake?
Lang Son wormwood cake is a traditional cake of Lang Son. To properly preserve wormwood cakes and use them for a long time, you can follow these steps:
Store in the refrigerator: Wormwood cakes can be stored in the refrigerator so as not to spoil. You can wrap the cake in a layer of silver or a plastic bag before putting it in the fridge
Store in a food bag: If you do not want to store the cake in the refrigerator, you can put the cake in a food bag and keep it in a cool, dry place
Store in a food container: Wormwood cake can be stored in a sealed food container to keep it from drying out and prevent insects from entering.
Do not store cakes for too long: Wormwood cakes should not be kept for too long. The best time for you to use that cake is after 2-3 days is the best.
The main ingredients in wormwood cake are glutinous rice flour, jaggery, and wormwood. Lang Son wormwood cake contains quite high amount of sugar and starch. However, the number of calories in the cake depends on the size of the cake. Normally, in a cake of Lang Son wormwood (about 50 – 60gr) contains:
This Calorie is not harmful to health, and weight. However, if you use too many cakes, these calories will make your weight change significantly. It is best to eat about 1 cake/day.
In addition, you can refer to many other culinary news articles here: https://thucphamkho.vn/tin-tuc-su-kien/
5. Conclude
Above is the entire article detailing about how to make Lang Son wormwood cake with soft and flexible Tay ethnic taste that thucphamkho has shared with readers. This is a recipe for making wormwood cakes that is diverse but still retains the full flavor of the dish that makes up the trademark of the people of Lang. Hopefully, with the detailed sharing above, readers will have for themselves the best quality and delicious wormwood cake. Wish you always success!
See more: [Top] 5+ What delicious cake does almond flour make?
AUTHOR CORRECTION: WWW.THUCPHAMKHO.VN