Seaweed is a refreshing food for meals, not only that, but they are also a great source of nutrition for us. But how to cook delicious seaweed without fishy? Let's follow the article below to refer to the dishes from rolls, soups, fried from dried seaweed . 
How to cook dried seaweed soup
1. Cooking seaweed soup
1.1. Dried seaweed cooked in shrimp soup
Ingredients: dried seaweed 30g, 2 ounces fresh shrimp , 1 slice ginger, minced red onion , chopped green onion , seasoning seeds, pepper, fish sauce
Making: 
Step 1: Buy seaweed, then soak in water for about 15 minutes for the seaweed to expand. Remove and rinse with water about 2-3 times to clean seaweed.
Step 2: Preliminarily wash the shrimp, peel and remove the head.
Step 3: Marinate shrimp with chopped red onion, add 2 teaspoons of seasoning and ½ teaspoon of pepper, then marinate for 10 minutes.
Step 4: Put the pan on the stove and add the oil. When the oil is hot, add the red onion and sauté until fragrant.
Step 5: Put the shrimp into the stir-fry, wait until the shrimp have hunted and become beautiful, then add 1 bowl of water. Add sliced ​​ginger to remove fishy.
Step 6: Wait for the soup to boil, add seaweed, add 2 tablespoons of fish sauce and cover. When the water is boiling, add scallions to make it fragrant.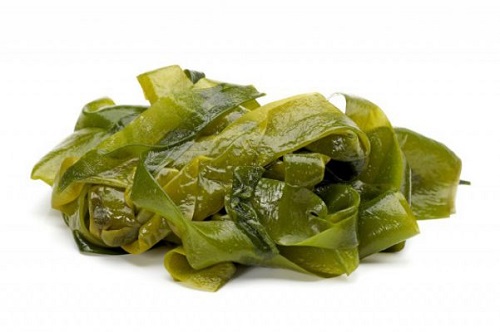 See more: How to cook delicious, easy-to-make asparagus shrimp porridge for babies
1.2. Tofu seaweed
Ingredients: 50g Dried Seaweed, 300g Young Tofu, 10g Dried Shrimp, 100g Carrot , Green Onion, Minced Garlic, Fish Sauce, Sugar, Seasoning, Ground Pepper.
Making: 
Step 1: Wash dried shrimp, soak in water until soft. Soak the seaweed in warm water for about 30 minutes, then take it out. Drain, cut into bite-sized pieces. Cut the carrots into dices, cut the scallions into small pieces, and set aside the onion heads. Tofu is cut into square pieces.
Step 2. Put the pot on the stove with a little oil. When the pan is hot, add the chopped onion and garlic to fry until fragrant.
Step 3: Add shrimp to stir-fry, add 1-2 liters of filtered water. After boiling, add carrots, young tofu.
Step 4: Season to taste. Thus it can be completed.
2. Seaweed roll
2.1. Seaweed rice roll
Ingredients: Rice : 100g, Dried seaweed: 1 pack, Carrot: 1 tuber, Cucumber : 1 fruit, Chicken egg : 2 fruits, Sausage or sausage, spring rolls as you like, Seasoning: salt, seasoning, sugar, pepper, sesame oil
Making: 
Step 1: Prepare the ingredients, wash the vegetables and cut them into strips. For carrots, you should boil them in boiling water until they are ripe and then put them in cold water so that the carrots can keep their crispness, deliciousness and eye-catching color. Pickled greens, remove dead leaves, wash.
Step 2: Cook rice. Wash the rice and put it in the rice cooker with just enough water so that the rice is not mushy. When the rice is soft and fragrant, put it in a bowl. Mix with a little salt, roasted sesame for more flavor.
Step 3: Beat eggs and cut sausages. Crack eggs into a bowl, beat well with 2g salt, 5g sugar, 3g seasoning and 1g pepper. Then fry the golden eggs. Cut into yarn.
Step 4: Cut the sausage and ham (if any) into long strands to make it easier to roll.
Step 5: Roll kimbap and cut pieces to enjoy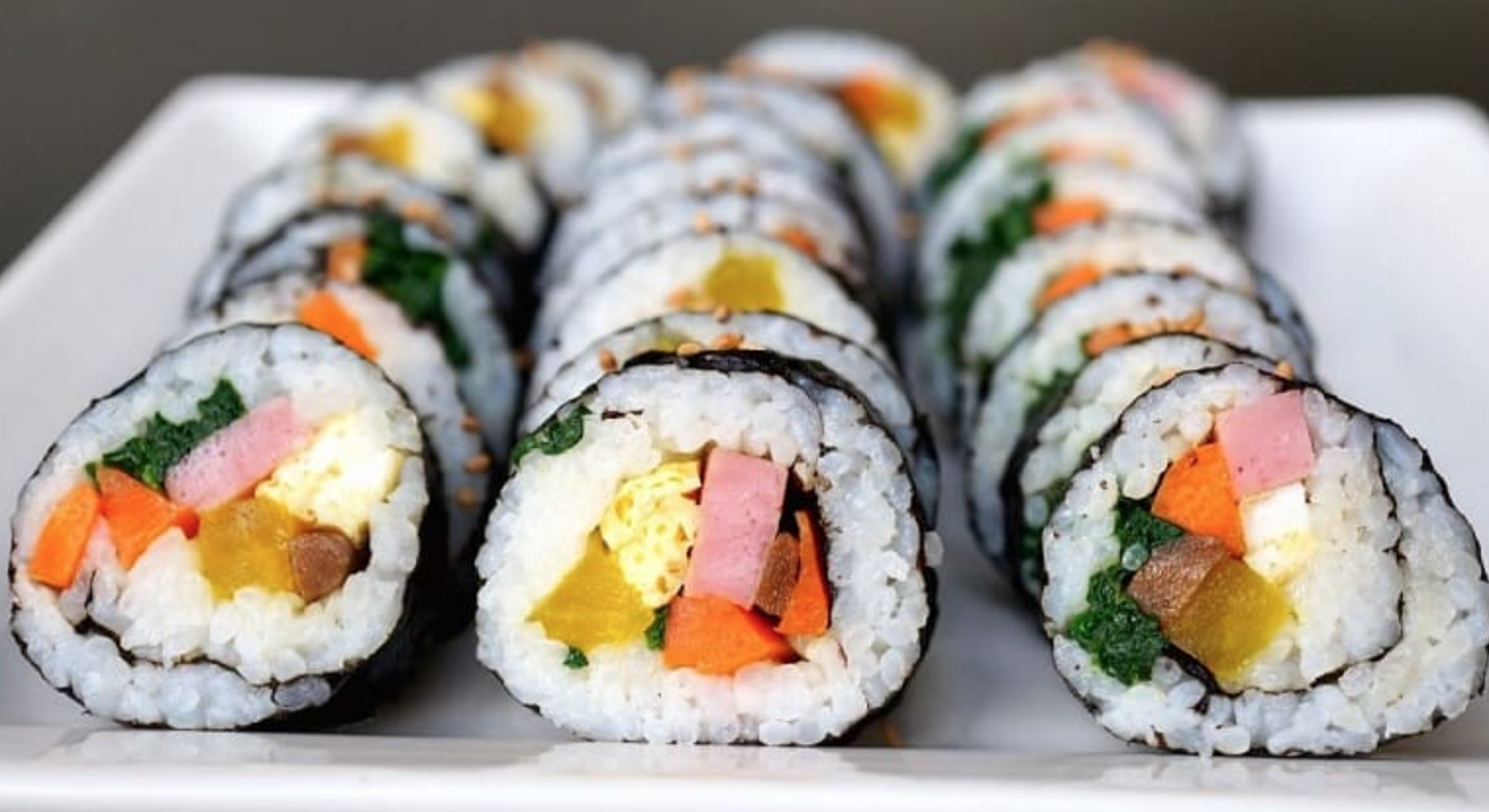 2.2. Deep fried seaweed vermicelli
Ingredients: Instant noodles 2 packs, 5 leaf seaweed, 150 gr Wheat flour, 150 gr Crispy Fried Flour, 1 egg (yolk), 50 ml water.
Processing:
Step 1: Process the vermicelli. Boil water and put 2 packets of vermicelli in it and blanch for about 2 minutes. When the vermicelli is soft, take it out and soak it in cold water for about 1 minute. Then take it out to dry.
Step 2: Mix the powder. Put in a bowl about 150g of flour and 1 egg yolk, add 50ml of filtered water and stir the mixture.
Step 3: Mix the vermicelli: add the vermicelli to the shrimp, then add the seasoning to taste.
Step 4: Roll seaweed. Spread seaweed on a flat surface, roll the vermicelli. Roll firmly so that it does not separate when frying. Then, cut into 2-3 pieces to eat.
Step 5: Fry the seaweed. Roll the rolled seaweed in the deep-fried batter, then dip it in the noodles and egg mixture you made earlier.
Step 6: Add enough cooking oil to submerge the vermicelli rolls. Wait for the oil to boil, add the vermicelli rolls and fry for 3-5 minutes. Wait for the crispy golden seaweed roll to be taken out to enjoy.
You can serve with soy sauce, chili sauce or soya sauce depending on personal preference.
2.3. Seaweed roll with quail eggs
Ingredients: Seaweed, Chicken Eggs, Quail Eggs , Fried Flour, Ground Pork
How to choose good quail eggs: You can choose quail eggs with beautiful, sturdy shells, no gray, no veins on the eggshells. When under the light or under the sun, the egg is transparent pink with a pink dot in the middle, this is a delicious quail egg.
Step 1: Boil quail eggs and beat them. First, the quail eggs are washed, boiled and put in a bowl of cold water to make it easier to peel. Eggs are peeled, beaten and put in a separate bowl.
Step 2: Roll seaweed. Spread the prepared seaweed on a flat plate, spread a thin layer of raw pork. Place 5 more quail eggs in the bottom section, then roll tightly. Finally, so that the seaweed rolls can stick, apply a layer of beaten egg on the seaweed leaves.
Step 3: Fry the seaweed. Pour eggs over rolled seaweed, sprinkle more breadcrumbs to cover the surface evenly.
Step 4: Add oil to the pan. Then, roll the seaweed into the hot oil and fry until golden brown. Remove to greaseproof paper and use a knife to cut into bite-sized pieces.
See more: Foods from dried red apples that are easy to make are good for health
3. Stir-fried seaweed with beef
How to choose to buy good beef. Choose beef with soft, small and not too smooth texture. The beef is fresh in color, lightly pressed by hand, still feels the elasticity and does not stick to the hand. Avoid buying meat that is pasty, has a strange smell, and is dark in color.
Step 1. Prepare beef. After being washed, the beef is marinated with spices. Includes: minced peeled garlic, minced peeled ginger, coffee, monosodium glutamate, mosquito, soy sauce, oyster sauce, all mixed well and marinated for 15 minutes.
Step 2: Prepare dried seaweed. After being bought, seaweed is soaked in water for about 30 minutes. When the seaweed is soft, take it out and cut it into small pieces.
Step 4: Put the pan on the stove, let it burn on medium heat. Put the cooking oil in a hot pan, fry the garlic, then add the marinated beef and stir-fry until the meat is hunted, then put the seaweed down. Stir-fry evenly for about 5 minutes, then season to taste and then pour into a plate.
In addition to the above recipes, you can be creative and try different recipes for dried seaweed. Each taste and cooking method will create rich menus and contain many nutritional values.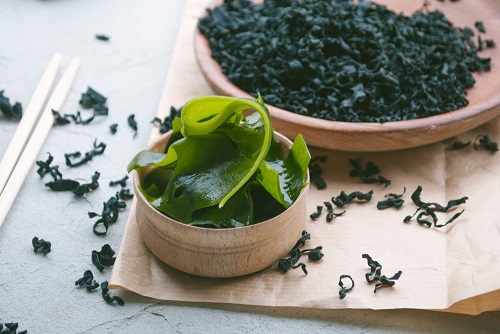 Where to buy cheap, quality dried seaweed in Hanoi and Ho Chi Minh?
To be able to buy a source of quality dried seaweed , which is dried with a professional method without losing its nutritional value, you need to find a reputable address specializing in dried food . We would like to introduce to you the address to buy cheap, reputable and quality dried seaweed in Hanoi and Ho Chi Minh City, which is Dung Ha Agricultural Products Company . With many years of experience in food supply, Dung Ha Agricultural Products is committed to the best quality, product origin and reasonable price on the market to customers. You can buy products directly at the store or through the hotline number for the best advice and support when buying products from us.
Hotline : 1900 689865.
Address:
Facility 1: 11 Kim Dong – Giap Bat Ward – Hoang Mai District – Hanoi
Facility 2: A11 – Alley 100 – Trung Kinh Street – Yen Hoa Ward – Cau Giay District – Hanoi
Facility 3: No. 02/B Quarter 3 – Trung My Tay Street 13 – District 12 – Ho Chi Minh City