Korean spices are very diverse, rich and indispensable in many delicious Korean dishes. His father had a saying "Spices are the soul in cuisine", surely you have heard more or less about this simile. The difference between regional cultures, customs and traditions has brought about the unique cultural and culinary beauty of each locality. Korean cuisine always has a big difference thanks to the typical spices that no other country has. The following article shared by Dung Ha Dried Agricultural Products will answer in detail to you 8 famous Korean spices in Korean cuisine that are indispensable.
1. Learn the characteristics of Korean cuisine?
Korean cuisine has many unique and interesting features. Here are some highlights of Korean cuisine:
Using natural spices: Korean cuisine often uses natural spices such as garlic, ginger, chili, soy sauce, black sauce,…
Banchan (side dish): Banchan are side dishes that are often used with the main meal. They are usually small dishes, can be raw vegetables, pickles, sweet and sour dishes or stir-fried dishes,… The number of banchan dishes in Korean cuisine is up to dozens of dishes.
Kimchi: Kimchi is the famous dish that makes the Korean brand. This is a dish that is spicy salted with cabbage, spicy chili seasoning. Kimchi is often used to eat rice, grill,…
To have delicious dishes, it is definitely indispensable for Korean spices. Let's find out together.
See more: Surprising uses of Indian spices for healthy meals
2. Discover 8 famous Korean spices in Korean cuisine
2.1 Korean chili powder
If you are passionate about Korean delicacies or are learning about Korean cuisine, you will clearly notice that in all Korean delicacies, they are spicy, right? And of course,
Korean chili powder
is the condiment that creates the ultimate spiciness in all Korean dishes.
The ingredients to make Korean chili powder are very simple, they only include: fresh chili, fresh garlic and pepper. All these ingredients will be cleaned and dried. Then, they will be pureed together to create a super-fine chili powder with a characteristic red color.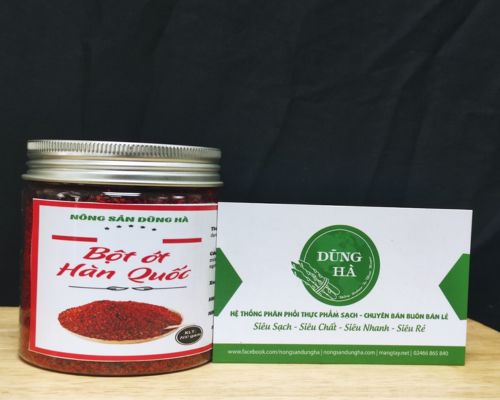 It seems that spicy taste not only appears in Korean cuisine, but even in Vietnam, many people also have the habit of eating spicy. Currently, Korean chili powder is also sold a lot in Vietnam. Chili powder is also popularly used in many dishes such as:
Stir-fried dishes
Dipping sauce
Water dishes such as: pho, vermicelli, vermicelli, porridge,…
Sprinkle a sufficient amount of Korean chili powder, so the dishes, you will feel the spicy, numbing taste of the tongue very stimulating. The price of Korean chili powder ranges from 90,000 VND – 100,000 VND / 500g jar. Super cheap price.
See also: 3+ extremely simple ways to make dried chili at home from A to Z
2.2 Korean chili sauce
Continuing another spicy condiment that is also very popular in Korea is Korean Chili Sauce. If, Korean chili powder is a form of dried chili powder, Korean chili sauce is in the form of a viscous liquid.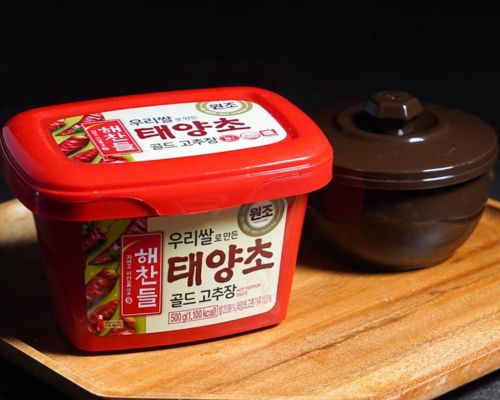 Korean chili sauce is made more sophisticated, more ingredients than chili powder. The main ingredients to get the delicious Korean chili sauce, beautiful color is still fresh chili + garlic. But, this chili sauce will have some other additive ingredients such as:
pears
,
tomatoes
, cooking oil, sugar,
tapioca starch
and vinegar. To make Korean chili sauce at home is very simple, including:
Chilli will be washed, seeds removed
Tomato + sliced pear
Put fresh garlic + fresh chili + pear in and boil for 15 minutes
Take them out to drain
Put chili + pear + tomato + garlic in the blender and puree
Finally, pour the pureed soy sauce mixture into the pan and boil for 10 minutes
Add tapioca + apple cider vinegar and cook with chili sauce for 7 minutes
Pour the chili sauce mixture through a sieve, filter out the residue, take the chili sauce to use
In Vietnam, Korean chili sauce is used in pho, vermicelli, and vermicelli. But actually, the Korean chili sauce that should be used in Tokboki is a great meal.
See more: How to make Muong Khuong chili sauce at home, any dip is delicious
2.3 Korean Soy Sauce
The next Korean condiment you cannot ignore is soy sauce. Currently, Korean soy sauce has produced many types from different popular brands. However, only the following 3 types of soy sauce are the most popular in the land of kimchi: Joseon Ganjang, Yangjo Ganjang and Jin Ganjang. All three of these Korean soy sauces are made from very different ingredients.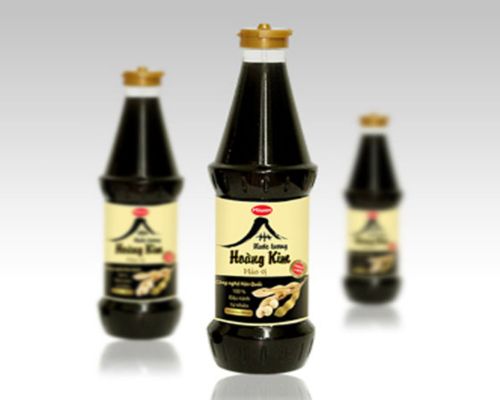 Joseon Ganjang is also known as Guk-Ganjang. This type of soy sauce is made from soybeans, salt and mineral water. They will be fermented for 1 year. The flavor of this soy sauce is more intense than other Ganjang varieties. Joseon Ganjang is used in soups, banchan,…
Yangjo Ganjang ingredients are the same as Joseon Ganjang. However, this type of soy sauce they only ferment for half a year (ie 6 months). Yangjo Ganjang is used to marinate grilled meat or dipping sauces. The taste is sweeter than Joseon Ganjang, and not too salty
Jin Ganjang is a soy sauce made from soy protein that is broken down by chemical enzymes. In other words, Jin Ganjang is a kind of soy sauce, when eaten they have a fatty taste of soybeans.
The prices of these 3 types of soy sauce are very different. But they are all flexibly applied in cuisine. You can taste Joseon Ganjang first to feel the taste.
2.4 Korean Kewpie Sauce
Korean cuisine not only loves spicy food, but they also love fruit and vegetable salads. Apparently, a healthy healthy diet is something that Koreans attach great importance to. In the Korean diet, vegetables are an important and indispensable thing. They can be eaten directly, or chopped into salads and then mixed with sauces and enjoyed.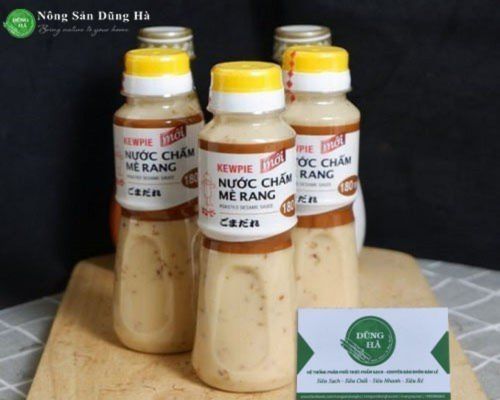 In salads or fresh vegetables eaten directly, an indispensable "divine" sauce of Koreans is
Kewpie Sauce
(also known as Roasted Sesame Sauce). The ingredients to make Korean Kewpie Sauce are white sesame, rice vinegar, Korean soy sauce and Mayonnaise. Making Korean roasted sesame sauce is very simple, you just need:
White sesame will be roasted and pounded finely
Then, roasted sesame will be pureed with mayonnaise, rice vinegar and Korean soy sauce
The last step is to filter the mixture through a sieve to remove residue
Roasted sesame sauce after finished product will have the form of a thick sauce. Fragrant, fatty taste of roasted sesame. Put this sauce in the refrigerator, store it in the refrigerator and can be used gradually in vegetable salads or dipped with grape seaweed.
Currently, the price of roasted sesame sauce is about 28,000 VND – 30,000 VND / bottle.
2.5 Korean dried anchovies
Are you surprised that dried anchovies are a unique Korean condiment? It is a fact that you have not known for a long time. If in Vietnam, anchovies will be processed into dishes such as: fried anchovies with garlic and chili, anchovies braised with turmeric, anchovies braised with pepper,… In Korea, they use dried anchovies to increase the sweetness of the water. soups or side dishes.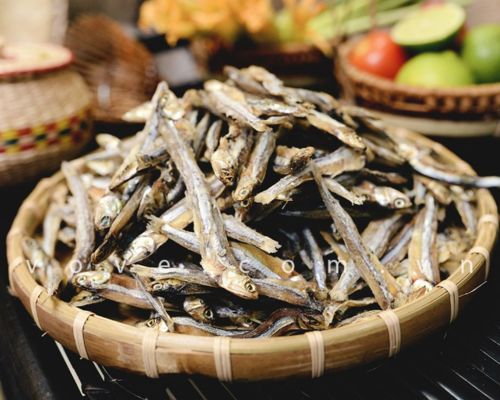 Korean dried anchovies are processed the same way as Vietnamese anchovies. The fish will be cut off the head, gutted to remove the bitter taste when eaten. After that, the fish will be used drying method for easy use and preservation for a long time. Finally, the finished product is packaged and sold in the market.
The price of Korean dried anchovies usually fluctuates at 25,000 VND – 28,000 VND / 100gr pack.
See more: Summary of delicious and attractive dried fish that you cannot ignore
2.6 Korean yellow mustard
Mustard is a familiar condiment in Korean cuisine. There are many varieties of mustard on the market. However, there are only 2 types of mustard that are most loved by people: yellow mustard and green mustard. Of these two types of mustard, yellow mustard is the most commonly used Korean yellow mustard.
Yellow mustard when eaten will have a fatty, slightly pungent and slightly sour taste. Yellow mustard is made from mustard seeds, sugar and turmeric. Therefore, yellow mustard has a beautiful honey yellow color, the preparation is in the form of a creamy paste.
Yellow mustard is often served with baked goods, bread, steak, salad dressing,…
==> See more
yellow mustard
seed
products
HERE
!
2.7 Korean Apple Cider Vinegar
Vinegar is probably a familiar spice in Vietnam. In Vietnam, there are many types of vinegar being sold in the market. These are: White Vinegar, Rice Vinegar, Brown Rice Vinegar, Wine Rice Vinegar, and Apple Cider Vinegar. Of these 5 types of vinegar, there is only one type of vinegar originating in Korea that is loved by many Vietnamese people, which is Apple Cider Vinegar.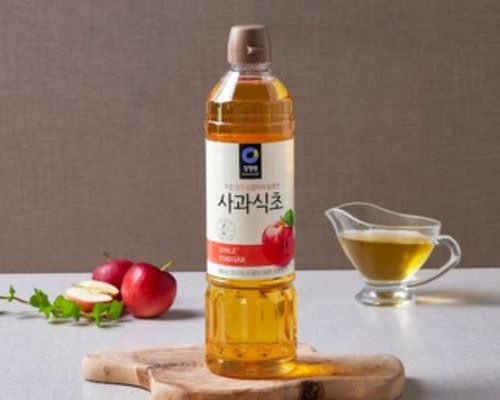 Apple cider vinegar is naturally fermented from apples and water. When you open the lid of the vinegar, you will clearly send the taste of boiling apple straight to the nose. Apple cider vinegar when eaten will have a mild, sour taste, a beautiful light yellow color. Apple cider vinegar has an aromatic taste from apples, not as strong as Vietnamese rice vinegar.
The price of apple cider vinegar on the Vietnamese market sells for 89,000 VND – 99,000 VND / bottle.
2.8 Korean Soju
One last
Korean condiment
today is
Korean Soju
. Korean Soji is actually a type of alcohol made entirely from fruit, with a relatively light alcohol content. Soju is made entirely from fresh fruits, so they have many varieties such as:
Soju Apple Flavor
Soju Peach Flavor
Soju Blueberry Flavor
Green Grape Soju Soju
Soju Soju Melon Flavor
Soju Plum Flavor
Soju Cherry Flavor
Soji Flavourful Phuc Bon Tu
Kiwi Flavor Soju
Strawberry Soju Soju
Fragrant Soju Soju
Traditional Flavor Soju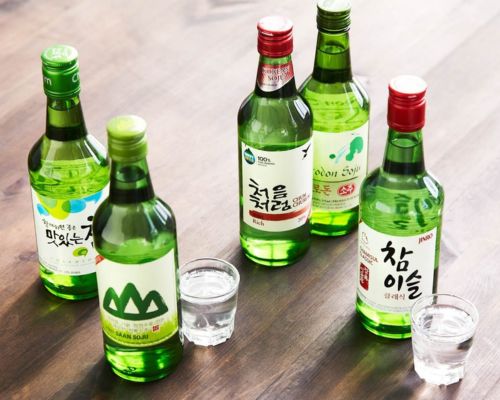 Soju is often served with grilled dishes or hot pot. Light alcohol content, soju is very suitable for both women. Delicious fruit flavor, you can completely choose the wine flavor according to your preferences. However, alcohol is fermented from fruit very easy to drink, so you will drink too much and lead to intoxication. Be sure to use it in moderation.
The current price of Soju Wine on the market is being sold for 50,000 VND / 360ml bottle.
2. Where to buy cheap quality Korean spices in Hanoi and Ho Chi Minh City?
Currently, it is not difficult for you to buy Korean spices in many places such as supermarkets, food stores, dry markets, … in your area. However, you need to pay attention to the quality and origin of the product. Dung Ha dry agricultural products is a prestigious place that you can choose. Not only selling Korean spices, our store also offers a lot of Ha Giang specialties, Northwest specialties, dried fruits,… guaranteed quality, affordable prices.
Dung Ha Dry Agricultural Products
is proud to be a pioneer in distributing high quality regional specialty products with clear origins to consumers in the Vietnamese market. Committed to bringing consumers quality products, good for health, fully certified to meet food hygiene and safety standards.
Contact Info:
CH1: No. 11 Kim Dong – Giap Bat Street – Hoang Mai District – Hanoi
CH2: A10 – Alley 100 – Trung Kinh Street – Yen Hoa Ward – Cau Giay District – Hanoi
CH3: No. 02/B, Quarter 3 – Trung My Tay Street 13 – District 12 – Ho Chi Minh
Corporation Tel: 1900 986865
3. Conclude
Above is the entire article detailing answers to questions about famous Korean spices in Korean cuisine that Dried Agricultural Products has shared with housewives. Korean cuisine is always very delicious, unique and brings curiosity to many countries around the world. Currently, Korean cuisine is very popular in the world and Vietnam is a country that loves Korean cuisine. Hopefully, with the above Korean spices, you will be able to create countless delicious Korean dishes to treat your entire family member.
Thank you for taking the time to follow our full article!!!