How to make bean sprouts with towels at home for super lazy people will still help you create super white, super big and fat bean sprouts. In addition to being made of towels, bean sprouts can also be made from many items in your own family such as: saucepans (pots), plastic bottles, plastic baskets, milk cartons, mesh bags, earthen pots, plastic containers,… If you have ever failed in all ways to make bean sprouts, try immediately how to make bean sprouts with a super simple towel at home, only 1.5 days to have bean sprouts to eat. Let's find out together with Dung Ha Dry Agricultural Products.
Information about bean sprouts?
Bean sprouts are a fairly common sprout in Vietnamese cuisine. Bean sprouts are grown very simply, are popular, easy to care for, and grow quickly. Normally, bean sprouts are grown from 100% pure green beans. However, there are also some places where they grow bean sprouts with soybeans, black beans or red beans. But the most popular, delicious bean sprouts that you can grow or buy in the store are the bean sprouts grown with green beans.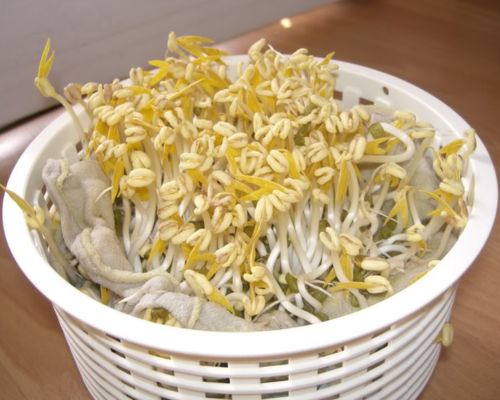 Bean sprouts can be eaten directly or processed many delicious dishes such as: stir-fry, hot pot, mannequin, soup, etc. Bean sprouts when eaten raw will have a characteristic fishy taste. But when cooked, bean sprouts have a light sweet taste that is very stimulating. Bean sprouts are not only delicious, but they are considered to be extremely beneficial sprouts for men and women.
So, why are bean sprouts good for both men and women? Let's learn about the nutritional value of bean sprouts to have the most detailed look.
Nutritional value in bean sprouts?
According to the World Health Organization – WHO, the nutritional value of 100 grams of bean sprouts includes:
| | |
| --- | --- |
| Nutrition name: | Corresponding nutritional value: |
| Energy | 22 calories |
| Lipids | 0.7gr |
| Saturated fat | 0.1gr |
| Cholesterol | 0mg |
| Sodium | 6mg |
| Potassium | 79mg |
| Carbohydrates | 2.1gr |
| Fiber | 1.9gr |
| Road | 0.2gr |
| The protein | 4gr |
| Vitamin C | 8.2mg |
| Iron | 1mg |
| Magnesium | 27mg |
| Vitamin B6 | 0mg |
| Calcium | 32mg |
This is the table of nutritional value in 100g of bean sprouts. A variety of nutrients in this bean sprouts are really good for human health. Adding bean sprouts to your diet menu will bring you many uses. Let's continue to find out!
Uses of bean sprouts?
A massive table of the nutritional value of bean sprouts has just been listed above. With so many important and essential nutrients like this, adding bean sprouts to your diet menu will bring you many great benefits such as:
Better digestion
Bean sprouts contain a lot of fiber, protein, vitamins and minerals that are beneficial for the health of the
digestive system
. Specifically:
The fiber in bean sprouts helps to enhance digestive function, maintain moisture and create a feeling of fullness, supporting food digestion.
Vitamins C, K and minerals potassium, magnesium, and iron are necessary for the functioning of the digestive system
The vegetable protein in bean sprouts is an important one. This substance contributes to the diet, muscle and cell recovery in the body
Support weight loss
Bean sprouts contain a lot of fiber. This fiber will help you feel full longer when you eat, help you feel comfortable and limit overeating. Helps the body control the amount of calories consumed.
Bean sprouts are used to replace high-calorie foods. For example, red meat, foods that contain a lot of fat. Instead of eating a heavy meal, you can replace part of the meal with bean sprouts to reduce calories.
Prevent cancer
The fiber in bean sprouts is very rich. Fiber helps strengthen bowel function, reducing the risk of constipation. At the same time, fiber also helps to easily remove harmful substances in the intestine from the body.
Vitamins C and E in bean sprouts are like an antioxidant. This substance has the ability to protect cells from damage by free radicals, which are associated with cancer development.
Helps rejuvenate skin
Vitamins E and C in bean sprouts are a powerful antioxidant. This substance not only helps protect the body from the attack of cancer cells but also helps to slow down the aging process of the skin.
Vitamins A, B, C and E and minerals like iron, zinc, magnesium, potassium. This is a combination of substances that help protect the skin against harmful factors from the external environment
Bean sprouts provide a lot of water and fiber. Water and fiber help replenish moisture to the skin, helping the skin to be full, shiny, not dry, cracked.
Add alkaline to the body
Alkaline in bean sprouts is also relatively abundant. Eating bean sprouts helps to add alkali to the body to help maintain acid-base balance and nerve function. Reduces the risk of inflammation, helps the nervous system and muscles work efficiently.
Improves sperm quality in men
Bean sprouts contain a lot of Vitamin C, B12 and zinc. Vitamin C is a powerful antioxidant present in sperm plasma, which helps to prevent sperm from clumping and binding. Increase your chances of conceiving.

 

Vitamin B12 is involved in cell maturation and DNA synthesis. This is an important substance in infertility. Vitamin B12 deficiency will reduce sperm motility as well as quantity.
That is one kind of use of bean sprouts. These are all very good uses for human health. So why don't we make our own bean sprouts at home so that our bodies can easily absorb these nutrients?
How to make bean sprouts with towels at home for the "super lazy" and "clumsy"?
Preparation ingredients
In order to get plump, white bean sprouts, green beans are the most important ingredient. So, you need to know how to choose the right green beans. Here are some small tips for you to choose green beans:
Color: Green beans usually have an evenly bright green outer shell. Do not choose dark, yellowed beans.
Size: The size of green beans must be 10 – 10. Should not be too small, nor should you choose too large. Do not choose green beans, damaged, …
Structure: 100% green peas have a hard, solid structure. Squeezing hard with your hands can't break or soften.
Taste: Green beans often have a characteristic aromatic flavor. Bring green beans to your nose, and check. If there is an unusual smell, the green beans may have gone bad.
See more: 100GR Green beans how many calories? Weight loss dishes from green beans?
Steps to take
Step 1: Prepare green beans
When you buy green beans, you wash them about 2-3 times in a pot of clean water
Using your hands, pick up the green beans and seeds floating on the surface of the water
Mix a pot of water according to the ratio of 2 boiling 3 cold
Pour the whole green beans into the water and soak for about 6-8 hours so that the seeds crack
Pick up green beans, rinse green beans under running water
Let the green beans dry and drain
Wash pandan leaves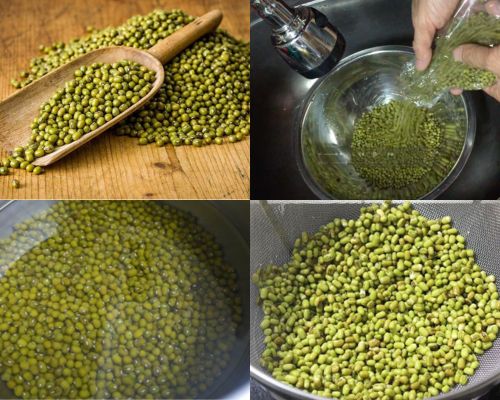 Step 2: Incubate green beans
Dip 2 towels and a bucket of clean water
Then, gently squeeze the water out of the towel
Spread a bucket towel on the bottom of the basket
Pour green beans into the basket
The green beans are all around the basket
Put pandan leaves in the basket
Cover the remaining 1 towel on the green bean surface
Put a basket of green beans in a black ball bag and tie it up
Keep green beans in a cool, dry place with little sunlight
Put a heavy object outside the black ball bag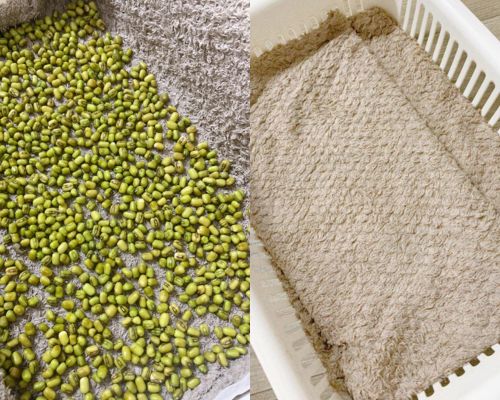 Note: You must not squeeze the water out of the towel. The towel must have a certain amount of moisture to stimulate the sprouting of green beans.
Step 3: Check and care
Check the bean sprouts regularly once a day
Using your hand, touch the bucket towel to check if the towel is still damp
If the towel is not damp, sprinkle some water on the towel
About 2 days you can harvest bean sprouts to use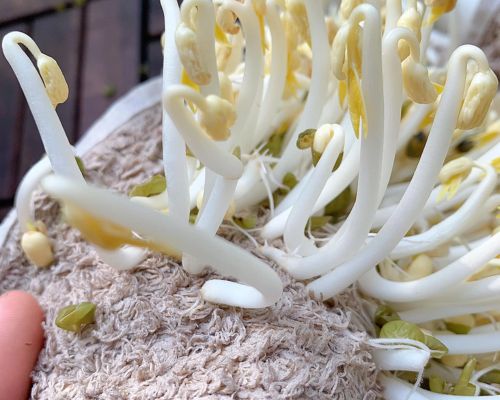 Note: When inspecting and caring for bean sprouts, you should avoid exposing them to light. Bean sprouts exposed to light will become yellow and bitter.
See also: [Disclosure] How to make bean sprouts out of a saucepan, only 2 days to eat
Pros/Cons of how to make bean sprouts with towels at home?
Advantages of making bean sprouts with towels?
Making bean sprouts with towels at home is a simple, convenient and fast way to do it. Bean sprouts made of towels can be harvested after 2 days. However, the advantages of making bean sprouts with towels at home, you will encounter such as:
Cost savings: Although the bean sprouts are relatively cheap in the market. But making sprouts at home will still save you money compared to buying ready-made sprouts from the store.
Ensure food hygiene and safety: When making bean sprouts at home, you 100% control very well the source of clean water, the environment for soaking the bean sprouts is clean,… This will give you peace of mind that the bean sprouts are safe. are produced cleanly, absolutely safe.
Convenience: Making bean sprouts with towels at home is very simple and easy to do. You just need to prepare a clean towel of any kind. Then, soak the beans, incubate them and harvest the bean sprouts on the right day.
If you are looking for a simple, quick, convenient way to make bean sprouts,… then making bean sprouts with towels is a great choice for you.
Disadvantages of making bean sprouts with towels?
Making bean sprouts with towels at home is a simple, fast, economical and extremely convenient way. However, there are also some disadvantages to keep in mind such as:
Takes a lot of time: Yes, making bean sprouts at home will take up a lot of your time. The effort to take care of the bean sprouts and the time to harvest the bean sprouts.
Cost Consumption: While making bean sprouts at home can be cost-effective compared to buying ready-made sprouts, it is also important to consider the cost of buying ingredients to go through the process of making sprouts.
Unexpected results: Sometimes in the process of making bean sprouts you have fully followed the procedure, but the results of the sprouting process may not be what you expected. This will leave you frustrated and frustrated.
In short, making towel bean sprouts at home can bring many challenges and risks for you. You need to pay attention to some of the above disadvantages to reduce the risk to the lowest level.
Conclude
Above is the entire experience and detailed instructions on
how to make bean sprouts with towels
at home simply for super lazy people that I have actually tested. The finished product is the white, super fat bean sprouts that are delicious and not inferior to the bean sprouts bought at the store. In general, no matter how to make bean sprouts, they are very simple, do not need too much effort to fertilize. Depending on the conditions in your family, you can choose how to make bean sprouts that is most convenient for you.
Wish you success and have yourself a white bean sprout, super fat. Thank you for taking the time to read this article of ours.
Green beans are the main raw material for making bean sprouts.
Contact Hotline: 1900 986865
to order quality green beans. Or you can view products via
Webs: https://thucphamkho.vn/do-kho/
In addition, you can buy green beans directly at the Company's store:
CN1: No.11 Kim Dong, Giap Bat street, Hoang Mai district, Hanoi city
CN2: A10 – Alley 100, Trung Kinh street, Yen Hoa ward, Cau Giay district, Hanoi city
CN3: No. 02/B, Quarter 3, Trung My Tay 13 Street, District 12, Ho Chi Minh City
MEET YOU AT THE FOLLOWING LESSONS TO SHARE!!!