Refreshing detox tea is a golden key for those who have a hot body and a lot of toxic liver. These teas are very healthy, the ingredients are completely natural and the production process is guaranteed. To learn more about the uses of each type of tea ingredient, the price, and where to buy the prestigious Refreshing detox Tea, please read the article below!
1. What types of refreshing detox tea are there?
The process of eating and living in the era of greasy fast food, etc. is a cause of our body being easily heated in and toxic to the liver. When the situation is hot and toxic for a long time, it will cause the body to develop pimples, urticaria, weight loss, etc., affecting the quality of life, and losing confidence in communicating with people around. Therefore, it is very necessary to clear heat and detoxify the liver. When the liver is healthy, they are better able to eliminate toxins, the body is no longer hot.
Some types you can easily find and buy are highly effective in clearing heat and detoxifying the liver such as:
1.1. Jasmine Bud Tea
Jasmine tea is widely consumed in Southeast Asia. Tea has a characteristic delicious taste and is quite easy to drink, suitable for many subjects.
Jasmine tea has antioxidants, which help reduce free radicals that form in the body. Thereby helping to eliminate free radicals, and destroy prostate cancer cells. Besides, polyphenols in jasmine tea have the ability to reduce tumor size, and prevent the growth and spread of cancer cells.
Especially:
+ Jasmine tea, when combined with green tea, can help clear heat from the body, and help reduce stress, anxiety, headaches, muscle tension, etc.
+ Support eliminating toxins in the liver, and reducing cholesterol, and unhealthy fats in the body, the especially bad cholesterol. 
+ Beautify skin: antioxidants and polyphenols in jasmine tea help slow down the aging process, and prevent acne, dark spots, and melasma to help smooth white skin.
+ The antibacterial ability of jasmine tea helps to strengthen the resistance very well for the intestinal tract. 
+ Supports weight loss. Jasmine tea is proven to be very effective in reducing fat and bad cholesterol in the blood. Reduce fat cells effectively.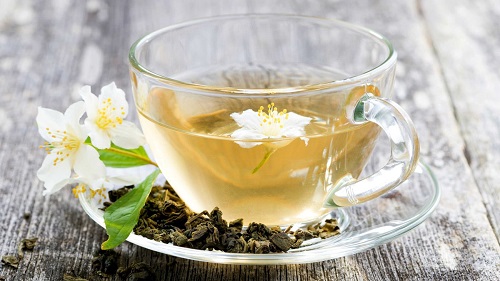 1.2. Chrysanthemum bud tea
Chrysanthemum bud, also known as diamond chrysanthemum bud, has long been considered a precious medicine. They are harvested as tea when the new buds open.
The main use of chrysanthemum bud tea is to help the body clear heat and detoxify the liver.
In addition, they are also beneficial for the heart because they contain flavonoids that have been shown to reduce the risk of coronary heart disease and heart attack.
+ Helps reduce stress, and relaxes the mind, chamomile has a calming effect on the body, and calms the nerves, thereby reducing anxiety, and helping the body to have a relaxed state.
Chamomile tea also has antibacterial properties, strengthens the immune system, and supports the digestive system. Thereby reducing bloating, and heartburn, and releasing unnecessary gases from the body.
+ Beautifying the skin, in the composition of chrysanthemum bud helps to fight free radicals, and prevent acne. This results in smooth, blemish-free skin.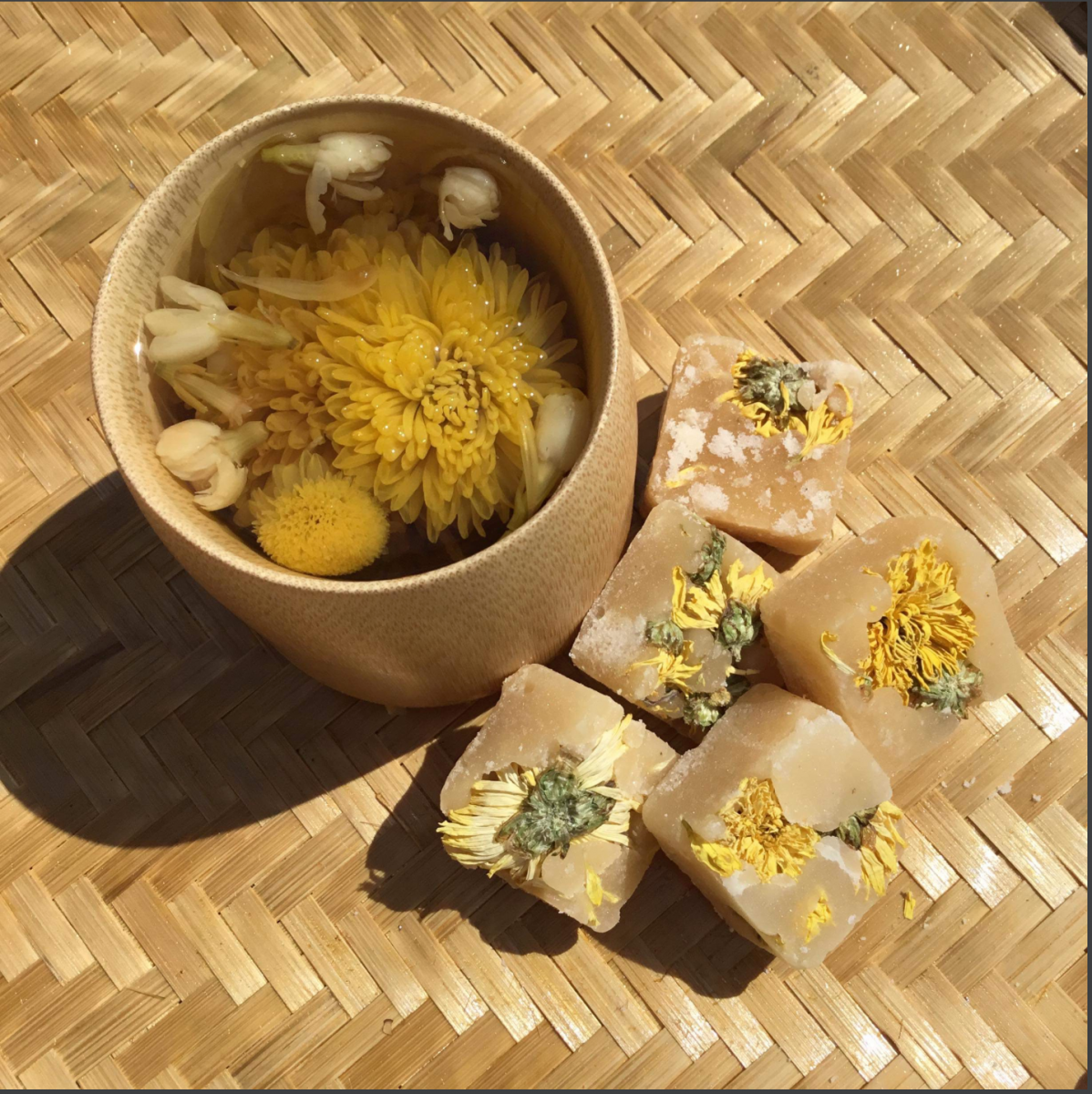 1.3. Snow shan flower bud
Shan Tuyet flower buds can be called one of the most expensive teas. They have a certain rarity and great use for human health.
Shan Tuyet tea is super clean because it is collected from old trees living at an altitude of thousands of meters above sea level. At the same time, it is processed with a safe, modern process that ensures quality and is safe for health.
Tea has a delicious taste, light aroma helps to purify and remove bad fats in the blood. At the same time, it removes impurities that are not beneficial to the intestines and eliminates liver toxins. Helps to increase concentration and reduce stress. Helps blood circulation, stabilizes breathing, and regulates blood pressure.
Xem thêm: Mê mẩn với 5 loại hoa quả sấy ngon mê ly thay đồ ăn vặt
1.4. Dried rose
From fresh natural rose buds, after being carefully selected and harvested, they are completely dried naturally. Thanks to this method, helps to retain the color, flavor, and nutrients characteristic of the rose.
Dried rose tea is used most by women, especially on red light days. H[ substance in rose has the ability to help cramps, and reduce menstrual pain.
In addition, rose petals also contain a lot of vitamin C, which helps strengthen the immune system, and slows down the aging process of the skin. Reduces wrinkles, sagging skin, and inflammation of the skin. Thereby helping you have healthy, glowing skin.
A cup of hot rose tea every day will help relieve sore throat effectively. Reduces sore throat. Colds, fevers, etc. are all blown away.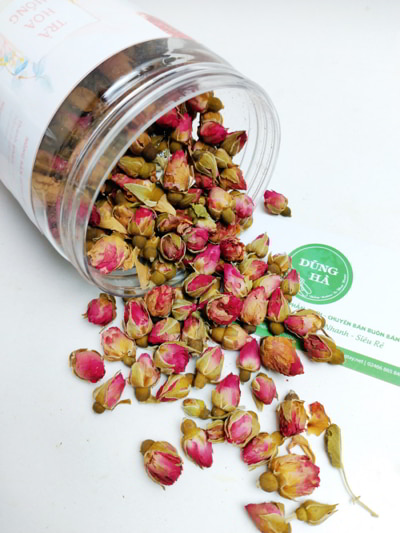 1.5. Dandelion tea
Dandelion has been proven to cure many diseases and has a much higher nutritional content than lettuce, spinach, etc. Dandelion contains minerals and vitamins such as magnesium, iron, vitamins A, B, and C., and sodium,…
Some of the uses of dandelion include:
Liver purification, healthy liver: The function of the liver produces enzymes that can convert fats into fatty acids, purifying and detoxifying the liver. Not only that, but they also support stable functioning and increase the efficiency of the liver.
+ Provide vitamin C to reduce swelling, enhance the ability to absorb minerals better, and prevent the development of diseases from external agents.
Dandelion also supports bone protection, vitamin K supplementation, and diabetes treatment. Fight skin infections, supplement antioxidants, provide fiber, etc.
Xem thêm: Tổng hợp các loại hạt khô bổ não cho người trưởng thành
1.6. Dried bitter melon
In dry teas, it is impossible not to mention bitter melon, the leading tea in cooling the body. Bitter melon is healthy, cool, and contains a lot of water. Since then, it has the function of cooling down, making the eyes and body quickly.
+ In bitter melon, contains 5 times more vitamin C than cucumber. Contains ingredients that help reduce blood sugar, increase glucose metabolism, and improve diabetes. 
+ Supplement the liver, help eliminate toxins, reduce fluid retention, and enhance gallbladder function. Very suitable for people with hepatitis, cirrhosis, and constipation.
+ The dishes and drinks made from bitter melon are very good for the health of the skin. From the nutritional components found in bitter melon, they help treat acne, eczema, and psoriasis on the skin. Helps you own brighter, smoother, and healthier skin.
Bitter melon is also used to prevent colds, and reduce the risk of food allergies, and fungal infections. Gastroesophageal reflux disease symptoms. Bitter melon also helps strengthen the immune system, preventing infections.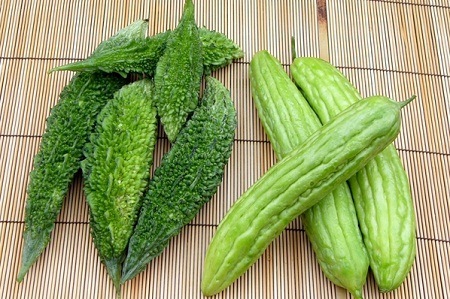 2. The price of heat-clearing and refreshing detox teas today 
The current refreshing detox teas are quite affordable for many people. Each type of tea will have a different price depending on the rarity, use, and processing of the product. Among them, perhaps the snow shan bud is the highest. You can refer to the price of dry tea at Dung Ha Agricultural Products below for more information.
Price of jasmine tea: 160,000 VND/500 gr
Chrysanthemum tea price: 185,000 VND/500gr
Shan Tuyet bud price: 425,000 VND/500gr
Price of dried rose tea: 290,000 VND/500gr
Price of dandelion tea: 75,000 VND/500gr
Price of Dried Bitter Melon Tea: 105,000 VND/500gr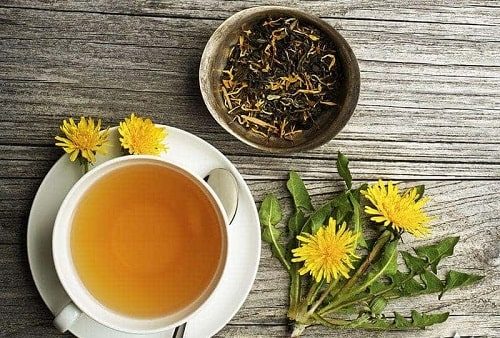 Xem thêm: Địa điểm bán bột măng tây uy tín, chất lượng tại Hà Nội và Hồ Chí Minh
3. Where to buy reputable tea to clear heat and refreshing detox in Hanoi and Ho Chi Minh?
Dried teas are sold a lot on the market, you can easily buy them at places such as markets, commercial centers, etc. However, many cheap places do not provide good quality products. susceptible to mixing inferior goods and counterfeits. To help you buy dry tea at the best price, we would like to introduce you to Dung Ha Agricultural Products address. This is a company specializing in providing food, and dry goods committed to the origin, quality, and most reasonable price in the market of Hanoi and Ho Chi Minh. 
To buy a reputable detox tea, you can go directly to the store, buy online at Dung Ha Agricultural Products, or call the hotline for the best advice. Dung Ha Agricultural Products is committed to prestige, and quality, ensuring the origin and origin of rice when it reaches all customers when buying detox tea.
Hotline: 1900 986865. 
Address:
Facility 1: 11 Kim Dong – Giap Bat Ward – Hoang Mai District – Hanoi
Facility 2: Alley 100 – Trung Kinh Street – Yen Hoa Ward – Cau Giay District – Hanoi
Facility 3: No. 02/B Quarter 3 – Trung My Tay 13 Street – District 12 – Ho Chi Minh City