Salted egg kimsa dumplings is a kind of cake with a soft shell, filled with melted salted egg, which is extremely addictive. This dish is loved by many children. That's why recently, many mothers are struggling to find a recipe for how to make salted egg kimsa dumplings for their little ones. But many women are still struggling and facing many difficulties. Realizing this, the Dry Food team will bring you 2 ways to make melted salted egg kimsa dumplings with the latest recipe. Let's go to the kitchen together.
1. What is a salted egg kimsa dumpling?
Salted Egg Dumplings (also known as Golden Dumplings). This is a type of cake with a soft, smooth outer shell that is as shiny as honey. Inside is a salted egg or cheese filling that is extremely skillfully made and is also the dish that is loved by many diners.
Salted egg kimchi dumplings are made from very simple ingredients such as flour, unsweetened fresh milk, unsalted butter, egg yolks, coconut milk, cooking oil, yeast,… all ingredients These materials are very easy to find in the market. Therefore, making melted salted egg kimsa is not difficult at all, moms.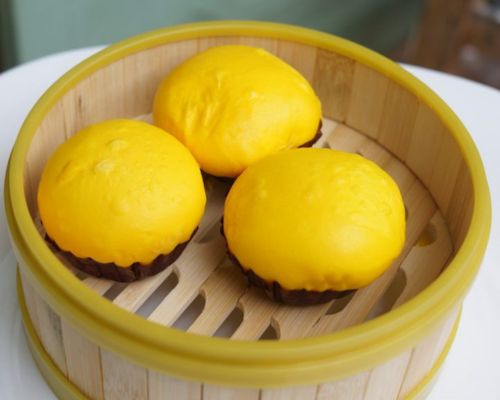 The cake is round, very small in size, packed in a box and sold very much in the market. The price of a box of salted egg kimsa cake with 12 pieces is somewhere around 100,000 VND/box.
In order to have for yourself these golden kimchi dumplings, lovely small size, stimulating melted salted egg filling, you can absolutely make this cake at home for your children. The recipe for making salted egg kimsa dumplings is very simple. Please follow along.
See more: [WATCH NOW] How to make the hottest Taiwanese onion cake 2023 at home
2. How to make kimsa dumplings filled with salted eggs and stimulated melting?
2.1 Preparation ingredients
6 salted egg yolks
50g condensed milk
50g unsalted butter
50g coconut milk
40g milk powder
350g flour number 8
3g of yeast
50g white sugar
150ml fresh milk without sugar
30ml cooking oil
3 egg yolks
30g vanilla flavor
5g baking powder (baking powder)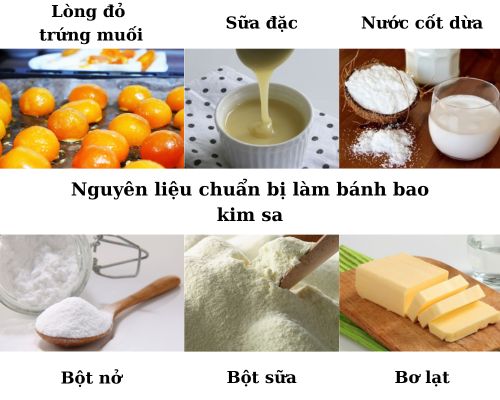 2.2 Steps to take
Step 1: Prepare salted eggs
Rinse the salted eggs under clean running water to remove the whites
Put the salted eggs in the steamer, steam the salted eggs for 10-12 minutes
Put the salted egg in a bowl, use a spoon to mash the salted egg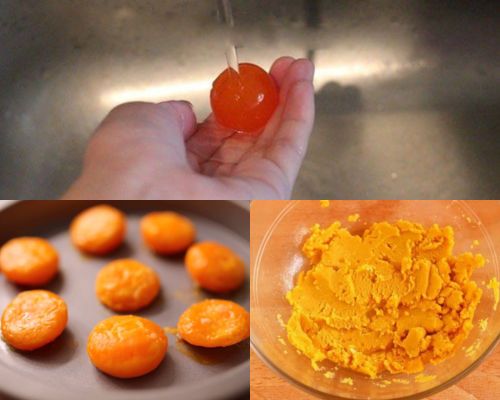 Step 2: Make salted egg cream filling
Put in a bowl of salted eggs 50g condensed milk + 50g unsalted butter. Beat well until completely dissolved with the eggs
Put 50g of coconut milk + 30g of milk powder in a bowl of salted eggs. Stir well by hand
Pour salted egg filling into molds (each mold is about 10-13g filling)
Wrap the food in cling film, put the mold in the freezer for 5-7 hours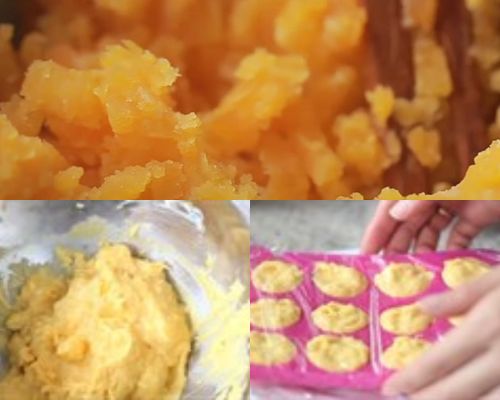 Step 3: Make the dough
Put in a bowl 250g flour + 3g yeast + 1 teaspoon sugar + 150ml unsweetened fresh milk + 30ml cooking oil + 30g vanilla flavor. All mixed together
Mix the dough well with your hands for 7-10 minutes to form a smooth, elastic and non-sticky dough.
Place the dough in a bowl and let it rest for about 2 hours
Add 75g flour + 30g sugar + 3 egg yolks + 10g milk powder + 4g yeast
Continue kneading the dough a second time evenly to form a smooth, non-sticky dough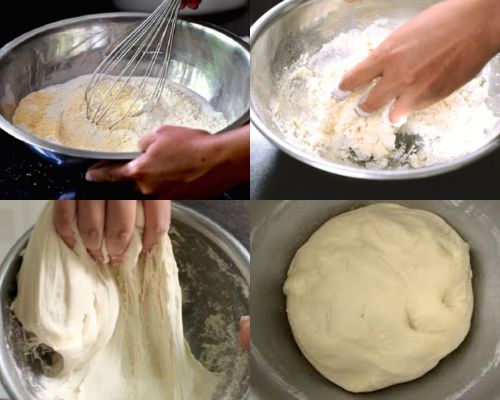 Step 4: Create the cake shape
Divide the dough into small pieces, 30g each. Create small round cake dough
After making the dough, let the dough rest for 5 minutes
Roll out the crust, put the salted egg filling in the middle, and then seal the cake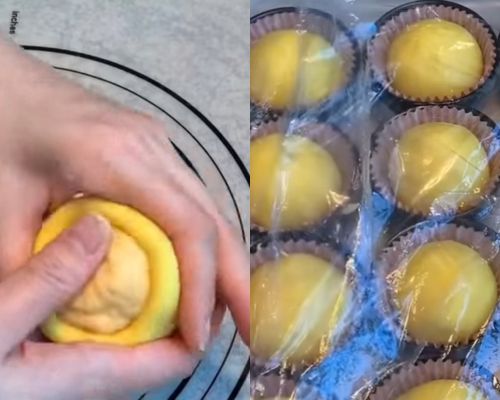 Step 5: Steam the cake
Place the cake in the cupcake shell. Neatly put the cake in the basket and steam it for 10 minutes to enjoy it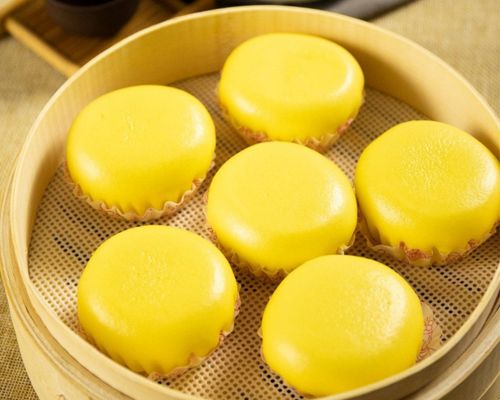 See more: How to make Cao Bang beef cake with a strong flavor that makes diners fall in love
3. How to make unique cheese-filled kimsa dumplings 2023
3.1 Preparation ingredients
500g flour
15g of yeast
400g white sugar
200g cheese
75g corn flour
70ml condensed milk
250ml fresh milk without sugar
3 egg yolks
3 tubes of vanilla flavor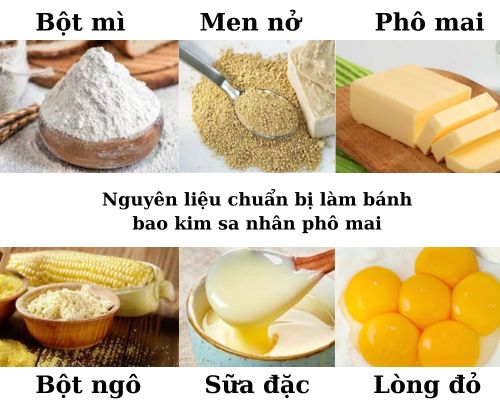 3.2 Steps to take
Step 1: Make the dough
Add 200gr of white sugar + 500gr of flour + 15gr of yeast + 3 vanilla tubes + unsweetened fresh milk
Mix the cake flour together to form a soft, smooth, elastic dough that does not stick to your hands
Let the dough rest for 30 minutes
Continue to take out the cake flour, add 3 egg yolks, knead the dough for the 2nd time thoroughly so that the eggs are evenly mixed with the dough.
Cover with cling film, incubate the dough for about 40 minutes for the dough to expand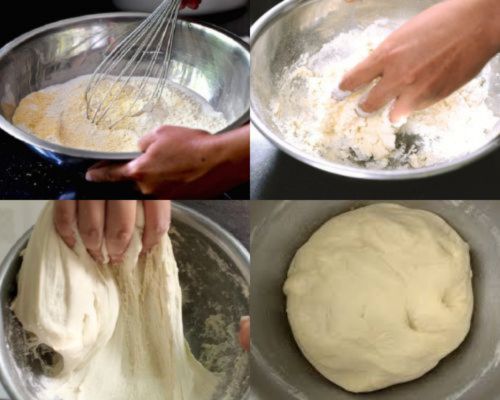 Step 2: Make the cheese filling
Put 200g of cheese + 200g of white sugar in the pot
Put the cheese pot on the stove and proceed to boil and melt the cheese
While boiling, stir well so that the sugar melts evenly into the cheese
Melt cheese, add cornstarch + condensed milk. Stir well to combine with cheese for 10 minutes
Turn off the heat, pour the cheese filling into a bowl, pour the cheese filling into the prepared round molds
Cover with cling film, place the cheese filling in the freezer to harden for 3 hours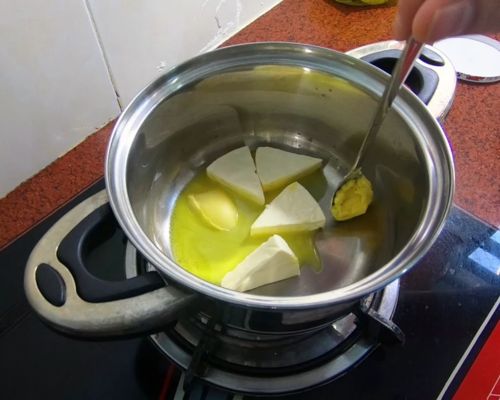 Step 3: Create the cake shape
Divide the dough into small pieces, each portion weighs about 30g
Shape the dough into round balls by hand
After making the dough, let the dough rest for 5 minutes
Put the cake dough on a clean tray, use a rolling pin to flatten the dough
Put the cheese filling in the middle of the cake and proceed to wrap it tightly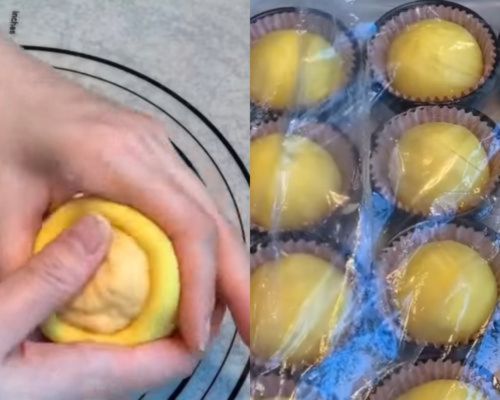 Step 4: Steam the cake
Place the cake in the prepared cupcake shell
Steaming the cake for 15 minutes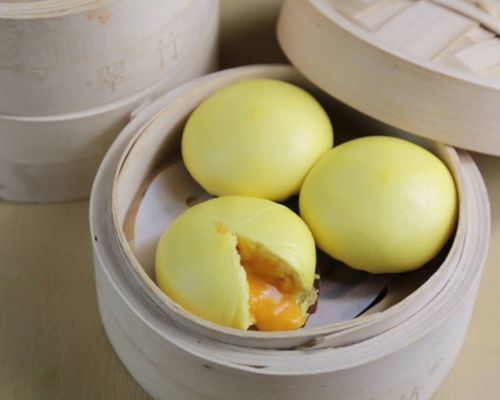 See more: How to make Lang Son wormwood cake with soft and flexible Tay taste
4. Nutritional ingredients in kimsa dumplings?
The nutritional value of kimchi dumplings depends on the ingredients you use. However, we can find some key nutritional ingredients in kimchi dumplings such as:
Carbohydrate: This is the main ingredient of flour and sugar in kimchi dumplings. Carbohydrates are the source of energy for the body. One kimchi dumpling can provide 30-40 grams of carbohydrates
Fat: The cooking oil and cheese in kimchi dumplings contain fat. Fat is a storage source of energy for the body and helps in the absorption of vitamins. One kimchi dumpling can provide about 5-10g of fat
Fiber: The flour used in cakes provides a lot of fiber. Fiber helps speed up the digestive process, reducing the risk of digestive diseases. One kimchi dumpling will provide about 2-4 grams of fiber.
5. How many calories are in a kimchi dumpling?
After you have found the recipe for making kimsa dumplings at home, have you ever wondered "how many calories are in kimsa dumplings filled with salted egg and cheese?". The amount of calories in salted egg and cheese dumplings can vary depending on the size and main ingredients in the dumplings.
Normally, the calories in kimsa dumplings with salted egg (about 28g) include:
180 – 200 calories
Wheat flour contains: 100 – 110 calories
Salted eggs contain: 80 – 90 calories
Calories in kimsa cheese dumplings (about 28g) include:
180 – 220 calories
Wheat flour: 100 – 110 calories
Cheese: 80 – 110 calories
Based on this calorie so you can calculate specifically for your one meal. Avoid consuming too many calories from kimchi dumplings. Using kimsa dumplings regularly will make you very easy to gain weight. Therefore, should use kimsa dumplings reasonably, should be combined with other accompanying functional foods.
See more: Summary of 10 easy-to-make healthy dishes to help her lose weight effectively
6. Conclude
Above is a detailed article introducing 2 ways to make melted salted egg kimsa dumplings and special cheese that the Dry Food team shared with the chefs. Both these kimsa dumplings recipes are really very simple, not too skilled. It is important to have delicious cakes, finding the ingredients is really important. Hopefully, with the detailed recipe shared above, housewives will have a nutritious summer dish for their children. Wish you always success.
Contact to order baking ingredients can be ordered via:
See more: [Top] 5+ What delicious cake does almond flour make?