Referring to gai cake, surely not everyone knows this delicious cake. This is a cake associated with the beautiful childhood of many generations. Gai cake is a famous cake of people in the Northern Delta. The cake with the soft outer shell, the green bean paste inside, makes everyone who eats it compliments the deliciousness. So what do you need to prepare to make traditional Northern style gai cake? The following article, Dung Ha Dry Food will answer in the most detail to you how to make tough traditional Northern gai cake at home. Let's get started right away.
1. Overview of gai cake?
Gai cake (also known as little cake). This is a traditional sweet cake of Vietnam, the cake originated from a long time ago and can be bought anywhere. The cake is made from glutinous rice flour, so the cake is very supple and soft. The highlight of this cake is that the outer shell has a very strange shiny black color due to the use of hemp leaf powder. The traditional filling inside is using green bean filling, so it is extremely suitable and attractive to eat.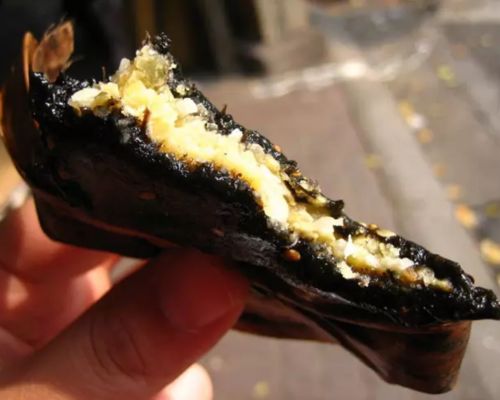 The North is the main source of these shiny black bean curd cakes. Specifically, this cake is popular in areas such as: Nam Dinh, Hai Duong, Tuyen Quang, Thanh Hoa,… and until now, many people have not identified specifically where the gai cake originated. . They concluded that gai cake originated from the Northern region.
Gai cake has a lot in the Northern provinces and cities and each region has different recipes for making gai cakes. But perhaps, the most popular with gai cake is mung bean filling and coconut filling is the most popular. And to make these 2 types of gai cakes, please take a few minutes to cook with Dry Food in the kitchen.
See more: [WATCH NOW] How to make the hottest Taiwanese onion cake 2023 at home
2. How to make soft chewy cake filled with fatty green beans
Cake ingredients:
500g glutinous rice flour
200g white sugar
350g shelled green beans
50g fresh coconut, grated
20g white sesame
50g dried hemp leaves
1 teaspoon grapefruit essential oil
Dried banana leaves
Implementation steps:
Step 1: Make hemp leaf powder
Using a knife, peel off the spines of the leaves
Put hemp leaves in a pot with 200ml of pure water
Put the pot of hemp leaves on the stove, proceed to boil the hemp leaves
Take out the hemp leaves, let the hemp leaves cool
Put the hemp leaves into the mortar, grind the hemp leaves
Put 500g of glutinous rice flour + 3 tablespoons of white sugar in a bowl with crushed hemp leaves + juice of hemp leaves
Knead well so that all ingredients form a smooth, non-sticky hemp leaf powder mixture
Incubate the leaf powder for about 1 hour for the dough to rest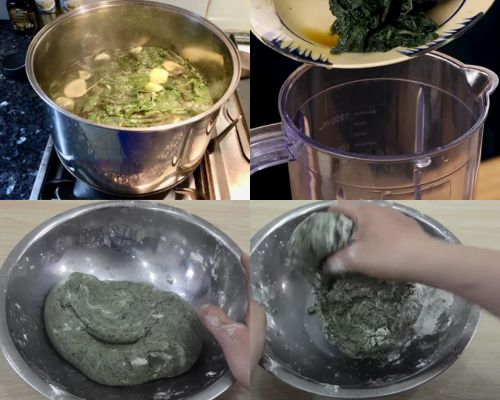 Step 2: Make the green bean paste
Put 350g of peeled green beans in a pot and steam them for 3 hours
Once the green beans are cooked, put them in a blender. Puree and smooth green beans
Put in a bowl 150g white sugar + grated coconut + grapefruit essential oil + pureed green beans. Mix well together
Season the filling to suit your taste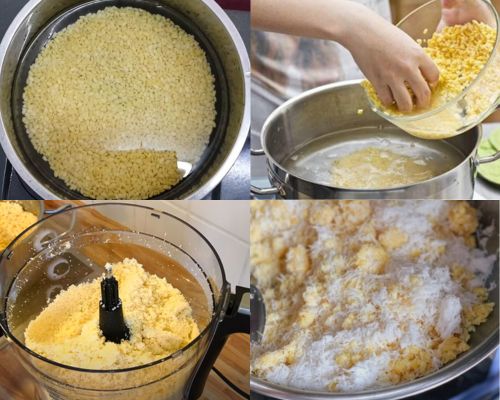 Step 3: Wrap the cake
Wipe dry banana leaves. Cut 2 pieces of banana leaves 30cm long and 20cm wide. One leaf for vertical, one leaf for horizontal
Apply a layer of cooking oil on the surface of the banana leaf
Break the cake dough about 60g. Roll the cake back. Place the cake on a banana leaf, roll the dough out with a rolling pin
Take a spoon, shovel the green bean paste onto the surface of the cake, spread the filling evenly
Cover the cake so that the filling does not come out
Sprinkle white sesame on the cake. Wrap the cake tightly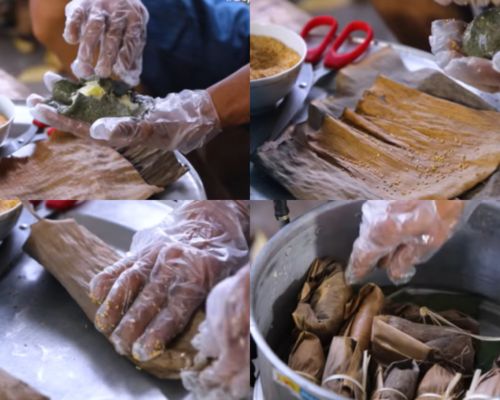 Step 4: Steam the cake
Arrange the cake neatly in the basket. Steam the cake for 35 minutes and it will cook evenly
When the cake is cooked, take it out and let it cool down and enjoy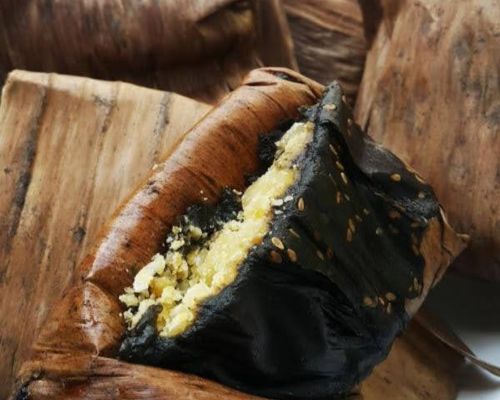 See more: How to make Cao Bang beef cake with a strong flavor that makes diners fall in love
3. How to make soft coconut cake and eat it and grind it
Cake ingredients:
500g glutinous rice flour
300g white sugar
250g hemp leaf powder
10g tapioca flour
100g grated coconut
150g roasted peanuts (crushed)
20g white sesame
1 teaspoon grapefruit essential oil
Cooking oil
Dried banana leaves
Implementation steps:
Step 1: Make the cake crust
Put glutinous rice flour + sugar + hemp leaf powder + grapefruit essential oil + 2 cups of warm water instead
Mix all ingredients together
Knead well by hand to form a smooth, non-sticky hemp leaf dough
Let the dough rest for 20 minutes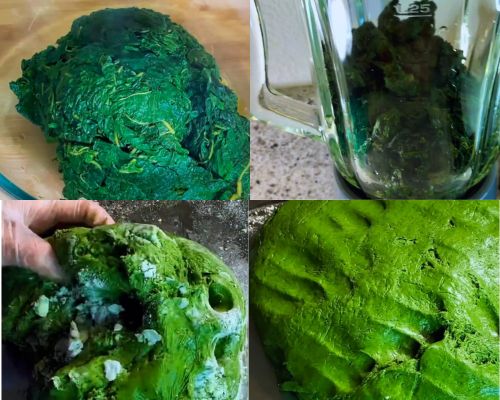 Step 2: Make the cake
Put 150ml of pure water + white sugar into the pot
Put the pot of sugar water on the stove and proceed to melt the sugar on medium heat
While boiling the sugar, stir well with your hands so that the sugar dissolves and turns brown
Put the tapioca starch in a bowl with 5ml of purified water. Stir well until the tapioca is dissolved in the water
Pour the tapioca water mixture into the sugar pot on the stove. Stir well to form a smooth paste
Put the shredded coconut + crushed peanuts in the sugar pot on the stove. Stir all ingredients for 5 minutes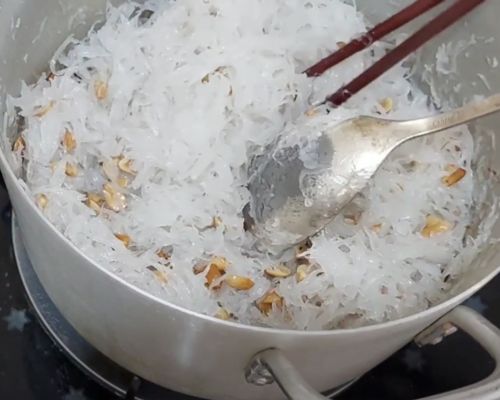 Step 3: Wrap the cake
Cut dried banana leaves into squares or rectangles as you like
Break the cake dough about 50g. Roll the dough again. Put the cake dough on a flat surface, use a rolling pin to roll the dough out
Using a spoon, scoop the coconut filling on top of the dough
Wrap the cake tightly so the filling doesn't come out
Mix by hand until all ingredients are used
Brush a layer of cooking oil evenly around the surface of the cake
Sprinkle a little white sesame on the surface of the cake
Shape the banana leaf into a funnel shape
Put each cookie dough into a banana leaf, cover the cake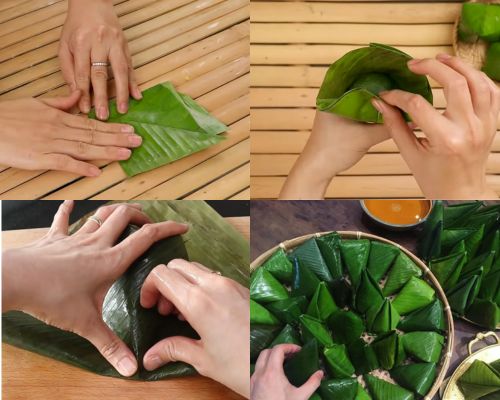 Step 4: Steam the cake
Put the cake into the basket and steam the cake for 30 minutes until it is cooked and enjoy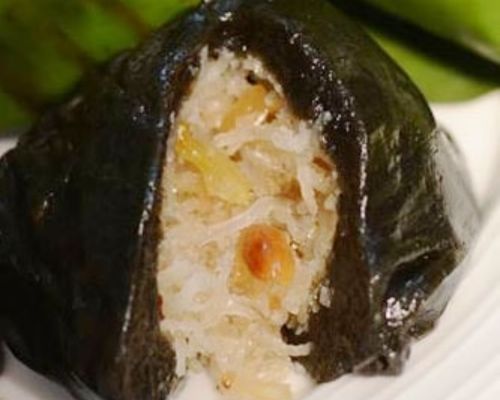 See more: How to make Lang Son wormwood cake with soft and flexible Tay taste
4. How many calories are in cake? Eating a lot of crackers cause obesity?
To calculate how many calories in a cake, it must be based on the ingredients used by the manufacturer. Normally, a popular traditional gai cake that is sold a lot in the market will include ingredients such as: glutinous rice flour, green beans, white sesame, coconut fiber,… All the ingredients to make a A complete cake of spikes, they all contain a certain amount of calories. Specifically:
100g of glutinous rice will contain 300 calories. Glutinous rice to create a soft and smooth crust
100g green beans contain 328 calories
With the above ingredients, you can completely calculate the calories in a 100g gai cake that will include 40g of glutinous rice, 30g of green beans and 10g of white sugar. Estimated calories will be calculated using the following formula:
120 calories of glutinous rice + 98.4 calories of green beans + 39 calories of sugar = 257.4 calories. This amount of calories can increase depending on the dose and processing method of each person
Calculated, if you use a cake weighing 200-300g, the calories will be absorbed is 515-771 calories. So the question arises, "Does eating a lot of gai cake cause obesity?".
On average, an adult needs 2,000 calories per day. Calculated, each meal will need about 667 calories. One hemp cake will provide about 300 calories. This amount of calories is not enough for a meal and eating gai cake does not cause weight gain.
5. Conclude
Above is the entire article detailing 2 ways to make traditional Northern gai cake that Dry Food has shared with readers. A famous specialty cake of Vietnam that you can absolutely enjoy for breakfast or dinner. Hopefully, the above detailed gai cake recipe will help housewives add a delicious and quality dish for this summer day. Wish you always success!
In addition, if you have a need to
buy dry food, summer tea ingredients
can be found
HERE
!
Contact via Hotline: 1900 986865.
Purchase address:
North 1: 11 Kim Dong – Giap Bat Street – Hoang Mai District – Hanoi
North 2: A10 – Alley 100 – Trung Kinh Street – Yen Hoa Ward – Cau Giay District – Hanoi
South: No. 02/B Quarter 3 – Trung My Tay 13 Street – District 12 – Ho Chi Minh City
See more: [Top] 5+ What delicious cake does almond flour make?