If walnuts are known as the King of nuts, almonds are known as the Queen of nuts. Almonds are an extremely nutritious nut with many health benefits. This seed is very delicious and safe for all users. So how many calories are in 100 grams of almonds? This is the question that is receiving a lot of attention from consumers. And to be able to answer this question in detail, I invite you to follow Dung Ha Dry Food to find out how many calories in almonds and delicious foods to lose weight from almonds. Let's start finding out together.
1. Nutritional value in almonds?
Almonds are selling very well in the Vietnamese market. They contain a lot of nutrients that are beneficial for health. On top of that, almonds are also made into many premium products in the same line as almond butter oil, almond powder, almond milk or almond paste. Not only stopping there, almonds are also a favorite weight loss snack product of many people.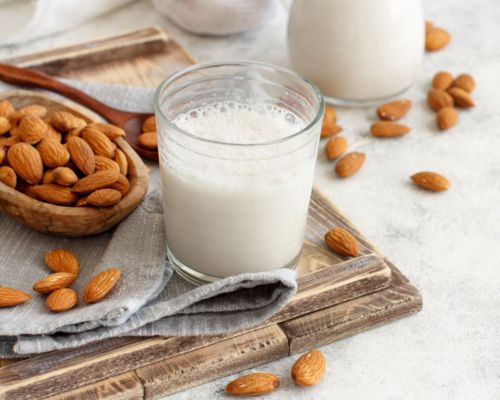 To be named the King of nuts, the nutritional value of almonds is certainly rich and rich. According to the USDA, in 100 grams of almonds there are:
Calories: 575 Kcal
Lipids: 49gr
Saturated fat: 37g
Cholesterol: 0mg
Sodium: 1mg
Potassium: 705mg
Carbs: 22g
Fiber: 12g
Sugar: 3.9g
Protein: 21g
Vitamin C: 0mg
Iron: 3.7mg
Vitamin B6: 0.1mg
Manganese: 268mg
Calcium: 264mg
With such a rich nutritional value. Eating almonds will bring a lot of health benefits. Specifically:
2. Benefits of eating almonds?
Eating almonds will bring you a lot of great benefits such as:
Nutritional Supplement: Almonds are an extremely rich source of nutrients. Includes fiber, protein, healthy fats, vitamins and minerals. They provide your body with an assortment of important nutrients like Vitamin E, magnesium, phosphorus and iron
Heart Protection: Almonds contain healthy fats like omega-3 and omega-6 fatty acids. This substance has the ability to reduce bad cholesterol (LDL) and increase good cholesterol (HDL). Thereby, helping to reduce the risk of cardiovascular diseases such as stroke, myocardial infarction
Aids in weight management: Although almonds are high in fat. But they can help you lose weight and maintain a steady weight. The fiber and protein in almonds will help you feel full for longer, reducing cravings
Aids in digestion: Almonds are rich in fiber. Fiber will help enhance digestive function, maintain intestinal circulation, reduce the risk of constipation, indigestion.
Extra Energy: Almonds are a natural source of energy thanks to their high fat, protein and carbohydrate content. Eating almonds can restore lost energy
Good for the brain: Almonds contain antioxidants, Vitamin E and nutrients that help protect the brain and improve memory.
So how many calories in 100 grams of almonds do you know?
2. How many calories in 100 grams of almonds? Food to lose weight from almonds?
2.1 How many calories in almonds?
According to USDA research on the calorie content of almonds. In 100g of almonds contains about:
597 calories and 50g fat.
These calories can increase if you eat more than 100 grams of almonds per day. Almonds can be eaten directly or processed into many other delicious dishes. Each almond dish has its own calorie profile. Specifically:
100g of average almond cake contains about 360 calories
230ml unsweetened almond milk contains about 60 calories and 1g Carb
1 pack of Almond Chocolate will contain about 240 calories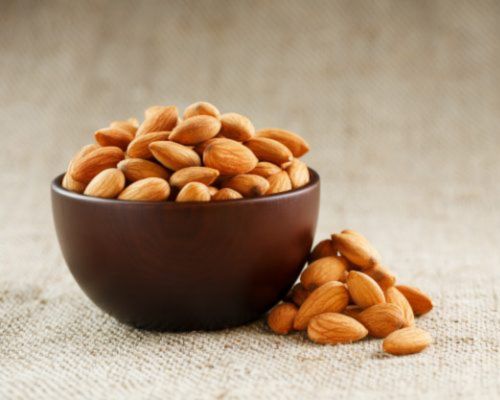 With relatively high calorie content in almonds. So does eating almonds cause weight gain? What is the best way to eat almonds? In order for almonds not to cause weight gain, you will eat almonds as follows:
You should only eat about 25g of almonds per day, which means you can only consume 23 almonds per day.
On average, an adult's calorie intake is about 2,000 calories per day. This amount of calories will be divided equally into 3 meals (breakfast – lunch – dinner). Calculated, each meal you will have to consume 667 calories. Meanwhile, 100g of almonds has provided you with 597 calories. These calories will increase because in your diet menu, you will consume more substances.
Therefore, eating almonds can cause weight gain and obesity. You will have to specifically calculate the amount of calories consumed in a day to avoid uncontrolled weight gain.
2.2 Food to lose weight from almonds?
Although the calories contained in almonds are relatively high. Consuming too much will make you gain weight uncontrollably, but instead there are some very good almond weight loss dishes that you can absolutely do. Here are some suggestions for weight loss foods from almonds that you can add to your diet menu.
2.2.1 Almond milk
Ingredient:
25g almonds
150ml fresh milk without sugar
30g white sugar
Pure water
Perform:
Put the pan on the stove and heat it up
In a hot pan, fry the almonds until golden brown on medium heat for 25 minutes
Ripe almonds, pour into a bowl to cool
Put the almonds in the blender with 100ml of purified water
Proceed to grind and finely grind the almonds
Put the pureed almonds in the pot with fresh milk without sugar
Boil the almond milk together for 10 minutes. Stir well by hand
Prepare a sieve, pass the almond milk through a sieve to remove the almond residue
Continue to boil the almond milk juice. Put 30g of white sugar in the pot. Stir until the sugar dissolves
Turn off the heat, pour the almond milk into a cup, let the milk cool down and enjoy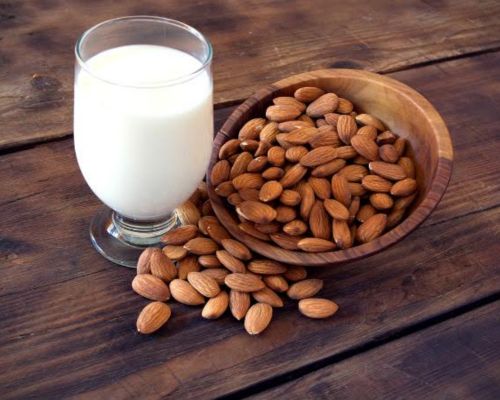 Almond milk can be drunk in the morning or at night before going to bed.
2.2.2 Almond Butter
Ingredient:
30g almonds
1 teaspoon honey
Perform:
Put the pan on the stove, heat the pan. In a hot pan, add the almonds and roast them until golden brown for 15 minutes
Pour the almonds into a bowl to let the almonds cool
Put the almonds in the blender, puree and smooth the almonds
Put 1 teaspoon of honey in a blender, puree honey and almonds for 5 minutes
The mixture is smooth, thick and well combined. You pour into a clean plastic bowl, and store it in the refrigerator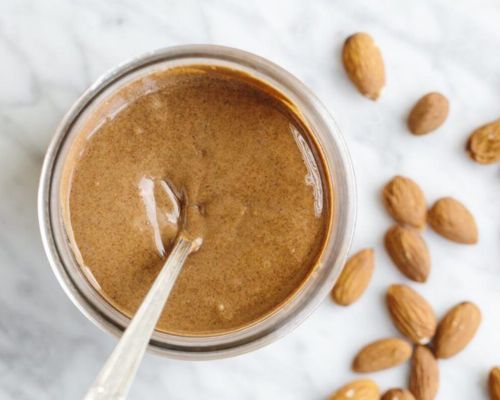 With almond butter, you can eat it with bread is the best.
2.2.3 Banana Almond Oatmeal Cake
Ingredient:
Ripe bananas: 2
50g rolled oats
1 teaspoon honey
20g almonds
Perform:
Peeled ripe banana. Put bananas in a bowl, crush bananas
Put honey in a bowl of mashed bananas. Beat well until the honey is mixed with the banana
Put 100g of rolled oats in a bowl of bananas. Beat it together
Wrap food wrap. Incubate for about 25 minutes for the oat mixture to expand
Preheat the oven to 150 degrees Celsius for 10 minutes
Divide the almond oat cake mix into equal portions. Shape the cake into a circle
Line a layer of parchment paper in the oven. Neatly fold the molded cake onto the parchment paper and place it in the oven
Bake the cake at 170 degrees Celsius for 20 minutes
Bake for 20 minutes, remove the cake, turn the other side of the cake over, continue baking for another 15 minutes until the cake is cooked evenly on both sides.
The cake is cooked evenly on both sides, take it out and enjoy it when it's hot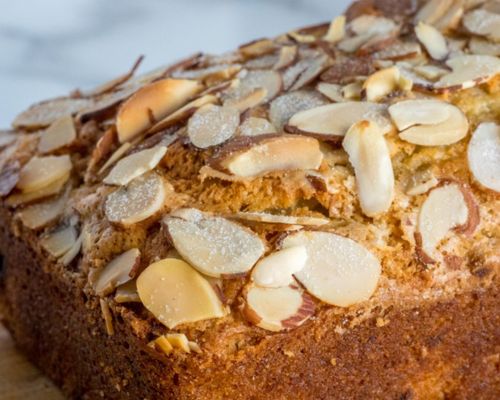 See more: [4+] How to make the perfect banana oat cake Healthy weight loss
2.2.4 Kiwi almond salad for weight loss
Ingredient:
Perform:
Kiwi washed under running water. Peel the kiwi. Slice kiwi into thin slices
Put the pan on the stove, heat the pan. In a hot pan, add the almonds and roast them until golden brown for 15 minutes
A little almond, pour into a bowl to cool
Put the roasted almonds in the blender. Crushed almonds
In a bowl: ground almonds + cherry tomatoes + lettuce + sliced kiwi + lemon juice + olive oil + roasted sesame sauce
Wearing plastic gloves, mix all these ingredients together
Season the salad to suit your taste
Salad is delicious, take out the plate and enjoy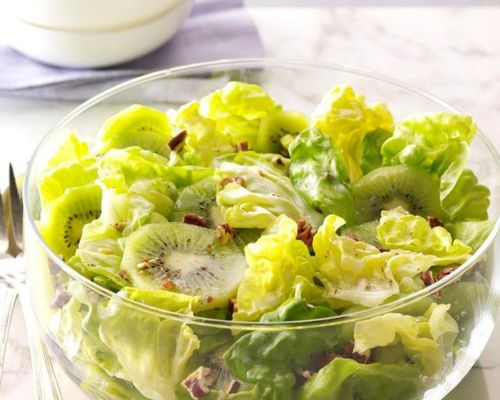 With this weight loss almond kiwi salad, you can eat them early in the morning or in the evening
See more: Summary of 10 easy-to-make healthy dishes to help her lose weight effectively
3. Conclude
Above is the entire article detailing the answer to the question of
how many calories are in 100g of almonds
that Dry Food has shared with you. Although, almonds are an extremely
healthy nutritional nut,
but if used too much or used in the wrong way, almonds bring a lot of trouble to you. Therefore, use the correct dosage. Hope this information is useful to readers. Wish you have many delicious foods to lose weight from almonds. Please share this useful news with everyone.
Contact to order almonds via Hotline: 1900 986865.
Or view the product directly at the address below:
Offline Store 1: No. 11 Kim Dong – Giap Bat Street – Hoang Mai District – Hanoi
Offline Store 2: A10 – Alley 100 – Trung Kinh Street – Yen Hoa Ward – Cau Giay District – Hanoi
Offline Store 3: No. 02/B Quarter 3 – Trung My Tay Street 13 – District 12 – Ho Chi Minh City
See more: [Top] 5+ What delicious cake does almond flour make?