Panna Cotta is a famous, famous dessert of beautiful Italy. Currently, Panna Cotta is not only popular in Italy, but this dessert has spread to many parts of the world. In particular, Vietnam is the country that loves Panna Cotta. Among the famous Panna Cotta dishes, the passion fruit Panna Cotta is the favorite dish of Vietnamese people every summer. So, how to make Panna Cotta Passion fruit? The following article thucphamkho will explain to you in detail how to make Panna Cotta with passion fruit to soothe the heat at home.
1. An overview of the Panna Cotta Passion fruit dessert?
Passion fruit Panna Cotta (also known as passion fruit Panna Cotta) is a famous traditional Italian dessert. Combined with the refreshing taste of passion fruit. This dessert is usually made from whipped cream, sugar, and gelatin. Pour into glass jars to cool until hard.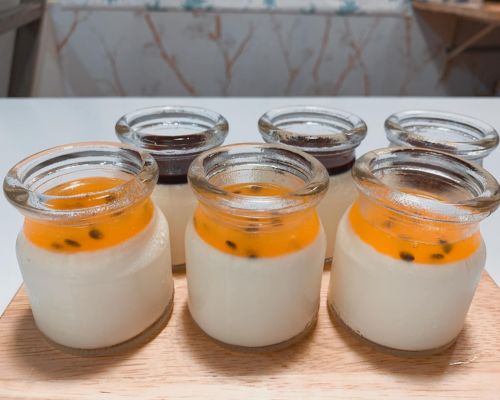 To make this dessert, first, you need to dissolve the gelatin in cold water. Then bring the cream and sugar to a boil in a pot and pour in the gelatin mixture. You blend until all the ingredients are dissolved and then add the passion fruit. After mixing well, the mixture is poured into a glass jar and kept in the refrigerator until solidified,
Panna Cotta passion fruit has a delicious, fresh and slightly mild taste from passion fruit. This dessert is often garnished with fresh fruits and to increase the source of nutrients. So, how to make passion fruit Panna Cotta? Let's find out now and forever, sisters!
See more: 5+ summer snacks to help you cool down immediately
2. How to make soft and fat passion fruit Panna Cotta to instantly cool off summer days?
2.1 Preparation ingredients
200ml fresh milk
250ml Whipping Cream
10g gelatin powder
100g white diameter
60ml honey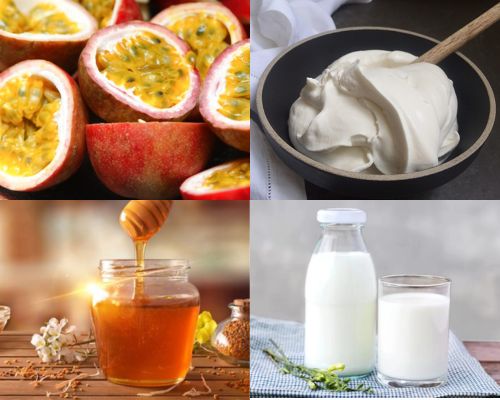 2.2 Implementation Guide
Step 1: Prepare passion fruit (filter out the seeds of passion fruit)
Cut the passion fruit in half, use a spoon, and filter out the pulp of the passion fruit. Put out a bowl
Put in a bowl of passion fruit 20g white sugar, stir well
Incubate passion fruit with sugar for 15 minutes
Pour passion fruit into the pot, put 2 cups of pure water in the pot
Turn on the high heat, proceed to boil the passion fruit mixture for 5 minutes
The passion fruit mixture boils, turn off the heat, pour the passion fruit mixture through a sieve
Using a spoon, filter out the passion fruit juice and put it in the pot, discard the seeds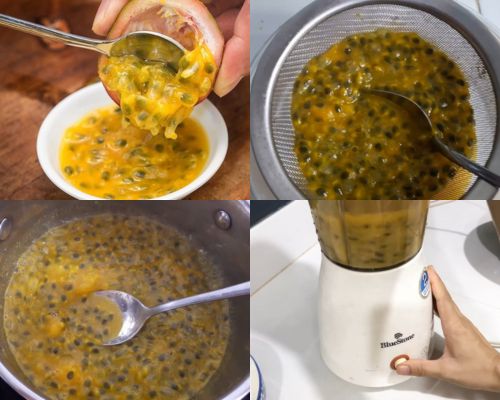 Step 2: Make fresh milk cream mixture
Put 5g of gelatin powder in the pot. Put 2 cups of purified water in the gelatin powder pot. Stir well to dissolve gelatin powder with water
Put in the pot of gelatin powder 200ml fresh milk + 60ml honey + 250ml Whipping Cream + 80gr white sugar
Stir the milk mixture together until the sugar dissolves
Put the pot of fresh milk cream on the stove, turn on high heat, boil the milk cream mixture for 10 minutes
The milk cream mixture boils, turn off the heat, pour into a clean mug and let it cool
Cold milk cream mixture, pour into each prepared glass jar
Put the glass jar of milk cream in the refrigerator for 4-6 hours to close the face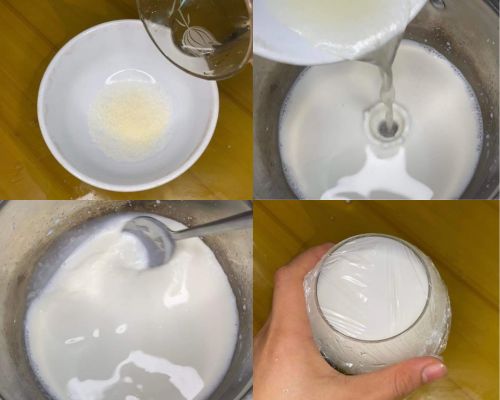 Step 3: Make passion fruit sauce
Soak 5g of gelatin powder in a bowl of water for 5 minutes to bloom
Pour gelatin powder into the pot of passion fruit mixture just completed above
Put the pot of passion fruit on the stove, boil for 7 minutes
Stir well with your hands so that the gelatin powder mixes with the passion fruit to form a thick, thick paste
Passion fruit sauce is boiling, viscous, thick. You turn off the stove, pour passion fruit sauce into a clean mug to cool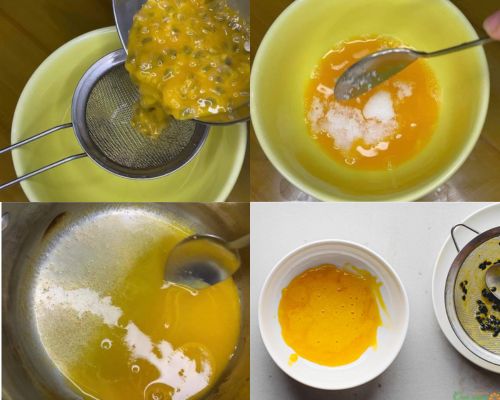 Step 4: Finished product
Take out the glass cup of frozen fresh milk ice cream from the refrigerator
Pour passion fruit sauce on top of fresh milk ice cream
Stir well and enjoy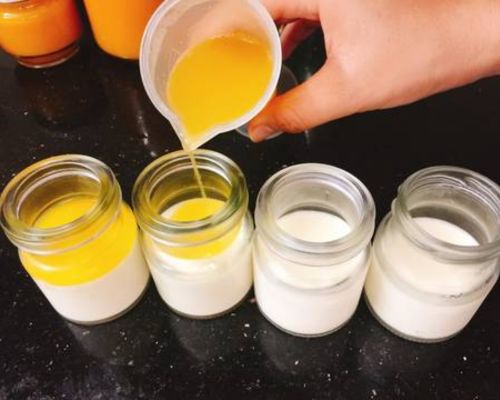 Thus, with just 4 simple steps, you have an extremely delicious and refreshing Panna Cotta Lemon Leo dessert that cools down extremely well. Just follow the 4 detailed steps above, you will be 100% sure of success.
3. Nutritional value in Panna Cotta Passion fruit?
After finishing the delicious passion fruit Panna Cotta dish to cool down on summer days. Do you wonder what nutritional value this dessert contains, why so many mothers give it to their babies? Below is the detailed nutritional value table in Panna Cotta Passion fruit.
In one serving of Panna Cotta Passion fruit (about 100g) contains:
Calories: 250 – 300 Calories
20 – 25g fat
15-20g sugar
Minerals: Protein, Fiber, Potassium, Phosphorus, Magnesium, Calcium,…
Other Vitamins
With such a high amount of calories, does regular use of Panna Cotta Passion fruit cause obesity? In Panna Cotta Passion fruit contains about 250 – 300 calories. However, these calories can fluctuate depending on the source of the ingredients and the ratio of ingredients in the recipe you use in the recipe.
If you eat Passion fruit Panna Cotta in moderation and combine it with a varied and balanced diet, this dish will not cause weight gain.
If you consume too many calories from other sources in your diet and don't control the amount of Panna Cotta Passion fruit you eat, it may contribute to weight gain.
It is important that you eat passion fruit Panna Cotta in moderation. Combine that with a balanced and varied diet to maintain a healthy lifestyle, a fit body, and a stable weight.
See also: [Secret] How to make delicious strawberry panna cotta (2023)
4. How to make Panna Cotta Passion fruit is always delicious, what do you need to pay attention to?
To make Panna Cotta Lemon Leo is always delicious and nutritious. You should note the following points:
Choose good ingredients: choose good and fresh ingredients to make sure your desserts taste great. In particular, when choosing passion fruit, you should choose fruits with bright colors, not wilted, cracked or rotten. Maybe, buy fresh passion fruit at supermarkets, clean fruit stores, Dung Ha Agricultural Products or WinMart,… to ensure quality.
Using fresh milk: Using fresh milk will help Panna Cotta Passion fruit have a delicious, fatty taste. It is recommended to use milk without sugar, without flavoring or preservatives to avoid losing its natural flavor
Use Quality Gelatin: Gelatin is a very important ingredient of Panna Cotta Passion fruit. It is recommended to use high quality Gelatin to ensure the elasticity and consistency of Panna Cotta
Cook at the right time: Let the Passion fruit Panna Cotta have the right consistency and consistency. You should cook for the right time, not too long or too short. When cooking, keep the heat low and stir constantly
Store it properly: Once done, you should store the Passion fruit Panna Cotta in the refrigerator to ensure that the dessert is always delicious.
Hopefully, with the detailed notes on how to make Passionfruit Panna Cotta above, it will help you complete the simplest, most delicious and attractive dessert.
In addition, you can refer to many other culinary powders at: https://thucphamkho.vn/bot/
5. Conclude
Above is the entire detailed article detailing how to make delicious Panna Cotta Lemon Passion fruit to cool off the hot summer day immediately that thucphamkho has shared with you. There is nothing more precious than the fact that young children come home from school and receive a cup of Passionfruit Panna Cotta from their mother's hand made at home, which is both delicious and ensures food hygiene and safety. Hopefully, the above Panna Cotta Passionfruit dessert will bring you an extremely delicious and quality dessert. Good luck moms!
See more food news articles HERE!
AUTHOR CORRECTION: WWW.THUCPHAMKHO.VN