How to make standard Nghe An veal sausage at home helps you have a super delicious dish, suitable for all members of your family, and especially that dish always ensures food hygiene and safety. Veal sausage is a very delicious dish, containing a lot of nutritional value that is beneficial for health. In addition to being eaten, veal trotters are also a gift on special occasions of the year. If you're worried that the veal patties bought from outside aren't of good quality, go into the kitchen and show off your skills. Let me share with you how to make standard Nghe An veal patties at home successfully from the first time.
What is veal sausage (tamarind sausage)?
Veal sausage is also known by other names: sesame sausage or veal ham. This is a famous specialty dish in Nam Dan province – Nghe An. It's called veal sausage because this dish is made from the main ingredient which is whole fresh veal meat, wrapped round and tightly in fresh banana leaves and steamed until cooked. Nghe An Tamarind rolls were popular in Vietnam in the 2000s with a very different taste and eating style compared to traditional fish rolls.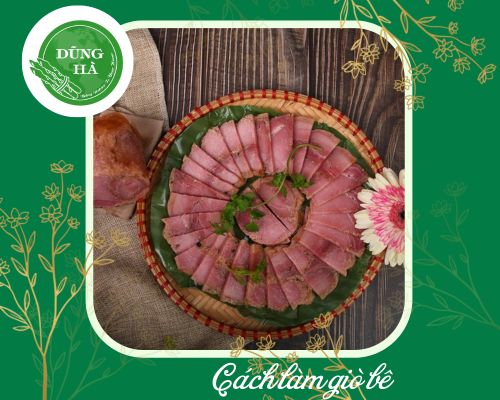 Nghe An veal sausage is extremely popular during traditional Vietnamese Tet holidays. Later, this dish became a famous specialty throughout the country and it was very popular to be made and sold all year round. The veal trotters here have a very unique flavor compared to other localities. Maybe because the terrain here is very hilly, the calves are grazed naturally, they can freely run and jump, freely find the food they love, so the quality of genuine Nghe An beef trotters is eaten in abundance. same quality.
Veal trotters are now popular everywhere and you can absolutely find and buy them. However, veal prices often change erratically and are unstable. If you buy veal rolls during Tet, their prices will be very high compared to normal days. On average, a veal sausage weighs about 500 grams and will cost 140,000 VND – 180,000 VND. But in general, Nghe An veal trotters are a proud dish of the people here.
See more: What is jackfruit? Where are the specialties and how to make delicious jackfruit?
How to make Vietnamese veal sausage (tamarind sausage) at home, 100% successful?
Prepared ingredients
1kg veal
800ml white wine
2 spoons of pepper
2 tablespoons baking soda
1/2 garlic, minced
1 branch of ginger, chopped
1 spoon of seasoning
1 tablespoon fish sauce
Fresh banana leaves
Wrapping pork sausage with string
Implementation steps
Step 1: Prepare veal
When you buy veal, wash it under clean water
Put the veal in a clean pot with 800ml of white wine
Soak veal in white wine for 15 minutes to remove the fishy smell of veal
Pick up the veal, wash the veal with clean water, let the veal dry and drain
Put garlic + ginger in a bowl with 250ml of boiling water
Soak garlic + ginger for about 25 minutes to get the juice
Take the garlic + ginger out of the bowl of water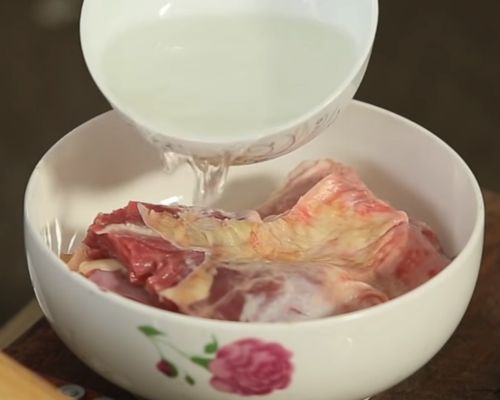 Step 2: Marinate the veal
Put the veal on a cutting board, make deep cuts in the veal to marinate with spices
Marinate the veal with: 1/2 spoon of baking soda + 2 spoons of seasoning powder + 1 spoon of MSG + 1 spoon of seasoning + 2 spoons of pepper + 1 fish sauce
Slowly add the ginger and garlic juice mixture to the veal pieces
Wear plastic gloves, mix all ingredients together with veal
Cover with plastic wrap and marinate the veal with the spices for about 3 hours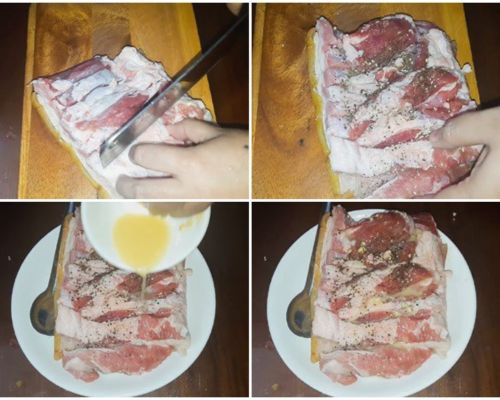 Step 3: Wrap veal sausage
Cut fresh banana leaves into small, equal parts
Arrange banana leaves on a large tray
Place the marinated veal on the banana leaf, with the skin facing down on the banana leaf
Using your hands, roll it round and firmly so that the banana leaf completely covers the veal filling
Use strips, tie them tightly, and secure them around the calf's leg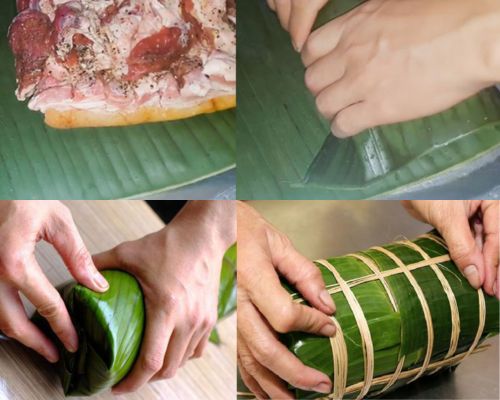 Step 4: Steam the veal trotters
Place the steamer on the stove
Neatly arrange each veal shank in the steamer
Steam the veal patties for 6-7 hours over medium heat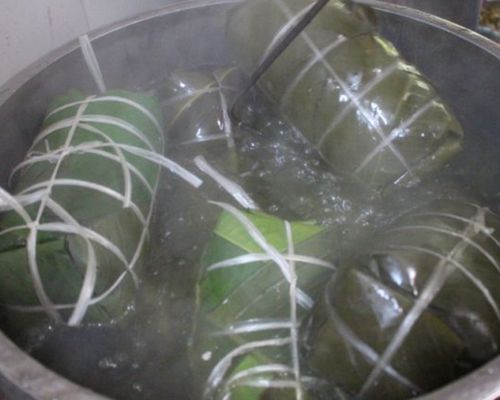 Note: The process of steaming veal trotters will use a lot of water. So, please check the steamer and add water regularly to avoid burning the steamer.
Don't miss: TOP 2+ How to make delicious vegetarian green rice rolls to worship on the full moon and 1st day
What should you keep in mind when making veal sausage (tamarind sausage) at home?
When making veal sausage at home, there are a few things to keep in mind to ensure the sausage is delicious, chewy and not damaged:
Choose fresh ingredients: With the name "Veal Pork", certainly the indispensable main ingredient is "Veal". Delicious veal must be lean, low in fat, bright red in color, without any foul odors, wateriness, or signs of abnormalities.
Preliminary preparation of ingredients: Purchased veal needs to be washed and cut into small enough pieces to eat. Wash veal with fresh ginger or white wine to remove odors from veal.
Marinate the veal: The veal has been washed, cut into small pieces and needs to be marinated with spices such as fish sauce, pepper, sugar, spices,… for about 30 – 40 minutes for the meat to marinate. taste.
Wrapping veal trotters: Veal trotters need to be wrapped in fresh banana leaves to be delicious, clean and of the best quality.
Steam the veal trotters: After being wrapped, the veal trotters need to be steamed for about 4-6 hours. Check the steamer continuously to add more water.
With a little ingenuity and grasping the above notes, you can absolutely make your own delicious, chewy, and food-safe veal sausage at home.
Some questions related to how to make veal rolls (tamarind rolls)?
How many calories are in veal?
If you are overweight, obese or are building a healthy diet to lose weight, you are certainly very interested in the question "How many calories are in veal patties", right? Knowing how many calories are in veal trotters will help you calculate specifically how many calories your body will take in that meal. From there, you can figure out whether that food has an impact on your body weight index or not?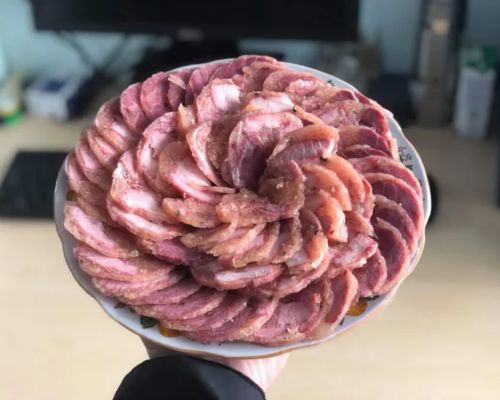 According to the National Nutrition Research Institute:
100 grams of veal sausage provide 600 calories for the body.
According to statistics, the amount of calories in 100 grams of veal trotters is equivalent to:
40 minutes of walking at a speed of 6km/h
30 minutes of cycling at a speed of 15km/h
90 mistakes doing push-ups
60 minutes of Yoga
20 minutes of weight training
50 minutes to clean the house
Does eating a lot of veal trotters cause you to gain weight?
With the calorie content of the veal sausage dish, I have just listed it in detail above. Many people ask the question "Does eating a lot of veal trotters cause weight gain and obesity?". The answer is "There will be weight gain and obesity if you eat too much veal trotters". The reason is because:
100 grams of veal shank provides 600 calories for the body, 30 grams of fat (of which 14 grams are saturated fat) and 100 mg of cholesterol. These are all bad fats, very difficult to digest in the body. If you eat too much veal trotters, the amount of calories and fat your body takes in will exceed the required calories, leading to excess fat accumulation and uncontrolled weight gain. In addition, if you eat too much veal trotters, your weight index will increase from 1 – 1.5kg/week.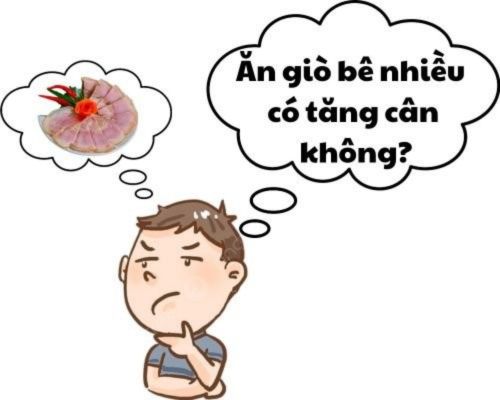 To avoid gaining weight and obesity when eating veal trotters, you should note the following:
You should only eat a sufficient amount of veal trotters, about 100gr/day.
Do not eat veal trotters frequently. Only eat about every 2-3 days.
Combine eating veal trotters with foods rich in fiber, minerals and vitamins to balance nutrition.
Make your own veal sausage at home.
Combine eating veal trotters with a regular exercise regimen.
How to preserve veal patties for a long time without spoiling?
Veal sausage is a very delicious and nutritious dish that anyone can eat. But if not stored properly, sausage can be damaged at any time. Here are some ways to properly preserve veal patties so they don't spoil for a long time for your reference:
Preserving veal trotters in the refrigerator: This is the most common preservation method. After steaming the veal sausage, weigh it and let it cool completely before placing it in the refrigerator for storage. Veal trotters are intact, intact, and can be stored in the refrigerator for 10 days. Sliced veal trotters that have been used (cannot be eaten completely) can only be stored for 3-4 days.
Storing veal trotters in the freezer: Storing veal trotters in the freezer will help keep veal trotters delicious and last longer. Veal trotters can be stored in the freezer and can be used within 10-15 days. When needed to use, defrost veal patties for about 30 minutes.
With just one refrigerator, you can completely preserve veal trotters in the ways you most desire.
Don't miss: [POCKET] How to preserve summer foods so they don't spoil for a long time?
Conclusion
Above is a detailed article answering questions about how to make delicious veal sausage "dice" at home that Dried agricultural products have shared with our readers. You see, this dish is not too difficult and complicated to make, right? Making veal patties at home is a bit time consuming. But in return, you always have a delicious, clean, food hygiene and safety dish for all your family members to enjoy.
You can refer to how to make beef patties, green rice patties, fish patties,… these are all delicious dishes that appear commonly on the dinner trays of many families and especially they are also very delicious. Where is the specialty veal patty from Nghe An?
Wishing you success always!
Hello and see you again in the next posts!!!