Mussel rice is a famous specialty dish of the dreamy city of Hue. Hue has many majestic historical buildings as well as famous specialties that make its name. One of the specialty dishes that every tourist who comes here wants to enjoy is mussel rice. If you don't have the opportunity to see with your own eyes how to make Hue-style mussel rice, you can make this dish very simply at home in only 45 minutes? Do you believe this? If you don't believe it, let's go to the kitchen with Dung Ha Dried Agricultural Products to find a way to make mussel rice that tastes like the ancient capital of Hue.
What is mussel rice?
Mussel rice is an excellent dish of the dreamy city of Hue. Whenever Hue is mentioned, many people will think of the historical landscapes that made it famous. But it doesn't stop there, coming to Hue and not enjoying the specialties is a big regret. And certainly, mussel rice is a dish that you should enjoy at least once in your life when you come to Hue.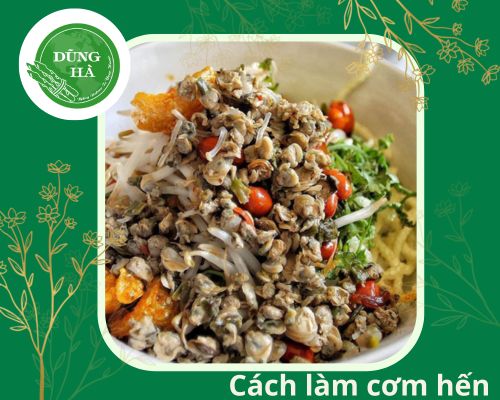 No one knows the true origin of mussel rice. Many Hue people gossip among themselves that mussel rice originated 200 years ago. One day, the family of a woman named Huynh went fishing for shrimp and fish to eat, but they couldn't catch shrimp or fish that day, so they had to eat rice and mussels. And perhaps it is from this fairy tale that mussel rice has now become a symbol of Hue people and is popular all over the world.
Nowadays, you don't necessarily have to go to Hue to enjoy authentic Hue mussel rice. You can absolutely make Hue mussel rice at home with a super simple recipe. Let's go to the kitchen together and find a way to make Hue mussel rice right away. I'm so hungry already.
See more: Suggested cool summer meal trays from the 3 regions: North – Central – South
How to make mussel rice at home, authentic to the ancient capital of Hue
Prepared ingredients
2kg fresh mussels
2 bowls of Thai eight rice
50gr pork skin
4 star fruit
3 garlic bulbs, minced
2 purple onions, thinly sliced
2 spoons of sate chili
2 branches of ginger, thinly sliced
200gr peanuts, roasted
Spices: sugar, salt, fish sauce, cooking oil, seasoning, MSG, Hue fish sauce
Raw vegetables served with a variety of types: banana flowers, water spinach, bean sprouts, chili (minced), shredded bamboo shoots,…
Implementation steps
Step 1: Blow rice
Put 2 bowls of Thai eight rice into the basket
Use your hands to pick up the grit and impurities in the rice
Rinse the rice 2-3 times under clean running water
Put the rice in the rice cooker
Add 2 cups of filtered water to the rice cooker
Close the pot, plug in the power, press the "WARM" button to cook the rice
When the rice is cooked, unplug it, heat the rice in the pot when you're ready to eat, then scoop out the rice and eat it deliciously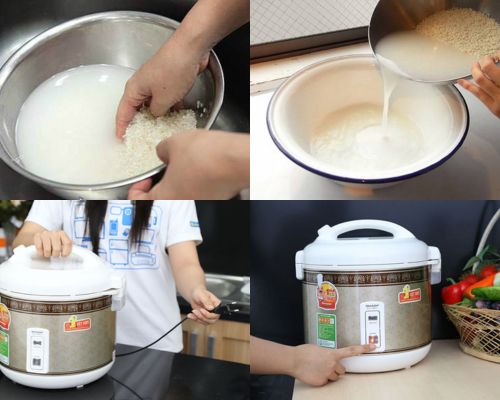 Step 2: Hen diagram
When purchasing mussels, wash them 2-3 times with clean water to remove sand and soil stuck to the shell
Put the mussels in a bowl of water along with a meal
Soak the mussels for 15 minutes in salt water to release sand and alcohol
Remove the mussels, rinse the mussels several times with clean water, and let the mussels dry
Add 500ml of pure water to the contents and boil the water
When the water boils, add 1 cup of salt coffee powder and let the salt dissolve
The salt dissolves, you fix the pot to the contents and cook the mussels for 25 minutes
When cooked, chicken will fall out of the shell
Using a sieve, peel off the mussel meat, retain the abundant water, and discard the mussel shell
Rinse the mussel meat twice under clean running water to keep it crispy and delicious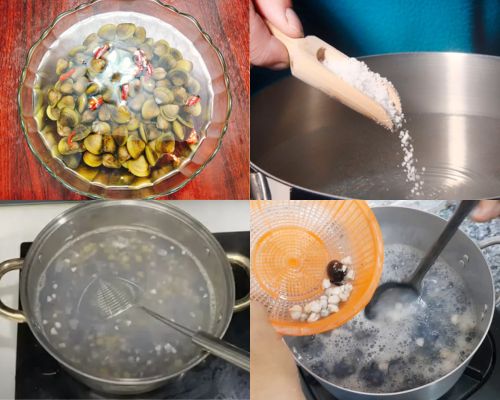 Step 3: Prepare vegetables along the mosquito net
Colocasia gigantea, wash each plant under clean water to remove mud
Using a knife, strip off all the fibers on the outside along the mosquito net
Cut off the abdomen (inner curved part) of the mosquito net
Cut the mosquito net into thin, diagonal slices just enough to eat
Put the newly cut mosquito net into the bowl with 1 teaspoon of salt
Using your hands, squeeze the mosquito net along with salt and marinate for about 15 minutes
Pick up the mosquito net and rinse it with clean water
Use your hands to gently squeeze the water along the mosquito net and then put it in a bowl
Put 300ml of pure water into the pot and boil
Boiling water, add the mosquito net and blanch for 3 minutes
Remove to bowl, let cool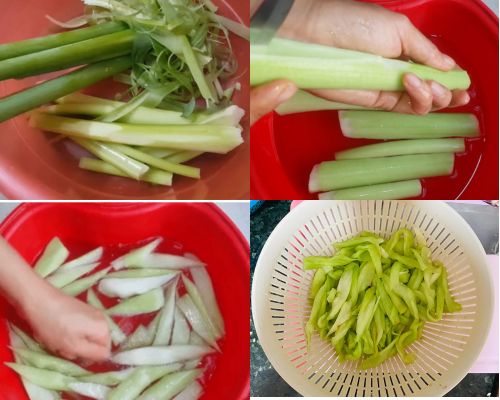 Step 4: Prepare the accompanying vegetables
Wash each star fruit under clean water
Cut star fruit into thin strips
Wash the bean sprouts, drain and peel the bean sprouts
Water spinach picks up the vegetable parts and young shoots to eat
Remove rotten and wilted vegetable stalks
Wash spinach twice with clean water. Let the vegetables dry and drain completely
Grate banana flowers very thinly
Soak banana flowers in diluted salt water for 5 minutes to prevent them from browning
Pick up the banana flowers, wash the banana flowers with clean water, and drain
Put 500ml of water in the pot and boil
Boiling water, add banana flowers and cook for 5 minutes
Remove to bowl, let cool
Continue adding all the spinach to the pot of boiling water
Cook spinach for 10 minutes
When spinach is cooked, take it out and let it cool
When you buy pork skin, cut it into bite-sized pieces
Put cooking oil in the pan and heat the oil
When the oil is hot, add the pork skin and fry until golden brown for 5 minutes
Remove the pork skin to a plate to cool and drain the cooking oil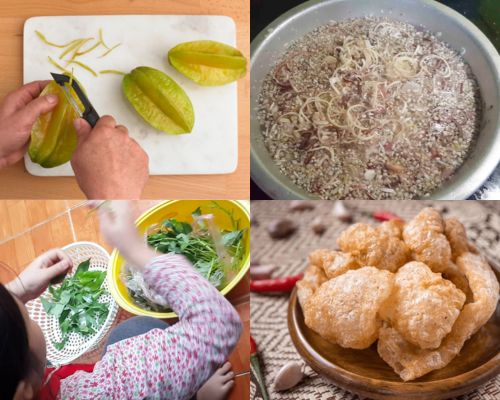 Step 5: Stir-fry mussels
Put cooking oil in the pan and heat the oil
When the oil is hot, add shallots + minced garlic and fry till golden brown
Pour the boiled mussels into the bowl and stir-fry with the shallot until fragrant for 7 minutes
Add spices + seasoning powder + MSG + fish sauce + sate chili into the mussel pan
Stir well over medium heat so that the mussels absorb the spices without burning
Season the mussels to taste
Mussels to taste, turn off the stove, pour mussels onto a plate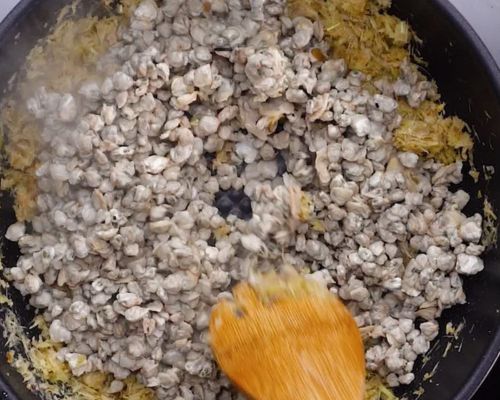 Step 6: Stir-fry shrimp paste
Put cooking oil in the pan and heat the oil
Then, add 2 spoons of shrimp paste + 2 spoons of sugar + 3 spoons of mussel broth into the pan
Stir well until sugar dissolves, boil for 5-7 minutes
Season the shrimp paste to taste
The shrimp paste is just right, you turn off the stove and pour it into a bowl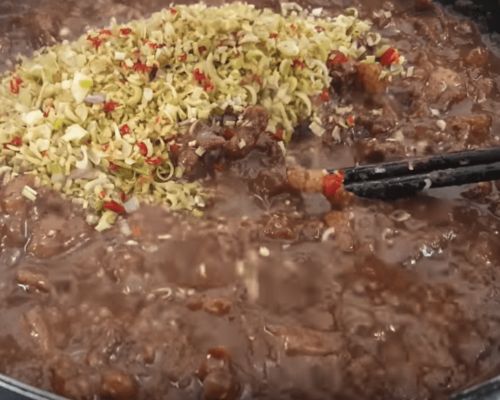 Step 7: Mix mussel rice and enjoy
Scoop the rice into a bowl, add fried pork skin + stir-fried mussels + roasted peanuts + bean sprouts + banana flowers + water spinach + bamboo shoots + fish sauce.
Mix all ingredients together and enjoy
Mussel rice is best eaten when hot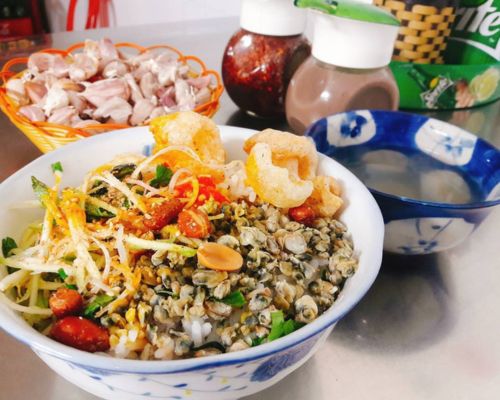 See more: 1001+ Delicious dishes from leftover cold rice that are unbelievably delicious
How many calories in mussel rice?
How to make Hue authentic mussel rice at home has been explained in detail above. But if you are a person who is following a Healthy diet to lose weight, you are definitely very interested in the question of how many calories are in mussel rice, right? This is a very good question and nutritionists do not want to ignore such a good question.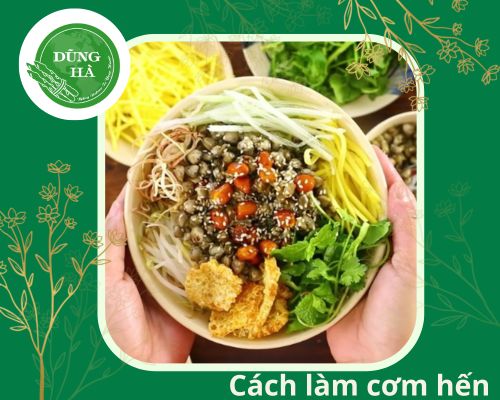 According to the National Nutrition Research Institute:
In 1 bowl of mussel rice, it provides 367 – 370 calories for the body.
Looking at this number of calories, you can completely calculate for yourself how many calories you will consume in a meal.
Does eating a lot of mussel rice make you obese?
With this amount of calories, many people ask the question "Will eating a lot of mussel rice cause weight gain?". The answer is "No. If you eat a lot of mussel rice, you won't gain weight." The reason is because:
Firstly, weight gain or weight loss completely depends on each person's diet and lifestyle. If you consume too much fast food, greasy foods, etc., you will quickly gain weight.
Second, a bowl of mussel rice also contains a lot of raw vegetables. These vegetables contain abundant fiber, which is good for the digestive system. They will help you easily digest after eating, without accumulating fat in the body.
Third, the amount of calories an adult needs to consume each day is 2,000 calories. Calculated, for each meal, you will need to load about 667 calories for your body. Meanwhile, a bowl of mussel rice provides only 367 calories. The amount of calories in mussel rice has not yet reached the standard calorie level. If the amount of calories you consume exceeds the standard calorie limit, they will accumulate as bad fat, causing obesity.
==> Conclusion: "Eating mussel rice does not cause weight gain". You can use mussel rice for lunch or dinner to add variety to your diet.
In addition, you can refer to countless other delicious culinary news here: https://thucphamkho.vn/tin-tuc-su-kien/
Conclude
Above is a detailed article answering the question of how to make Hue authentic mussel rice at home that Dung Ha Dried Agricultural Products has shared with readers. It can be seen that the process of making mussel rice is very simple, not complicated and does not require a high level of cooking skills. However, to have delicious food and ensure food hygiene and safety, you need to prepare and buy ingredients from the most reputable and quality places on the market. Hopefully, the useful information shared above will bring another delicious dish to your culinary books. Wishing you success always!
Thank you for taking the time to follow our article. See you again in the next posts!!!