Offering gold on New Year's Day is a custom from generations of Vietnamese people. And the golden rice tray is a must-have and extremely important thing in every family. The Golden Turning Ceremony is also known as the Ceremony to see Grandparents and Grandparents off to celebrate Tet with their children and grandchildren in the family. But the word "golden" sounds so strange. So do you know what is the ceremony of worshiping gold and what is the golden rice tray on Tet? If not, follow Dung Ha Dry Food to find out right here!
1. What is the gold offering on Tet holiday?
The Golden Turning Ceremony is also known as the Grandparent's farewell ceremony or the New Year's Thanksgiving. Depending on the region they call with different names. But there is only one thing in common that this ceremony is held on December 23 every year as the day to see off Mr. Cong Ong Tao to heaven. December 25th is the day to say goodbye to grandparents. On the 30th of Tet, there will be an offering tray of rice to bring grandparents home to celebrate Tet with their children and grandchildren.
And after the end of Tet, from the 3rd to the 7th lunar month. Families offer gold coins to see their grandparents off, as a thank you for spending some time without worrying about the long distance to celebrate Tet with their children and grandchildren. The period from the 3rd to the 7th is the time before.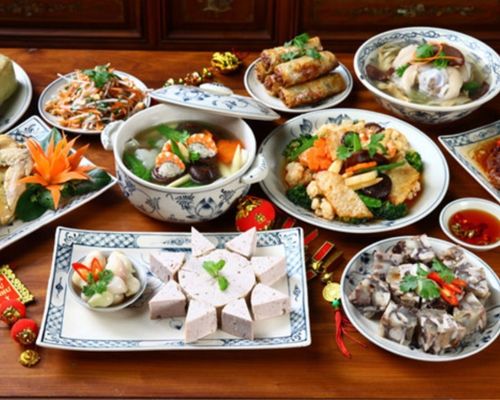 Today, we are busier, the time of gilding is also more flexible. You can arbitrarily choose any day from the 3rd to the 10th to make the golden rice tray on Tet.
Families can choose the day when their children and grandchildren can gather together, most fully to see their grandparents off.
Tips for you: Modern New Year dishes of each region you should know
2. What does the golden rice tray on Lunar New Year 2023 include?
The golden rice tray on New Year's Day will be different from the New Year's Eve offerings and the New Year's Eve offerings. So if you haven't tried to make a golden rice tray on Tet holiday, then follow the article for Dry Food to share with you.
2.1 Salty rice tray
Regardless of which tray of rice is offered, an offering full of meat and vegetables is always a necessity. The tray of rice offered on New Year's Day does not have a set of dishes. This way, you can freely choose the foods your ancestors liked to eat.
However, if you have the conditions, you should prepare a Tet offering tray full of things:
Boiled chicken: According to Vietnamese folk concept. The chicken symbolizes good luck and happiness. In addition, the chicken also symbolizes the 5 virtues of Vietnamese people: Literature – martial arts – courage – humanity – loyalty.
Chung cake: Chung cake is a spiritual dish of Vietnamese people from ancient times to present. Banh chung is associated with the legendary story of the Hung Kings period "Banh Chung Banh Giay". The cake is made entirely of Vietnamese ingredients. Show your children's filial piety to grandparents.
Spring rolls: It is a favorite dish of many families on every Tet holiday and weekday. Delicate taste, can be used both hot and cold, so spring rolls are very popular on Tet holiday
Cu Kieu: Green Chung cake is indispensable for onions and cucumbers. You need to soak the onions for as long as possible so that the onions can soak up the salt and taste better.
See more: What do you need for the New Year's Eve dinner tray of the Lunar New Year 2023?
2.2 Vegetarian offerings
Because the golden day is not the full moon day, the 30th day of the new year or the 1st day of the new year. Therefore, preparing a tray of vegetarian rice on this Tet holiday is not mandatory. Whether you choose a vegetarian offering or a salty offering depends on your decision. For the vegetarian offering tray, the dishes also need to ensure the same full flavor as the salty offering tray. Those are soup – salty – fried dishes. You can check out the menu of vegetarian offerings below: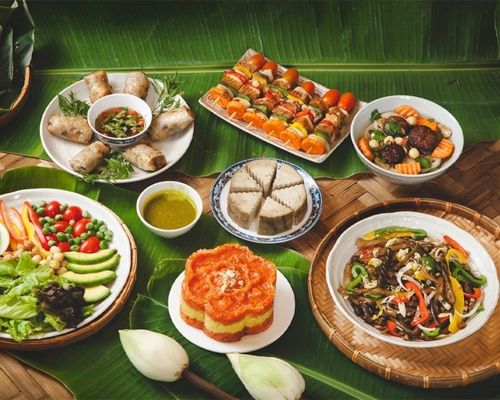 Stir-fried mixed vegetables
Gac red bean sticky rice
Vegetarian fried spring rolls
Mixed bamboo shoot soup
Vegetarian salad
Tofu braised with mushrooms and mushrooms
See more: 19+ Vietnamese Tet dishes indispensable in Tet 2023
2.3 Five-fruit tray
The five-fruit tray is a particularly important tray that must not be missed. Especially for families that have an ancestral altar. Five-fruit tray with 5 fruits and full of different colors with the meaning of wishing for prosperity, luck and fortune in the new year.
According to the customs and habits of the Vietnamese people for many generations, during Tet, they will display a tray of five fruits throughout Tet. Each region they will have different ways of presenting the five-fruit tray and each type of five-fruit tray of each region has its own meaning.
2.4 Fresh flowers
Although it does not carry a great meaning for the golden ceremony, fresh flowers are still very important. On Tet holiday, you should absolutely abstain from using fake flowers. Because the old people often think that "fake flowers are not sincere, not sincere". Therefore, having fresh flowers on the board will still be the most beautiful and dignified.
Homeowners are very fond of fresh flowers because they are beautiful, colorful, symbolizing life. Therefore, offering fresh flowers will show respect to the Ancestors. Homeowners also hope to have a fresh, enthusiastic, full of life in the new year and the following years.
2.5 Sugarcane
Sugarcane is also known as sugarcane. Sugarcane trees will be placed solemnly on both sides of the altar. Homeowners will choose large, beautiful, cane cane trees to put together with the golden rice tray. According to the old custom, the sugarcane tree is the symbol of two poles. This branch will be turned into gold from the 3rd to the 10th. When this pole is burned with votive paper to the underworld, grandparents will use it to carry gold coins. This pole also became a weapon for our forefathers to keep gold as well as chase away the demons who intended to steal gold.
See more: How to make Northern New Year dishes for a special tray of rice
2.6 Betel nut – candles and incense
Traditional customs and practices of the Vietnamese people from the past to present, betel nut is the completion of activities that go together in parties, weddings, and festivals. In particular, in Vietnam, especially the elderly grandparents will have the habit of eating betel nut. Therefore, betel nut is very important and should be in the golden rice tray on Tet.
In addition, the worshiping ceremony above the board will be indispensable for oil lamps and incense sticks, incense sticks. So, you need to prepare these things about 3 weeks before Tet to see if there are still any deficiencies.
2.7 Banknotes – votive paper
Paper money – votive paper is also extremely important and should not be forgotten on important holidays. The burning of paper money and votive paper is to let descendants on the ceiling show respect to their deceased parents and grandparents. In terms of spirituality, the dead are similar to the people on the ceiling, they desperately need gold coins, clothes to wear as well as to spend. So wedges of gold and silver during Tet is something that children and grandchildren must not forget.
However, you should also light, give and burn votive paper with a sufficient amount. It is not that you burn a lot that our ancestors will receive it all, or that burning a lot is to show the filial piety of descendants to the deceased. When giving burning, you should burn in order of role from adult to child. However, if someone dies during the year, you should give last. Burn with a sufficient amount to not affect the surrounding environment.
In addition, when the gold is finished, Vietnamese people often use alcohol to sprinkle the ashes of paper money and votive papers. The ancients said that by doing so, our ancestors received gold from their descendants. Besides, you also need to prepare for your family on New Year's Day with leaves. In addition, the vows also need to be prepared most thoughtfully. Only then will you bring luck and fortune to your family.
See more: 7+ Delicious Tet confectionery of all kinds used in the traditional New Year
3. Conclusion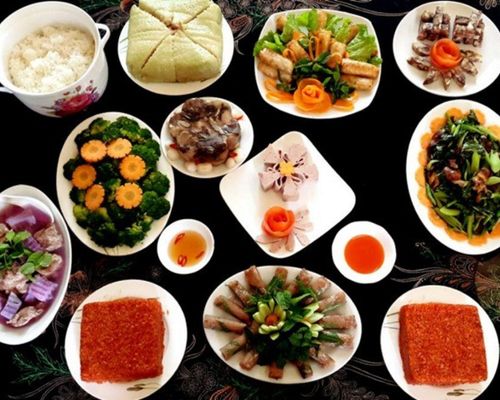 Above are all the things you need to know about the upcoming 2023 Lunar New Year's Day of the upcoming Lunar New Year. Hopefully with these sharing will help you prepare a perfect and smooth gold offering ceremony. Don't forget to Follow Dung Ha Dry Food to keep up to date with more good news.