Referring to the remote northwest region of the country. Surely everyone thinks of the majestic poetic nature, many scenic spots, special dishes or images of ethnic minorities in their own ethnic clothes. However, very few people know that there are many famous teas here. Today, follow Dung Ha Dry Food to find out the most delicious and delicious Northwestern teas ! 
1. What is Northwest Teas?
Northwest Tea is a line of tea products with bold flavors of the Northwest mountains. The teas here are often very special and different from other teas. These teas are rarely grown, they often grow wild in the high mountains. Currently, there are only about 80,000 tea trees in the whole country. This tea variety is only suitable for cold climates. Therefore, in the northern mountainous areas, it is often not suitable to grow this tea.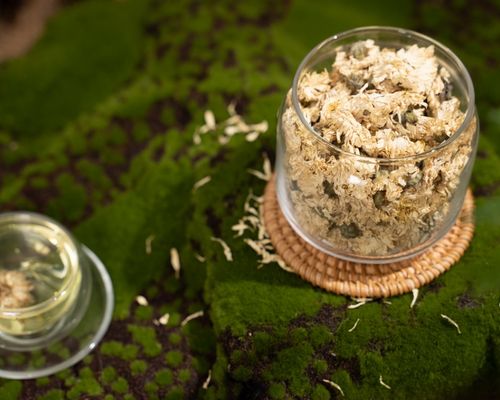 The taste and aroma of Northwest tea is really special. They bring with them all the fragrance of the mountains. There are teas located at an altitude of 1400m above sea level. They absorb all the nutrients from the clouds. Covered with snow before spring comes to sprout buds. So what are the teas? Join me to find out more details!
2. Delicious Northwest teas
2.1 Yellow Chrysanthemum Tea
Yellow Chrysanthemum Tea  is made entirely from 100% chrysanthemum flowers. Chrysanthemums are not only used for home decoration, but they also bring users a lot of health benefits. Dried chrysanthemum flowers are used to make tea. Currently, there are two popular types of chrysanthemum tea: white chrysanthemum and yellow chrysanthemum . Each type of chrysanthemum when brewed into tea has a characteristic aroma. But yellow chrysanthemum is more delicious, yellow water is used by many people.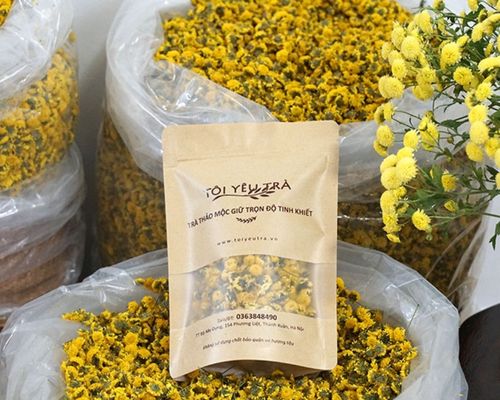 Derived from nature, just use about 100g , your body will absorb nutrients such as:
Energy: 1Kcal
Carbohydrates: 0.2g
Fiber: 40.3g
Folic Acid: 1mcg
Riboflavin:0.004mg
Thiamine: 0.01mg
Vitamin A: 20 IU
Sodium: 1mg
Potassium: 9mg
Iron: 0.08g
Magnesium: 1mg
Zinc: 0.04g
These are all important nutrients for the human body. Yellow chrysanthemum tea is very good for everyone, anyone can use it. 100g chrysanthemum tea, you will prevent some diseases such as:
Currently , Hanoi and Ho Chi Minh markets are selling yellow chrysanthemum tea with prices from 380,000 VND – 420,000 VND / 500gr. 
2.2 Dried Rose Tea
Dried rose tea is made from 100% pure fresh rose flowers. Each part of the rose plant has a therapeutic effect. Particularly, the rose buds will be dried to make drinks. The right time to harvest roses is in June and August every year. Roses are also used to decorate homes. But inside roses contain a lot of Vitamin C and essential minerals.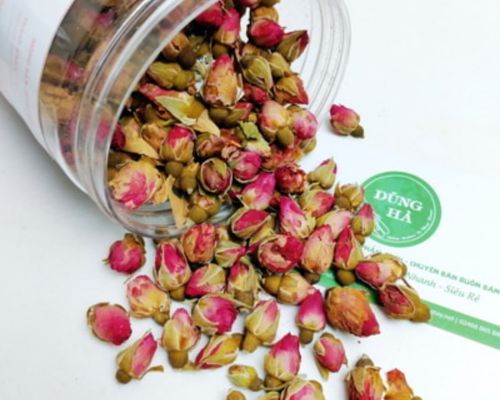 Dried rose tea symbolizes the beauty of women. That is why this tea is often trusted by many women. Nutritional value in dried rose tea includes:
Vitamin B1, B2
Vitamin C
Potassium
Beta-Carotene
Tannin
Pectin
BioFlavonoids
Mineral
Energy
These nutrients are very good for women's health. Using 3-4 cups of rose tea in the early morning will bring many benefits such as:
Helps your skin to be firm, smooth, natural pink and white
Strengthens scalp health, keeps hair smooth
Relieve menstrual cramps
Reduced risk of cardiovascular disease and diabetes
Help your mind relax, spirit refreshing
Helps healthy digestive system , laxative
To buy dried rose tea in Hanoi and Ho Chi Minh is very easy. No need to go far, no need to worry about product quality. Dung Ha Agricultural Products is the place to sell the cheapest quality dried rose tea in the market . The price of dried rose tea is sold for 500,000 VND/kg.
2.3 Butterfly Pea Flower Tea
Blue pea flower tea is also known as Tra Lam Ho Diep, Butterfly pea flower, and Pearl flower . This tea has very characteristic purple flowers. The butterfly pea flowers are fragrant and beautiful, so they attract a lot of insects to come here to collect honey and build nests. Butterfly pea flower has extremely strong viability. This plant can live in cold places, hot weather burns fire. Butterfly pea plants can be grown from seed or using cuttings.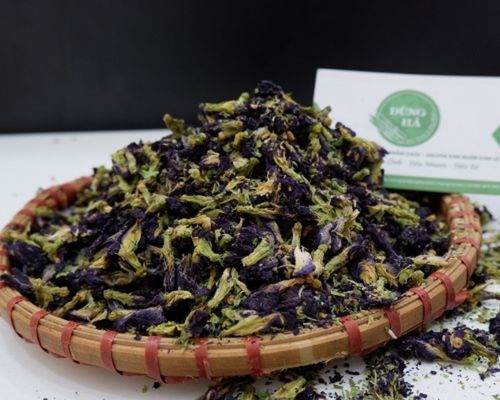 The main ingredients in butterfly pea flower tea are chemical compounds. Mainly:
Flavonoids
The protein
Estee
Alkaloids
Sapoin
Glucosides
Carbohydrates
Antioxidants
Oil
Nucleotide
Tannin
Cyclotides
Nucleotide
Amino Acids
These chemicals are very important in the life of the user's health. Dried rose tea is one of the teas with many uses: 
Enhance blood circulation
Care for smooth pink and white skin
Repel the attack of harmful acid radicals
Good for people with myopia, astigmatism
Boost Collagen and Estalin for the skin
Butterfly pea flower tea when brewed usually has no taste but only color. Therefore, when you want to use it, users often add a little honey to make the drink more delicious. 
Maybe you are also interested: Beauty method from rose petals for smooth white skin
The price of Butterfly Pea Flower Tea is currently listed at Dung Ha Dry Food, ranging from 350,000 VND / 500 grams.
2.4 Ancient Shan Tuyet Tea Ha Giang
Old Shan Tuyet Tea Ha Giang is also known as Shan Tuyet tea . This tea grows from ancient trees up to several hundred meters high, when harvested, must climb the tree. Shan Tuyet tea is a tall and tall tree. This type of tea, usually grows at an altitude of 1400m above sea level. Surrounded by clouds all year round, the temperature difference between day and night makes this tea considered very high quality.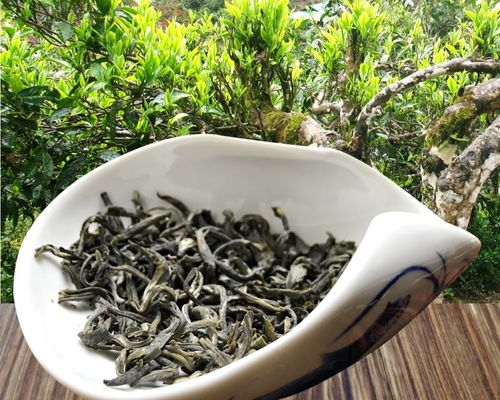 In winter, the tea buds will be covered with a layer of fine white snow, cherishing the entire nutritional value of the quintessence of heaven and earth. In the spring, buds sprout, bringing a lot of great value. This tea is harvested and processed completely from nature. That is why many people often call this Tea Clean. This type of tea has many great values ​​such as:
Vitamin 
caffeine
Minerals
Antioxidants
Energy
Convergence of all nutrients from heaven and earth. Old Shan Tuyet Tea really gives users a lot of good benefits such as:
Eliminate free radicals to prevent skin aging
Prevention of heart attack and stroke
Reduce stress and fatigue
Fat burning drink
Eliminate toxins accumulated in the body for a long time
So do you know how much 1kg of Shan Tuyet Ancient Ha Giang tea costs ? Currently, the price of Shan Tuyet Ancient Tea in Ha Giang ranges from 600,000 VND/kg . Buy Shan Tuyet Ancient Ha Giang tea and find immediately Dung Ha Agricultural Products. 
2.5 Premium Snow Lotus Tea
Premium Snow Lotus Tea, also known as Snow Lotus. This tea is likened to a herb and is found in abundance in the northern Xinjiang region of China. Snow lotus tea is very rare because it often grows in snowy areas with harsh climates. Buying premium snow lotus tea in Hanoi and Ho Chi Minh is difficult.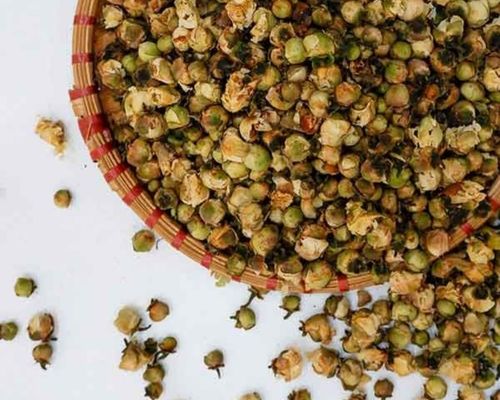 As a herbal tea, premium san Tuyet tea carries with it a lot of essential nutrients such as:
Vitamin
Mineral
Amino Acids
The protein
But perhaps, premium snow lotus tea is rich in Amino Acids and Protein content . These two important substances when entering the body will have certain uses such as: 
Slows down the growth of cancer  cells
Maintain muscle flexibility and strong bones
Improve headache in the evening
Enhance physiological function, stabilize hormones, regulate menstrual cycle
Treatment of nosebleeds, esophageal bleeding, pulmonary bleeding, etc.
Premium snow lotus tea has a floral aroma. When drinking, slightly horizontal and pale. You should combine tea with honey + lemon to enjoy the best taste.
Currently, there are many places selling high-class san Tuyet tea. When buying high-class san Tuyet tea, you need to pay attention to the quality and origin. Buying poor products will greatly affect your health. Dung Ha Agricultural Products is the place to sell the highest quality San Tuyet tea.
3. Conclusion
Above are 5 types of Northwest tea with strong aroma of Northwest mountains and forests. It is important to have a delicious and nutritious drink, you need to find a reputable and quality Northwest tea place in Hanoi and Ho Chi Minh . On the market there are many rare teas, if you do not have a deep understanding of tea, you will definitely buy a bad product at a high price. In addition to ensuring quality, the health factor is also what customers need to pay attention to the most. The tea trees here are grown entirely from nature and are cared for by households, so they are especially clean, delicious, and passionate. Each tea bud is imbued with cultural values. 
See more: Tips for making delicious and simple stevia tea at home
4. Where to buy cheap quality Northwestern tea?
Currently, there are many places selling Northwest tea with cheap price. If you do not have time to go shopping often, you can also buy Northwest tea on e-commerce platforms, dry goods trading sites . Among the countless establishments selling Northwest tea on the market , it is really difficult for consumers to distinguish the real or the fake. Especially when buying Tay Bac tea online , users will not be able to touch and check product quality.
Don't worry too much, choose Dung Ha Agricultural Products as a place to send consumers' health. Here, we not only sell Northwest tea, but we also provide many other items such as: nutritious seeds , Ha Giang specialties , Northwest specialties , … extremely quality.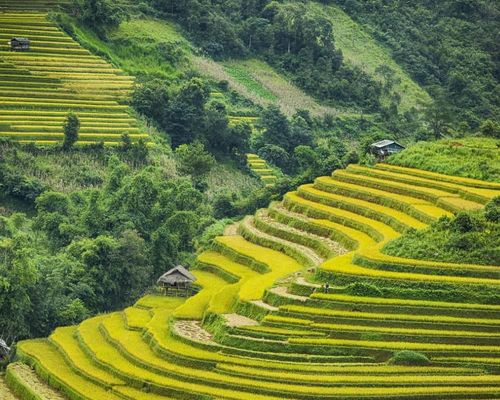 Buy Northwest tea online through Dung Ha Agricultural Products e-commerce platforms at: Shopee.vn
Contact to buy Northwestern tea through the Hotline of Dung Ha Development Company at: 1900 986865 (24 hours support).
Branches:
Northwestern tea distribution and retail branch nationwide at: No. 11 Kim Dong – Giap Bat Street – Hoang Mai District – Hanoi
Northwestern tea branch in Hanoi: A10 – Alley 100 – Trung Kinh Street – Yen Hoa Ward – Cau Giay District – Hanoi
Northwestern tea branch in Ho Chi Minh: No. 02/B, Quarter 3 – Trung My Tay 13 Street – District 12 – Ho Chi Minh City