Nowadays, a lot of people have many years of experience in home beekeeping to provide quality honey to use. But, bees raised for honey are not appreciated as well as bees that make their own nests in dense mountain forests. Honey can be found and exploited in many forests. But perhaps, the best honey, the best quality is the Northwest forest honey.
The Northwest with vast, green forests, diverse ecosystems and rare herbs all grow here by themselves. They grow up completely in the midst of nature and the nutrition provided by this huge primeval forest. So do you know, what kind of quality Northwest forest honey must be bought as a gift? The following article of Dung Ha Dry Agricultural Products will answer you in detail.
What is Northwest Forest Honey?
Northwest forest honey is a specialty honey found only in the Northwest. Wild honey is 100% natural, this honey has no nourishment or influence from humans. Wild bees survive naturally, they find the nectar of many flowers and take nectar to take care of their nests. This type of honey is completely natural so they are extremely good and extremely nutritious.
In order to exploit forest honey, workers have to climb passes, wade streams, and overcome many large hills to find this rare and pure wild honey. However, the overexploitation of wild honey has directly affected the bees, making pure wild honey increasingly scarce and very expensive.
The main time of the season to get the best quality Northwest flower forest honey is in July and August every year. Pure wild honey has a bright yellow color and gradually turns orange-yellow, very dense due to the amount of water present in nature is less than 20%.
See also: [Secret] How to get wild honey for inexperienced people
Uses of Northwest forest honey?
Wildflower honey is a completely natural honey and they have a lot of uses for health and beauty. Here are some uses of Northwest forest flower honey:
Natural energy: Wild honey contains natural sugar and carbs. It is a food source that is easy to digest and absorb quickly, helping to improve physical fitness
Skin moisturizer: Honey has the ability to hold water in the skin. Helps improve dry, rough skin. Wild honey is used in beauty products such as masks or lotions
Treat wounds and burns: Wild honey has antibacterial and anti-inflammatory properties. They are responsible for cleaning the damaged area, reducing the risk of infection. Honey is used in traditional medicine to help heal wounds, burns,…
Immune Support: Honey contains powerful antioxidants and anti-bacterial agents. Helps to strengthen the immune system against bacteria, viruses and harmful agents
Cough relief: Wildflower honey has a soothing effect on the throat and reduces coughing. When combining honey with ginger, garlic, lemon is a useful natural remedy to reduce cough
Improves Digestion: Honey is said to have the ability to balance the intestinal microflora. Helps improve digestive function and replenish gut bacteria
So let's find out which types of wild flower honey are best to buy.
Certain types of Northwest forest honey to buy as gifts?
Mint honey
Mint honey is a famous forest honey that you must buy with them. This type of honey is exploited by the Hmong people in the highlands from the mint tree itself. The most famous mint honey is in Quan Ba, Yen Minh, Dong Van and Meo Vac districts of Ha Giang province.
Peppermint is an herb that grows wild in the Northwest. Mint flowers have a beautiful pinkish purple color that blooms from September to December of the lunar calendar every year. It is the characteristic purple color of the flower that attracts bees to suck nectar and create mint honey with a cool aroma when used. Because it is a wild mint, the yield of honey is not much and their price is very high.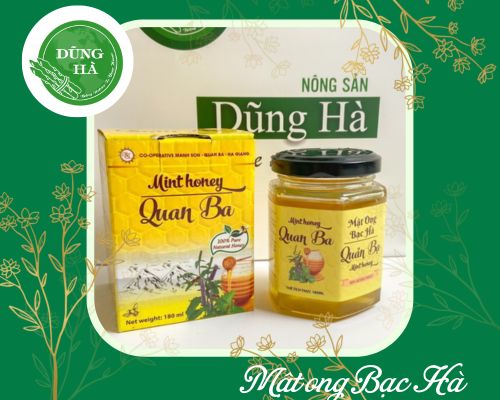 Pure mint honey has a light green color with a natural yellow tint. Depending on the different mint pollen grains in the honey, the color of the honey is also different. This type of honey has its own characteristic smell, sweet, cool, and thick taste. This is the most delicious honey of Vietnam.
Mint honey is very good for the digestive system, reducing sore throats, improving the immune system, overcoming joint pain problems.
Buy Dung Ha mint honey, the price ranges from 300,000 VND/500ml glass bottle.
Quan Ba forest honey
Quan Ba forest honey is honey exploited from Quan Ba forest in Ha Giang province. This type of honey has a yellow color, characteristic sweetness, and contains many nutritional values. Honey bees suck nectar from many flowers to bring back to their hive. Therefore, the scent of Quan Ba forest honey is mixed from many precious forest flower aromas.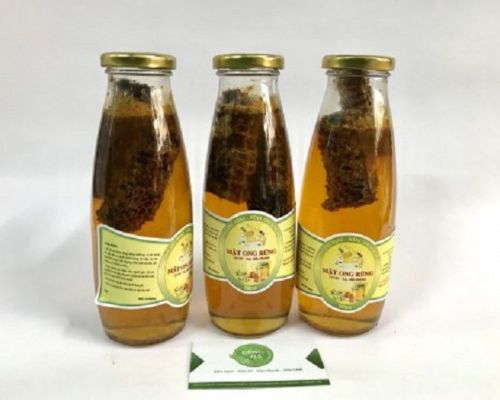 Quan Ba forest honey is usually harvested about 3 months in a year. The ideal time is from March to June every year. These honey bees often make their nests on very tall old trees. The exploitation of forest honey in Quan Ba is very dangerous and difficult, requiring experienced people.
Quan Ba forest honey has many good uses such as:
Improve problems related to poor digestive system
Weight improvement
Good for women's skin. Improve the condition of melasma, freckles, crow's feet, …
Flexible use in culinary delicious dishes
Create sweet and aromatic flavor for medicinal wine recipes
If you want to buy cheap and quality Quan Ba forest honey, contact Dung Ha Agricultural Products immediately. The price of forest honey in Quan Ba Dung Ha is selling at a price ranging from 270,000 VND – 300,000 VND / 500ml bottle.
Ice honey
Rock honey is a type of honey that has a hard texture like a large block of ice. This type of bee often nests in rocky hollows, high rocky mountains.
Stone bees are produced by a giant honey bee whose scientific name is Apis Dorsata Laboriosa. They also collect honey from flowers and herbs in the forest and bring it back to their nests on high cliffs. Rock honey also has high nutritional value like wild bees. But they only differ in each nesting site.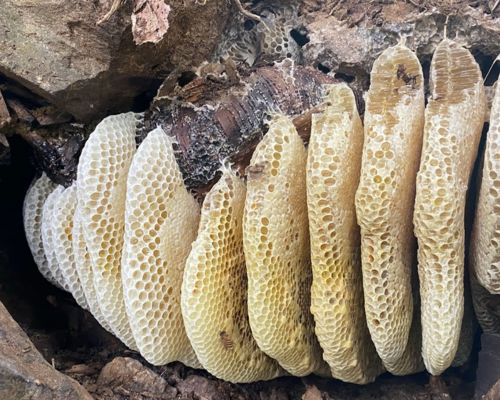 Rock honey is yellow-white and interwoven with black because the nest contains many young bee larvae. Rock honey is thick, sticky, very hard to dissolve, has a sweet taste and characteristic aroma. When touching the honeycomb, you will feel the honey is very hard, difficult to dissolve. When squeezing rock honey, you will clearly see a thin white layer of beeswax floating on the surface.
Stone honey is sought and exploited in difficult and dangerous places, so the market price is extremely expensive. The price of rock honey on the market ranges from 650,000 VND – 1,000,000 VND.
Fly honey
Another type of natural forest honey found in the forests of the Northwest mountains is fly honey. Fly honey is honey extracted from the hive itself.
The fly bee is a small-sized, low-venomous bee with very fragrant but very little honey. This type of bee usually nests in bushes, under large tree branches, or on coconut trees. Because it is a type of bee that brings very little honey, does not create great economic value, fly bees are rarely raised.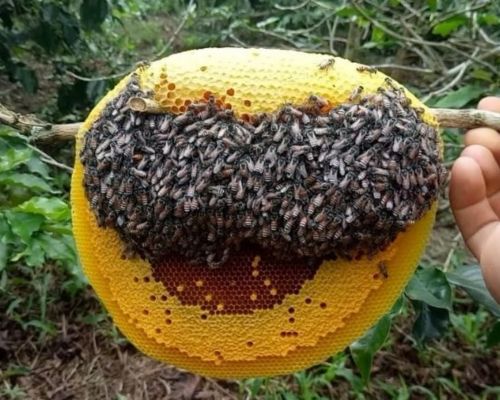 With other types of honey when tasting, it will have a sharp sweet taste. But fly honey has a sweet, very pleasant taste. With its sweet taste, fly honey mixed with warm water can be drunk immediately. The life cycle of hummingbirds is very short, they will die in the cold season. Therefore, the right time to harvest honey flies is in the warm weather. The ideal period falls from April to early July of the solar calendar.
Using fly honey is very good for the digestive system. Fly honey is said to heal stomach ulcers, nausea, and heartburn. In addition, very good for the cardiovascular system, improving damaged skin areas,…
The price of fly honey on the market fluctuates around 670,000 VND / 500ml bottle (depending on the time).
White Honey
The last Northwest forest honey list is white honey. This type of honey is ivory-white in color and is collected by bees from the Blong Song flower tree. According to the people of the Northwest region, the Blong Song flower is also known as the bird's foot flower. In traditional medicine, they are called five spices.
Blong Song flowers are white, bloom only for 1 month, from the end of August to the end of September of the lunar calendar. This type of flower grows popularly in the mountainous area of Mu Cang Chai (Yen Bai). Since then, Yen Bai white honey is the most nutritious and quality honey.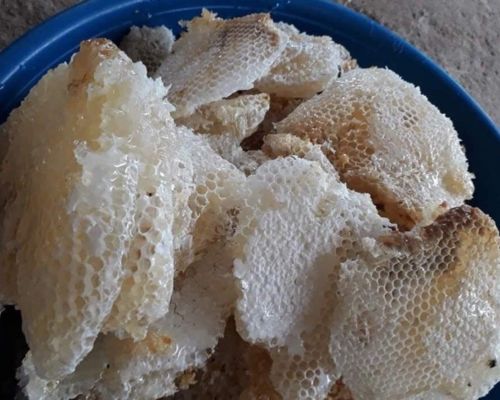 The aroma of white honey has a very unique taste compared to other types of honey. They have a natural cool sweet taste, with a hint of Blong Song flower flavor, not sweet. The honey is very dense, smooth, and the longer it is left, the more delicious it becomes.
Because it is only harvested in one month of the year, the price of white honey is very expensive. The retail price of white honey ranges from 450,000 VND – 500,000 VND / liter.
See also: 7+ How to distinguish wild honey and farmed honey you should know
Where to buy cheap Northwest forest honey in Hanoi and Ho Chi Minh City?
Buy cheap Northwest honey in Hanoi?
Buy cheap Northwest forest honey in Hanoi a lot. But not everywhere sells quality wild honey. What customers are most interested in is where to buy cheap wild honey? Finding a reputable place to sell wild honey is a difficult thing. Currently, Dung Ha is a pioneer in distributing wild honey with full quality control documents and origin. Commit to 100% Northwest forest flower honey.
Buy quality Northwest honey in Ho Chi Minh City?
To find a place to sell quality Northwest forest honey in Ho Chi Minh City is not easy at all. Wild honey is a commodity with great competition, huge output consumption, high demand for search and sale of people. If you want to buy reputable Northwest forest honey, quickly find Dung Ha Agricultural Products. With many years of business experience in the field of powders of all kinds, Northwest tea, cooking spices, herbal medicines,… So all Dung Ha products sold to the market are tested extremely strictly in accordance with strict regulations. standards set forth by VietGAP.
Conclude
Thus, Dung Ha Dried Agricultural Products has brought to readers 5 types of Northwest forest honey with the best quality that you must buy as a gift. Arriving in the Northwest, you will clearly realize that the people here are very hospitable, the nature is majestic, the air is fresh, very pleasant, and especially you can find and buy yourself countless specialties of the Northwest. like with very good price. Hopefully, with the above sharing, you will be able to choose your favorite wild honey.
Thank you for taking the time to read this article in its entirety. If possible, please share this article with your loved ones around to have the opportunity to come to the Northwest, so the first thing they buy is wild honey.
To buy Northwest honey, contact immediately via Hotline: 1900 986865 or Fanpage.
Or go to the direct addresses below:
11 Kim Dong, Giap Bat street, Hoang Mai district, Hanoi city
A10 – Alley 100, Trung Kinh Street, Yen Hoa Ward, Cau Giay District, Hanoi City
No. 02/b Quarter 3, Trung My Tay 13 Street, District 12, Ho Chi Minh City
In addition, you can find and buy yourself a lot of Northwest specialties here: https://thucphamkho.vn/dac-san-tay-bac/