Com is probably an ingredient that is too familiar to Vietnamese users. Com is not only used to cook tea, cook sticky rice, eat directly, but also create a super delicious dish from other nuggets that is Cha Com. Instead of buying ready-made fried rice cakes at the store to use, you can completely learn how to make fried rice cakes at home with super easy dry rice with just 4 basic steps. Making fried rice at home takes a bit of time, but in return, you will have a quality, clean, food-safe product. The following article shared by Dried Agricultural Products will answer you how to make fried rice cakes from dried nuggets at home simply and deliciously.
1. What is the nuggets?
Before we go to find out how to make cha com from dried com, let's find out what it really is that so many people love it!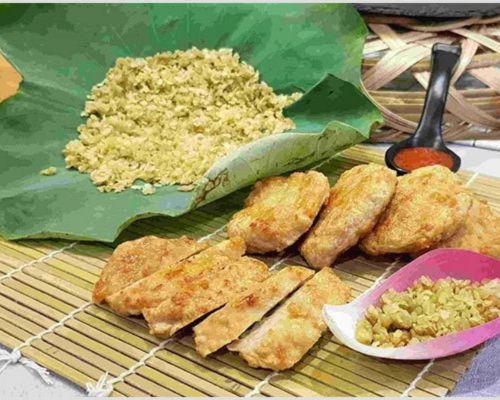 Cha com is a famous specialty of Ha Thanh people. This is probably a dish that makes the culinary name of this wonderful land. In the Vietnamese culinary market, there are many types of rolls such as:
fish cakes, squid rolls, spring rolls, shrimp rolls, etc.
But perhaps, the delicious taste of
fried rice
always has an important place in my heart. local residents and tourists.
Called fried nuggets, the main ingredient in this dish is definitely not without nuggets. Com is the culinary beauty of Vietnamese people every autumn. In addition, there are other additive ingredients such as chicken eggs, ground pork, spices,… All of them blend together with the nuggets to create a fried rice dish with a sweet, fatty taste and a supple taste from the nuggets. A delicate combination has made many diners want to eat cha com again and again.
2. Nutritional value in spring rolls?
Many people when eating cha com can only comment that it is very fatty, and it is delicious and supple. However, they don't pay much attention to the nutritional value of fried rice. In fact, the nutrition in spring rolls is very large. Specifically:
272Kcal
22g Protein
20g Carbohydrates
1g fat
66mg Cholesterol
4g Saturated Fat
53mg Sodium
1g Fiber
1mg Vitamin C
1g sugar
370g Potassium
1mg Iron
15mg Calcium
That is the entire nutritional value of the dish. If you are worried about the problem of fried nuggets outside the store not meeting food hygiene and safety standards, don't worry too much. We are here to give you a super simple recipe for making fried rice from dried nuggets at home.
3. How to make fried rice cake from dried nuggets simple and delicious at home?
3.1 Ingredients for making spring rolls
Making fried rice is not difficult at all, the recipe is quite simple and the ingredients are readily available in the market. Just having nuggets is a part of the dish that is already 85% successful. Adding a little additive ingredients such as ground pork, spices, seasoning seeds, main noodles, fish sauce, is a dish you have a great success.
Here are the ingredients to make fried rice for 4 people:
3.2 Preliminary processing of dried nuggets (Step 1)
When you buy dry com, you clean up all the grits, broken seeds, and flat seeds
Rinse dry nuggets 2-3 times with clean water to remove dirt
Mix in a basin of warm water about 85 degrees Celsius. Put the dried nuggets that have just been washed and soak for
10-15 minutes with warm water for soft nuggets.
Then, pick up the nuggets, lightly shake the nuggets to drain the water
3.3 Marinate and mix (Step 2)
Put 200g of ground pork + 300g of raw ham in a large bowl
Wearing plastic gloves, mix the ground pork and raw ham together
Next, put 200gr of dried nuggets + ground pepper + fish sauce + seasoning seeds + main noodles + minced shallot + cooking oil + beat 1 chicken egg into a bowl.
Mix all the ingredients together to form a smooth dough
Put the mixed meat mixture and store it in the refrigerator for about 30 minutes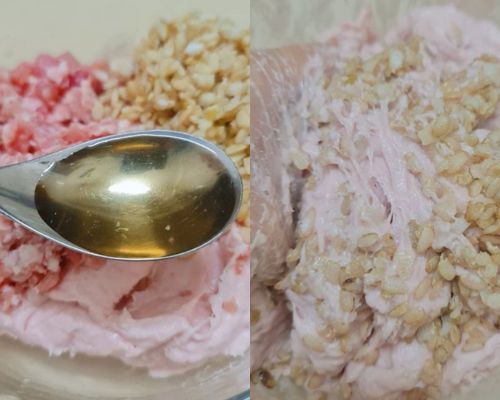 3.4 Shape fried rice (Step 3)
Take the mixture out of the fridge
Put a sufficient amount of the mixture in the palm of your hand
Using the palms of your hands, turn the mixture of cha com
Then, using the force of the right palm, forcefully squeeze the spring rolls into round and flat pieces
Do it evenly, until you run out of ingredients, then stop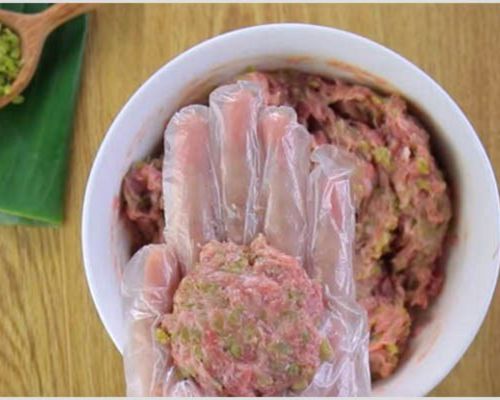 Note: The step of shaping the cha com is an important step that determines the good or bad shape of the cha com. Therefore, this step you have to do really skillfully and meticulously.
3.5 Steamed rice cake (Step 4)
Fresh banana leaves, you wash both sides of the leaves to remove dirt
Using a clean towel, dry the two sides of the banana leaf
Put the pot on the stove and put 500ml of pure water in the pot and bring to a boil
Then, you put a layer of fresh banana leaves inside the basket
Brush a layer of cooking oil on the surface of the banana leaf so that the fried nuggets do not stick when steamed
Neatly arrange each ball of fried nuggets just shaped above into the steaming basket. Placed apart, should not stick together
Close the lid and steam the rice nuggets for 15-20 minutes, until the face of the rice rolls will shrink, the naked eye will see the nuggets expand.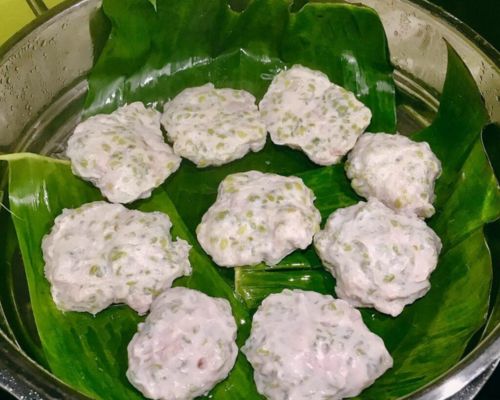 3.6 Deep-fried spring rolls (Step 5)
Fried nuggets after steaming. Take it out of the pot and let it cool
Put cooking oil in a pan and heat it
When the oil is hot, you put the fried rice in the oil and deep-fry it until golden brown on both sides for 10-15 minutes
The two sides of the fried nuggets are golden, you take them out on a plate, let them cool and drain the oil
Using scissors, cut cha com into small pieces just enough to eat and enjoy
Cha com can be eaten directly with hot rice or eaten with shrimp paste vermicelli, which is great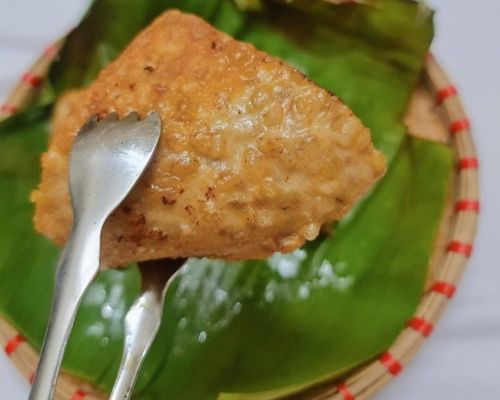 Note: You can cook fried rice nuggets with just enough quantity to eat. Avoid frying until golden brown, not eating all of it is a waste of money. In addition, when steamed nuggets are cooked, you can store them in a ziplock bag, or close a plastic container with a lid and put it in the refrigerator to use it gradually.
See more: Pocket how to make Da Nang Specialty Beef Rolls Eat Hoai Not Bored
4. How many calories are there? Will eating a lot of rice cakes cause obesity?
The way to make fried rice from dried rice has been listed in detail above. Cha com can be processed into many delicious dishes such as: fried nuggets, ketchup rolls, fried sticky rice served with cha com,… are all great. Cha com is very fatty and supple from the nuggets. But has anyone ever asked how many calories are there?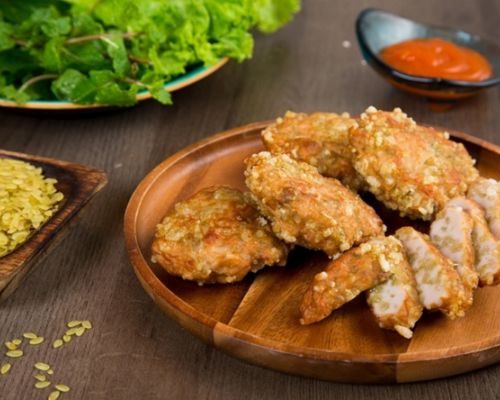 According to a study by the National Institute of Nutrition:
In 100g of fried nuggets, it provides about 140 calories for the body
It can be seen that the calories in fried rice are relatively low. With this amount of calories, many people wonder "Are you afraid of gaining weight if you eat a lot of fried rice?". The answer is: "No. Eating cha com a lot does not gain weight".
An adult, each meal will need to consume about 667 calories. Meanwhile, the calories in fried rice are only about 140 calories. With these calories, it is not standard for a meal. Therefore, when eating fried rice, you need to eat other dishes to balance the standard calories. Only then, your body can maintain enough life activities.
See more: [100g] How many calories are in dry vermicelli? Is eating dry noodles fat ?
5. Conclude
Above is the article to share the recipe of how to make fried rice from simple dried nuggets at home that Dried Agricultural Products has shared with readers. It can be noticed that making fried rice cakes from dried nuggets at home is a bit fussy and takes a bit of time. But in return, you always have quality, delicious, and more importantly, food hygiene and safety. Hopefully, with the above detailed recipe for making fried rice, it will bring your family's menu collection to be richer and more diverse. Wish you always success!!!
Thank you for taking the time to read our full article. If you have any questions about fried rice, leave your comment below this article and we will answer it right away.