Beef jerky is definitely not a strange product for Vietnamese users anymore. This is a favorite snack of many people as well as a favorite drink of men. Beef jerky contains a lot of healthy nutrients, proteins, vitamins and minerals. Although it is a snack that is popular with many people, most people think that eating beef jerky quickly gains weight? So is this true or false? The following article, Dried Agricultural Products will answer in the most detail to readers how many calories in beef jerky and interesting questions around this dish.
1. What is beef jerky?
Beef jerky, also known as beef jerky, is a snack used directly at any time of the day. Beef jerky is a dish originating from South America and gradually, this dish has been popular around the world. Especially, Beef jerky is a dish that many people love in the Vietnamese market. In Vietnam, people here can also make their own beef jerky.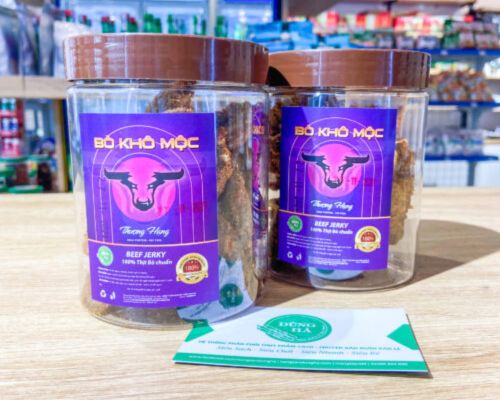 Beef jerky is made with 100% pure fresh beef. To get chewy, delicious beef fibers, you need to use completely fat-free cuts of beef. Then, these pieces of beef will be marinated with spices and chili sauce. The marinating process is also very long, it takes 6-8 hours for the seasoning to penetrate deep into each fiber of beef. After marinating is complete, the beef jerky will be grilled for 7-9 hours so that the marinated seasoning sticks to the surface of the meat, each piece of meat is dry, turning dark brown.
But now, on the market, beef jerky is faked with a lot of big, very sophisticated meat. Therefore, in order to get delicious, 100% standard beef pieces, people need to buy them at reputable business establishments in the area where they live. Standard dried beef will be sold for approximately 1,000,000 VND/kg.
Beef jerky is considered a favorite snack that contains a lot of nutrients.
See more: How to make simple, chewy and crispy beef with Northwest flavor
2. Nutritional value in beef jerky?
According to the United States Department of Agriculture (USDA), in 100g of beef jerky provides nutrients such as:
| | |
| --- | --- |
| Ingredient | Nutritional value |
| Energy | 409 Kcal |
| Lipids | 26gr |
| Saturated fat | 11gr |
| Cholesterol | 48mg |
| Sodium | 2.081mg |
| Potassium | 597mg |
| Carbohydrates | 11gr |
| Fiber | 1.8gr |
| Sugar | 9gr |
| Protein | 33gr |
| Vitamin C | 0mg |
| Iron | 5.4mg |
| Vitamin B6 | 0.2mg |
| Manganese | 51mg |
| Calcium | 20mg |
| Vitamin D | 11 IU |
| Vitamin B12 | 0.012mg |
This is a massive achievement list in 100g of beef jerky. Eating dried beef directly or using beef jerky as an additive to increase the deliciousness of the dish gives you a lot of benefits. Include:
2.1 Replenish energy for the body
Correct. Beef jerky is a dish that helps your body to add a variety of energy to the body. Specifically:
Carbs and fats are the main sources of energy in the daily diet. When eating beef jerky, the body will digest the carbs and fats in the meat to create energy. This energy can be used for daily activities, helping to strengthen muscles, maintain digestive and nervous system activities.
2.2 Strengthen the body
Eating beef jerky will help your body strengthen physically very well. Specifically:
Provides Protein: Beef jerky is a rich source of protein. Protein is an important component in the process of building and repairing muscle tissue, supporting muscle recovery after exercise. Eating beef jerky can help provide the body with the necessary amount of Protein, helping to build and maintain muscle
Minerals and vitamins: Beef jerky provides several important minerals and vitamins such as iron, zinc and Vitamin B12. These substances play an important role in metabolism, support the function of the nervous system, and maintain the overall health of the body.
Increases Endurance: The protein in beef jerky helps build and maintain muscle strength. When you combine eating beef jerky with physical exercise, it will help your body increase strength, flexibility and endurance.
2.3 Support weight loss
Beef jerky is also a very good dish for weight, specifically:
Provides longer-lasting satiety: Beef jerky contains protein and fat. These are two key ingredients that help you feel fuller for longer. Protein enhances satiety and reduces hunger. When you feel full for longer, you can control your food intake and reduce your daily calorie intake
Reduce body fat: Beef jerky is generally lower in fat and calories than fresh beef. Replacing high-calorie and fatty foods with beef jerky will help the body reduce calories and fat consumption. Helps to lose weight and maintain a stable weight
Keep Muscle Toned: During weight loss, it is important to keep lean muscles. Beef jerky is a source of high-quality protein, which can help maintain and build muscle. When you lose weight and still maintain muscle, you will still have a toned, toned body.
See more: Summary of 10 easy-to-make healthy dishes to help her lose weight effectively
With a lot of nutritional value and good health benefits. Many people are still struggling to find the answer to the question of how many calories in beef jerky? Knowing the calories in beef jerky will help you calculate your calorie consumption in a day. From there, you can comfortably eat without fear of weight gain or obesity.
3. How many calories in beef jerky in 100g?
If you are a fan of beef jerky, you will surely love this dish because when you eat it, it is extremely stimulating, making you eat it all the time. But if used in excess of the allowed dose, this is definitely a potentially dangerous dish. Surely you are very impatient to know the answer to the question of how many calories are in 100g of beef jerky?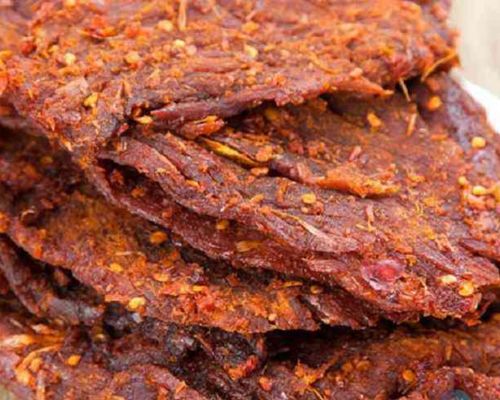 Dried beef can be used directly or added to other dishes to create deliciousness. Each dish has a corresponding calorie content. Specifically:
| | |
| --- | --- |
| Number of grams in beef jerky | Corresponding Calories |
| 100g beef jerky | provides 410 calories for the body |
| 150g beef jerky | provides 615 calories for the body |
| 1 serving of dry beef salad | provide 280 calories for the body |
| 1 plate of dried beef papaya salad (including dried beef, kohlrabi, carrots, papaya, …) | provides 230 calories for the body |
| 1 dry beef bread (including eggs, carrots, kohlrabi, …) | provide 323 calories for the body |
With the detailed calorie table in beef jerky above, we can completely compare the calories of beef jerky with
chicken jerky
and pork jerky. Specifically: 100g of dried chicken provides 214 calories, 100g of dried pork provides 333 calories. Beef jerky is the dish that provides the most calories with 410 calories per 100 grams.
With such a high calorie content, the next question is "does eating beef jerky gain weight?".
See more: [REDACTED] How many calories are in dried mango? Eat a lot of fat?
4. Is eating beef jerky fat?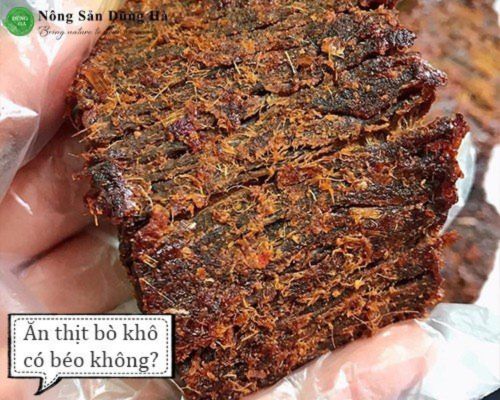 The table of calories in beef jerky has been listed in a very specific, clear and detailed way above. Although it is a favorite and favorite snack of many people, "does eating beef jerky cause weight gain, obesity or not?". The answer is "YES. EATING A LOT OF DRIED BEEF WILL GAIN WEIGHT, OVERWEIGHT". The reason is because:
The calories found in 100g of beef jerky are approximately the same as the calories consumed in a given meal. An adult will need to consume 2,000 standard calories. Calculated, 3 breakfast – lunch – dinner, each meal will consume about 667 calories. If you only consume 100g of beef jerky, you will not be afraid of gaining weight. This amount of calories is just enough to balance nutrients for the body
If you consume 200g of beef jerky/meal, we promise you will soon exceed your weight limit. Calculated, 200g of beef jerky has provided up to 820 calories for the body. This amount of calories is 2 times higher than the recommended calories. Therefore, eat beef jerky in moderation, do not overinflate. The best dosage is less than 100g of beef jerky/meal.
Meanwhile, 100g of beef jerky also contains 1780mg of salt. This is an extremely high amount of salt. This amount of salt accumulates for a long time and it will cause the formation of fat and water in the body. This will make your body more prone to weight gain and obesity.
See also: [FACT] How many calories are in bean curd? Do you get fat if you eat a lot?
5. Who should not use beef jerky?
Some of the following subjects should not use beef jerky. Specifically:
Allergic people: If you are allergic to beef or ingredients in beef jerky such as spices, salt, paprika,… then you should avoid eating beef jerky.
Cardiovascular patients: Beef jerky is often high in sodium and fat. This has a huge impact on heart health. People with cardiovascular disease or problems related to high blood pressure should limit the consumption of beef jerky
People with a history of kidney disease: Because beef jerky contains a lot of sodium, people with kidney problems should limit consumption to avoid increasing the burden on the kidneys.
People with stomach disease: Beef jerky has a relatively high concentration of spicy. For people with stomach disease, consuming too much spicy will cause symptoms of stomach ulcers, stomach pain, … creating many uncomfortable feelings for the stomach.
6. Conclude
Above is the entire article that answers the question of how many calories are in 100g of beef jerky that Dry Agricultural Products has shared in detail with readers. Beef jerky is a favorite snack of many people. Although this is a very good dish, if used in excess, this is a potentially extremely dangerous food to weight. Therefore, use this dish with the right amount prescribed for you. Hopefully, with the detailed and complete information above, it will bring readers many useful things.
Thank you for following this article in its entirety. If you have any questions about the calories in beef jerky, leave your comment below this article and we will help answer you as quickly as possible.
Contact to order quality beef jerky, good price via Company Hotline: 1900 986865.
Buy dried beef directly at the following address:
Address 1: No. 11 Kim Dong – Giap Bat Street – Hoang Mai District – Hanoi
Address 2: A10 – Alley 100 – Trung Kinh Street – Yen Hoa Ward – Cau Giay District – Hanoi
Address 3: No. 02/B Quarter 3 – Trung My Tay 13 Street – District 12 – Ho Chi Minh City
See more: Tips for making delicious Northwestern buffalo meat