The cold weather of autumn in Hanoi makes many people excited. With the cool climate and chilly wind, there is nothing better than sitting down together to enjoy typical autumn dishes. In the article shared below by Dried Agricultural Products, I will explain in detail to you the top "delicious" 2023 fall dishes that you must try.
TOP "Delicious" 2023 fall dishes that you must try?
Green rice
"Com Vong always smells good on your hands
When going away from Hanoi, I remember the day of fragrant green rice"
When talking about autumn dishes in Hanoi, surely the first dish that you cannot miss is Com Xanh. The most famous Com Xanh in Hanoi is in Vong Village, now in Cau Giay, Hanoi. Com is made from yellow-flowered sticky rice grains, evenly round and shiny. When the rice is just ripe and shiny, bring it home, thresh the grains, remove impurities, and then use a thick cast iron pan to roast the green rice.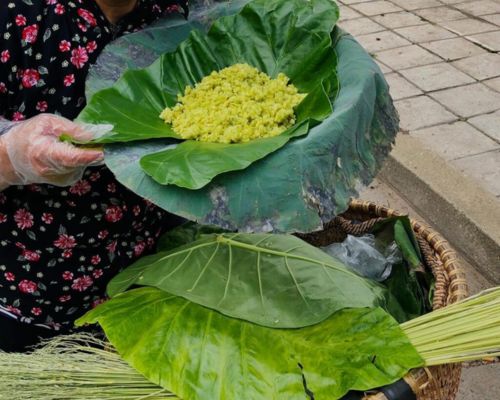 Hanoi's fall green rice season usually lasts for 3 months, starting from the 7th lunar month. Walking around streets in Hanoi such as: Old Quarter, Phan Dinh Phung Street, Lang Street, Thanh Nien Street, Dong Xuan Market,… you will see bustling nuggets street vendors on the shoulders of mothers and mothers. The lady, wandering around on the main streets, invited people. Of course, everyone who takes them wants to enjoy them, so if you don't hurry up with these nuggets, you won't have anything left to eat.
Com is green in color, wrapped in fresh lotus leaves. When eaten, it has a sweet, chewy, elegant taste of Hanoi specialties that makes you eat it again and again without getting bored.
Hanoi autumn dish – Fried green rice
Grilled green rice is a specialty dish of Hanoi. This dish is made from fresh green rice, minced meat, eggs, and mixed with cooking spices. Then shape into a flat round shape, steam until cooked, then fry until crispy golden brown and enjoy.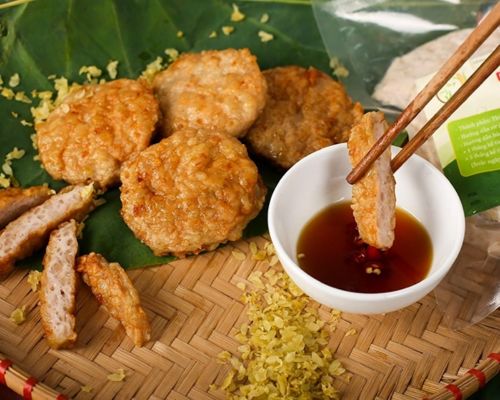 When eating fried green rice rolls, you will feel the sweetness of the green rice, the greasy taste of minced meat, and the rich taste of spices. Fried green rice rolls are often commonly used on Vietnamese rice trays with fried green rice rolls dipped in Chin Su chili sauce or served with sticky rice.
Grilled green rice is a delicious, attractive dish, very suitable to eat in the fall of Hanoi.
Don't miss: [Learn NOW] How to make delicious fried rice rolls from dried rice at home
Cereal
Another dish made from Thu Hanoi green rice that you definitely cannot miss is Dau Xanh green rice cake. Green bean rice cake is made with a green rice crust, filled with pureed green beans, sugar and shredded coconut. The cake has the sweet taste of green rice, the greasy taste of green beans and the fragrant aroma of shredded coconut.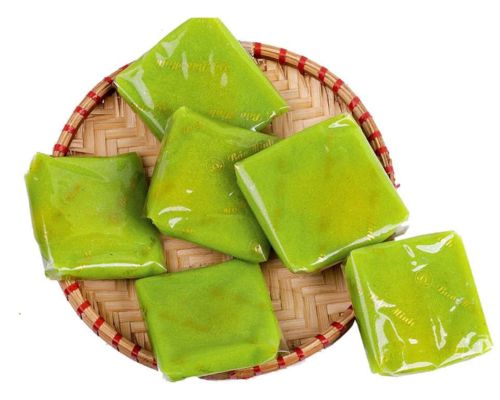 Green bean rice cake is often used during holidays, weddings,… or as gifts.
Hanoi autumn dish – Sticky rice with green rice
The next Hanoi autumn dish you cannot miss is sticky rice with green rice. Sticky rice with green rice is a traditional Vietnamese dish. Sticky rice with green rice is made from fresh green rice mixed with sticky rice. The sticky rice has a beautiful green color, a sweet taste from green rice, and a sticky taste from sticky rice. To create more uniqueness, lotus seeds are the ingredients that are brought together with sticky rice. Sticky rice with green rice is often wrapped in typical lotus leaves when autumn comes to Hanoi.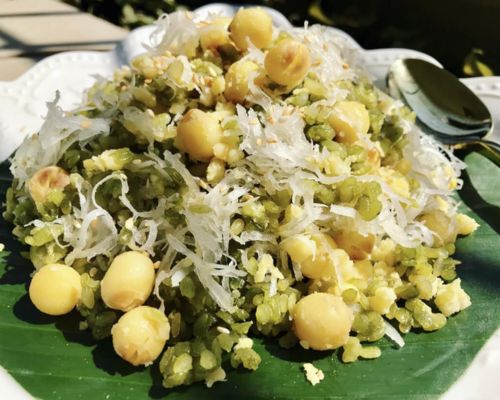 Ripe crocodile
Ripe alligator is a typical fruit of Northern Vietnam. To be able to find ripe bad fruits, you can only find them from August to October every year. Ripe alligator has a golden skin, thin skin, soft flesh, sweet and sour taste, slightly astringent, very stimulating to eat.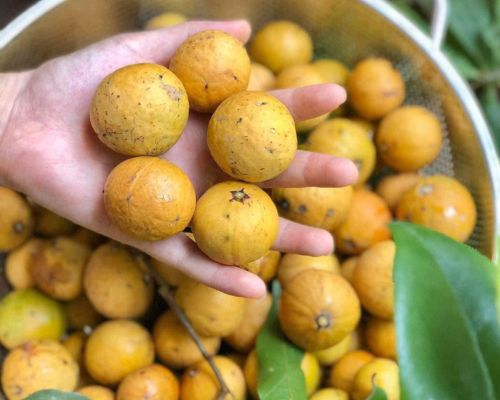 Ripe alligator can be eaten directly dipped in spices or processed into many delicious dishes such as pickled alligator, sugar-soaked alligator, wine-soaked alligator, etc. Ripe alligator is a super delicious fruit, very suitable to eat during the season. Autumn Hanoi.
Hanoi autumn dish – Grilled worm
Cha Ruoi is a famous specialty dish in Hanoi. This dish is made with unique ingredients and meticulous preparation. A worm is a type of animal that belongs to the Earthworm family. They live in brackish and freshwater areas, especially they are only exploited most intensively in the Fall. So, if you come to Hanoi, you must definitely enjoy this specialty Cha Ruoi. Otherwise, you will have to wait another year to enjoy it.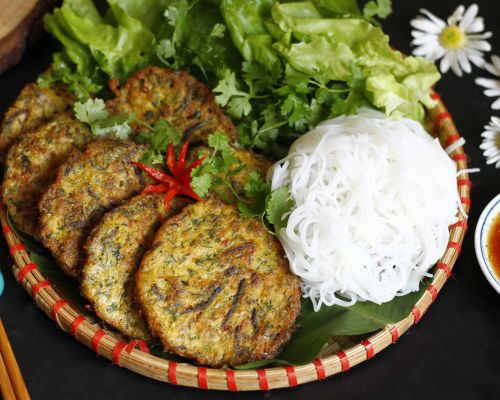 The worms are cleaned, their intestines removed, ground with ground pork, chicken eggs, tangerine peel, dill, then seasoned with spices, fish sauce, pepper, chili,… then fried until golden brown with oil. eat. Spring rolls dipped in chili sauce or fish sauce mixed with a little Chinese coriander are absolutely delicious.
Hot cast cake
Continuing on the list of autumn cuisine in Northern Hanoi, we must mention hot cake. Not only eaten in the fall of Hanoi, hot banh duc is also a perfect choice for the cold winter.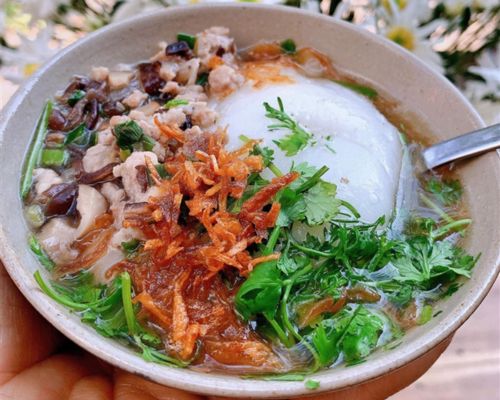 Order a piece of Banh Duc, eat the sticky cake, filled with fragrant meat, extremely stimulating. With fatty meat, crispy wood ear mushrooms, fragrant coriander seasoned with a little chili sauce, pepper, and dried onions, there's nothing better than on cold autumn days in Hanoi.
Moon cake
Moon Cake is a traditional Vietnamese cake, often made and sold on the full moon day of August every year. There are two main types of cakes: baked cakes and sticky cakes. The crust is made from flour, sugar, eggs, and the filling is varied to suit each person's preferences. The cake has a sweet, fragrant taste, soft and flexible cake base, very suitable for eating in the fall.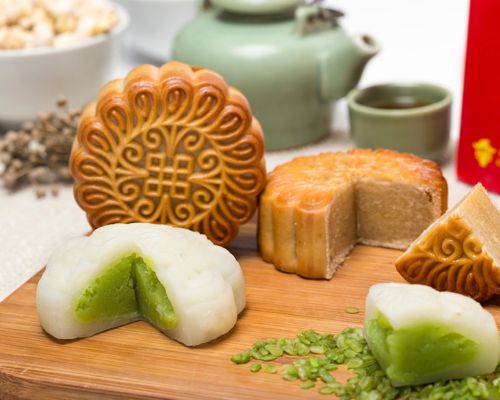 Moon Cake is a dish and a symbol of Vietnamese people. Cakes are often given to each other with the meaning of wishing everything in life to be full, complete, happy, prosperous, and warm.
Don't miss: [Moon Cake] 2 Ways to make sticky rice cake with mixed filling at home
Hanoi autumn dish – Chinese drift cake
Banh troi is a traditional dish of Hanoi. This cake is often sold a lot in the Fall. The cake is made from glutinous rice flour, rolled into round balls, filled with green beans, minced meat or black sesame. The broth is cooked very skillfully to have a brown color like honey.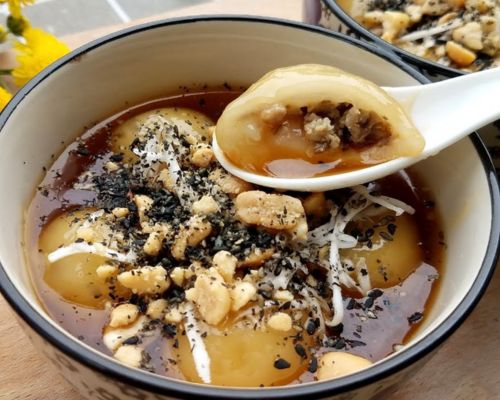 At shops that sell hot cakes, they often cook sugar water with different levels of sweetness. But you still have to make sure that 100% of the sugar water for the cake has the necessary consistency. Sprinkle with a little peanuts and shredded coconut, and enjoy eating while blowing in the cold weather of autumn in Hanoi.
Don't miss: 5+ winter snacks to help your body become warmer
Rib congee
Autumn in Hanoi without enjoying rib porridge is truly a pity. The rib porridge dish has a sweet taste from the ribs, sticky duck from the rice and fragrant from the green onions. Rib porridge is often eaten with fried shrimp, shrimp paste, pepper,…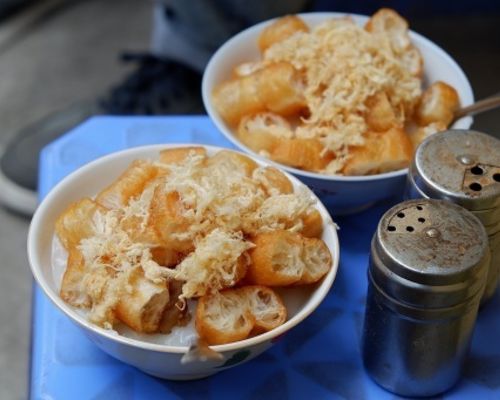 Rib porridge is sold a lot at school gates and residential cultural houses in the morning or afternoon. This is a quick breakfast dish that saves time for many young students. For workers, a bowl of rib porridge in the cold weather will warm the body and stomach much better.
Thuy Linh heart porridge
Vietnamese cuisine that ignores porridge with intestines is truly reprehensible. Heart porridge is a very delicious and attractive dish, very suitable to eat in the fall or winter. The porridge has the sweet taste of porridge, the greasiness of the sausage juice, and the fragrant aroma of green onions, Vietnamese coriander, chili powder, and ground pepper. The toppings of porridge are very diverse, depending on each person's eating preferences. A bowl of porridge with full Topping will cost 30,000 VND. Toppings include: sausage intestines, young intestines, liver, stomach, and grilled pork.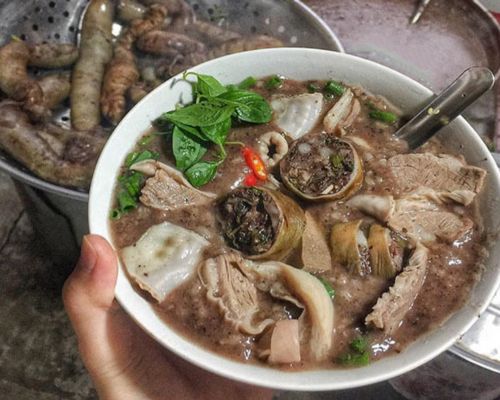 Porridge is sold a lot in the morning, afternoon and evening. In addition to eating porridge, porridge is also a favorite drink of men. If you come to Hanoi, you must definitely eat porridge with intestines.
If you want to find a delicious, clean, cheap establishment to eat porridge with intestines in Hanoi, go to Quan Tien Porridge with intestines – Alley 49 – House number 65 – Thuy Linh Street – Hoang Mai District – Hanoi. I guarantee you will be addicted once you eat it.
Don't miss: 2+ How to cook the most delicious porridge in both North and South regions
Hanoi autumn dishes – Fried and greasy cakes
Continuing the list of delicious Hanoi autumn dishes that cannot be missed are fried and greasy cakes. Fried or fried cakes with grease often have a delicious, crunchy flavor and are very suitable as snacks on cold days.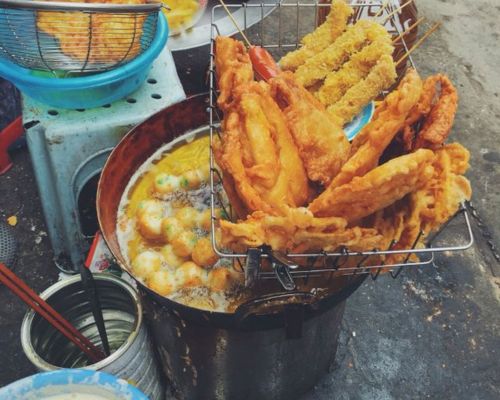 Some types of fried and fried cakes with grease that are popular in autumn include:
Potato cake: Made from sweet potatoes or potatoes and flour. Then, the sweet potatoes are mixed with flour and fried in oil. Potato cake has the sweetness of potatoes, the crust is crispy, golden brown, and very delicious.
Banana cake: Made from ripe bananas, flour, eggs, sugar,… Then, the cake is also deep fried in an oil pan. Banana cake has a delicious taste of bananas and a crispy crust.
Corn cake: Made from delicious sticky corn, flour, sugar, eggs, etc. After that, the cake is also fried until golden brown in cooking oil. Corn cakes have the characteristic chewy taste of corn, crispy crust, and are great to eat.
Banh Xeo: Made from rice flour, shrimp, meat, bean sprouts, green onions,… Then, poured into a hot pan and fried until golden. Banh xeo has a sweet taste, crispy on the outside, soft and flexible on the inside.
Don't miss: How to make perfect old Hanoi honey donuts
Conclusion
Enjoying autumn dishes with friends and loved ones is one of the most meaningful and happiest things you can do in the cold autumn weather of Hanoi. Hopefully, the TOP autumn dishes suggested by Dried Agricultural Products above will be able to help you somewhat in conquering the "stomach" of you and your loved ones. Don't forget to follow me to update more interesting information! Thank you and see you again in the next articles!!!
In addition, you can refer to more good news updated daily here: https://thucphamkho.vn/tin-tuc-su-kien/